5 Best Places to Live in Nevada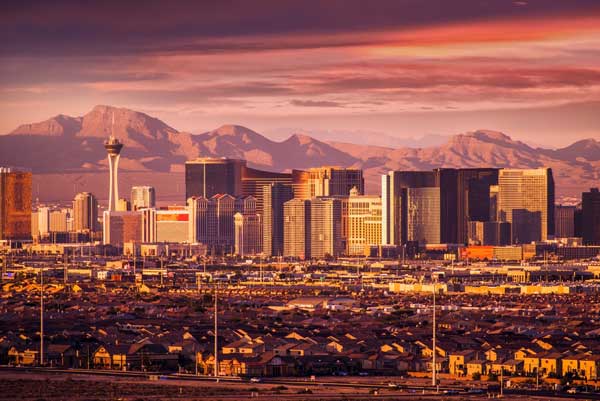 From being a product of Civil War to featuring a vast desert landscape throughout, Nevada sure has its way of raising eyebrows and evoking intrigue. The state is California's eastern neighbor but is much different from them in countless ways. Do you get overwhelmed by cramped up cities with people flooding from every corner? Nevada just might be a welcome change of pace for you. After all, it's just the 9th least densely populated state in our country.
For understandable reasons, Nevada mostly gets the spotlight because of Las Vegas. You could almost be forgiven for thinking that's how Nevada gets most of its sheen. We're here to burst your bubble and tell you that's far from the truth though. In Nevada, all that glitters might actually be gold, given how the state has a knack of mining it out. Mining is not only a major source of economy here, it also makes Nevada the world's 4th largest gold producer.
However, in a state where one city predominantly grabs all attention, it's easy to wonder what would make the list of best places to live in Nevada. Luckily for you, we're here to help you figure that out, in case you ever think of relocating to Nevada.
Is Nevada A Good State To Live In?
Well, good purely depends on which part of the state you live in. Nevada does have some cities which offer a great lifestyle to its residents. But let's not forget, most of the state is a massive desert. The state ranks 19 in terms of having the least population. Goes without saying, a fair chunk of that population resides in Las Vegas.
Nevada's population stands at 3,080,156, which is not too high. Think of that as an indicator of how there are limited cities here where you can enjoy a great lifestyle. However, there aren't many cities in Nevada where you can relish a proper taste of the metropolitan city lifestyle. But there are still some really good and interesting cities here. So let's find out which ones they are!
Best Cities in Nevada to Move to
1. Las Vegas
The "Sin City, the "Entertainment Capital of the World", the "Resort City", what can we say about Las Vegas that hasn't already been said? Life here can sometimes be like an extended vacation that only ends when you decide to check-out. A wonderland built amidst a wide expanse of sand, Vegas is like that celebrity who can't escape the paparazzi no matter what. While the city is often known for its notoriety, there's still much that is overlooked.
The many nicknames given to this city should tell you how tourism is the Goliath of the Vegas economy. Alongside tourism, the hospitality industry takes centre stage when it comes to creating job opportunities and driving economic growth for the city. For all its glamour, clamor and mightiness, Vegas remains powerless to the forces of nature. The blistering heat of the summer is undoubtedly one of the most forgettable parts of the city.
Reliable local transportation, snazzy diners and gastropubs, extravagant shopping complexes and beautiful parks across the city – Vegas does know what its residents need. Despite the vibe Las Vegas gives, it is actually not a bad city for families or retirees. The exquisite neighborhood of Summerlin which was designed by the legendary Howard Hughes is perfect for raising families, enjoying the outdoors or just relishing the peace in the suburb.
Las Vegas is undoubtedly a great city to live in and a dream for most. But you have to prepare yourself to pay the big bucks because nothing here comes cheap. The price would definitely be worthwhile, especially if you are not living from paycheck to paycheck.
Population – 651,319
Median Home Price In Las Vegas – $376,148
Average Rent In Las Vegas – $1,178
Median Household Income In Las Vegas – $53,575
See also: Moving to Las Vegas
2. Henderson
A city not too far away from the glitzy Las Vegas – Henderson actually happens to be next door neighbors to the Sin City. In contrast, however, Henderson is more like the guy you would want your family to meet. We only say that because the second largest city of Nevada is a lot more suited to families than its neighbor in general. If you have watched Paranormal Activity 4, you know the city and homes here are charming (unless you kept your eyes shut).
Henderson does have a bit of indulgence for those who can't seem to get gambling out of their system. The Sunset Station Hotel and Casino is a surefire way for you to roll the dice and seek some thrill. Then again, if your idea of thrill involves embracing mother nature, the Sloan Canyon National Conservation Area is just an arm's length away from the city center. It's great for biking or to channelize your inner cowboy by experiencing horseback rides.
If your heart never stops beating for the great outdoors, you will find Henderson to be a gift that keeps on giving. The Las Vegas Lake, Clark County Wetlands and Lake Mead are all situated close to Henderson. Unfortunately, one thing the city shares in common with its notorious neighbor is the unbearable summer heat. Fortunately, the amazing shopping malls and restaurants here can serve as some self-pampering and a great escape from the heat.
The city of Henderson is actually one of the safest cities in all of Nevada. A feat achieved by the city which happens to be a reason why numerous families relocate here. For a city the size of Henderson, there's no dearth of good schools, colleges and universities. In fact, Nevada State College is also situated here in Henderson.
Population – 320,189
Median Home Price In Henderson – $317,100
Average Rent In Henderson – $1,324
Median Household Income In Henderson – $63,830
3. Reno
Casinos and Tourism are like staples of Nevada and the city of Reno is no exception in that regard. The city gets its name from Jesse Lee Reno, a Union Major General who sacrificed his life in the American Civil War – a fitting homage to a war hero. Reno is bordered by California on its west, while being tucked away in a desert river valley. Reno is surrounded by many mountains, with Sierra Nevada is the most prominent mountain range around here.
You know the expression "Big things come in small packages"? Reno certainly is a living embodiment of that. In fact, it is also famously dubbed as "The Biggest Little City in the World". Atlantis Casino Resort Spa and the Eldorado Resort Casino are places that have patrons well beyond the border of this little city. But it's the 2 mile long looped trail of the Truckee River Walk in Reno that locals not only swoon over but also take immense pride in.
Art Aficionados have enough incentive to set up camp in Reno as there is no dearth of museums here. McKinley Arts and Culture Center, Nevada Museum of Art and the National Automobile Museum and Artown are just some of the places that are going to stimulate the senses of art enthusiasts. At the same time, the city has enough for nature lovers too, with places like White Lake, Hunter Creek Trailhead and Huffaker Park, among a few others.
International Game Technology, Braeburn Capital and EE Technologies are some of the major companies headquartered in Reno. In terms of education, the city is home to the state's oldest university in the form of The University Of Nevada, Reno.
Population – 255,601
Median Home Price In Reno – $358,800
Average Rent In Reno – $1,268
Median Household Income In Reno – $72,132
See also: Sunniest Cities in USA
4. Sparks
Just like its western neighbor Reno, Sparks is also one of those cities that is little but power packed in countless ways. Once again, same as Reno, the tiny city of Sparks is also a part of Washoe County in Nevada. It was John Sparks a.k.a Honest John, the former Governor of Nevada, after whom the state is named. Formed all the way back in March of 1905, the city of Sparks sure has come a long way with it being Nevada's fifth most populated city.
Here in Sparks, finding great restaurants to dine at or good bars to lift your spirits up high is no challenge at all. Wild Island Family Adventure Park is one those places in the city where you can have a quality time with your kids while having a whole lot of fun. Love yourself a bit of adventure? Then Sparks Marina park will give you that dose of adrenaline you seek, with activities such as scuba diving and windsurfing among the many things you can do here.
Quite frankly, the city is an outdoor lover's haven. The Evan's Creek Trail, Huffaker Park and Hidden Valley Regional Park are just some of the amazing sites that are at a stone's throw away from Sparks. And of course, there's also a little something for those who love spending time at the slot machines and trying their luck! Rail City Casino and Baldini's Sports Casino and Restaurant are two of those places in the city which take care of your love for gambling.
There are several elementary schools, high schools and middle schools for those who would be raising children here. The city of Sparks does have some beautiful homes that you would want to live in.
Population – 105,006
Median Home Price In Sparks – $385,000
Average Rent In Sparks – $1,435
Median Household Income In Sparks – $72,132
See also: 10 Best Public High Schools in the U.S.
5. Carson City
Are you someone who would prefer a change of pace from the hustle and bustle of the big city life? Well in that case, Carson City in Nevada sure can be a wonderful place for you to consider. With the Washoe Lake on its north, the Lake Tahoe on its west, Lyon Peak on its east, it's easy to see how nature lovers can experience true coddling by some of the natural beauties in and around Carson City. The great outdoors gets a whole new meaning here.
Think of Carson City as a quaint little town disguised as a city. Life here is slow and peaceful, which is the kind of simple life a lot of people crave for. Interestingly, it's the Lake Tahoe that separates Carson City from California. You have to understand one thing, Carson City is not the place you move to if you want to live a lavish lifestyle with all the luxuries at your disposal. Fine Dine restaurants, chic bars and jazzy shopping malls aren't found here.
Experiencing sports here means heading down to a local park and shooting some hoops with the locals or any of your friends. Or for that matter just enjoy a game of softball. Parks are a prominent feature of this town, as are lakes and ponds. If you're someone who loves the simple pleasures of life like catching your own fish and cooking, you can certainly enjoy that here. Hiking and camping are staple activities here, all thanks to the beauty of the city.
Sure, there are a variety of jobs here in Carson City, but it's all mostly in the government sector. Don't expect to be earning the big bucks here. Carson City will however sweep you off your feet if you're someone who can appreciate the beauty in and around this little townlike city.
Population – 55,916
Median Home Price In Carson City – $307,300
Average Rent In Carson City – $1,097
Median Household Income In Carson City – $56,000
Education
Top-Rated Nevada Colleges
1. University of Nevada, Reno
2. University of Nevada, Las Vegas
3. Nevada State College, Henderson
4. Truckee Meadows Community College, Reno
5. Great Basin College, Elko
6. College of Southern Nevada, Las Vegas
7. Western Nevada College, Carson City
8. Sierra Nevada University, Incline Village
9. University of Phoenix, Las Vegas
10. Roseman University of Health Science, Henderson
Top-Rated Nevada Schools
1. Eureka County School District, Eureka
2. Douglas County School District, Minden
3. Storey County School District, Virginia City
4. Washoe County School District, Reno
5. Pershing County School District, Lovelock
6. Carson City School District, Carson City
7. Lincoln County School District, Panaca
8. Churchill County School District, Fallon
9. Clark County School District, Las Vegas
10. Humboldt County School District, Winnemucca
FAQs about Best Places to Live in Nevada
Is it cheaper to live in Texas or Nevada?
The cost of living index of Texas is 93.9 and that of Nevada is 110.5, according to BestPlaces. So it's evident that Texas is cheaper than Nevada. But the reason behind Nevada being expensive is because of the high cost of living in its biggest cities.
How much do you need to comfortably live in Nevada?
According to LivingWage, a family of four with both parents working would have to earn about $69,244 annually to live comfortably in Nevada. This salary would allow for all necessary expenses and leisure too.
What is the safest city to live in Nevada?
Boulder City in Clark County is the safest city to live in Nevada. This city has a crime rate that's less than 66% of all the cities in the US, according to NeighborhoodScout. The crime rate in Boulder City is one in 112. Getting into specifics, the chance of you being a victim of a violent crime is one in 772, and that of a property crime is one in 136.
What part of Nevada has the best Climate?
You probably know that the climate of Nevada isn't exactly cool. But if you love sunny days and hate snows, Paradise in Clark County may be a good place for you. This town has an average of 298 days of sunshine and rains as little as five inches per year. Best part, it experiences absolutely no snow.
Keep in mind that the peak summer months can be swelteringly hot in Paradise, with an average daily high of 95° F. On the other hand, the winters can come down to a pleasant 66° F.
What percentage of Nevada is Black?
About 8.78% of the population in Nevada is black or African-American. The other major ethnicities here are non-Hispanic white (48.4%), Hispanic white (15%), Hispanic (11.4%) and Asian (8.06%).
What city in Nevada has the highest crime rate?
North Las Vegas is troubled with a violent crime rate of 1,015 per 100,000 residents according to the FBI's Uniform Crime Report. This rate is also among the highest in the nation.
What city in Nevada has the lowest crime rate?
At a crime rate of one in 112, Boulder City has the lowest crime rate in Nevada.
What is the cheapest city to live in Nevada?
Caliente in Lincoln County is the most affordable city in Nevada. It's among the least populous cities in the state, with a home value as low as $137,885, according to Zillow. At 90.3, the low overall cost of living index of Caliente makes it very easy on the wallet.
What is a good salary in Nevada?
The average annual salary in Nevada is $38,603, which is lower than the US average of approximately $40,000. Having an annual income of over $40,000 will not only cover your expenses but also save up for emergencies as well as for leisurely experiences.
Why is Nevada so cheap?
A good reason behind Nevada being so cheap is the not-so-great weather the state is stuck with. Also, many cities in Nevada, particularly Las Vegas, have an overabundance of houses and apartments. With supply greater than demand, the prices naturally come down.
Nevada has no state income tax, and the overall tax rate here is among the lowest in the US. This is thanks to the flourishing casino industry in Las Vegas.
Is it expensive to live in Nevada?
The cost of living in Nevada definitely is higher than the national average, but terribly so. One reason behind it is the biggest and most expensive cities in Nevada push that average upward.
While the residents of Nevada can save up on healthcare, groceries and utilities, they may end up shelling out a considerable amount of money on transportation, as the state has no public transit.
What taxes do you pay in Nevada?
The tourism and casino industry in Las Vegas has meant that Nevadans don't need to pay state income taxes of any kind. Then again, the federal income taxes still apply here.
Nevada does have a sales tax rate of 6.85%. In addition to this, there are county and city sales taxes too. Depending on where you live, this sales tax can go about as high as 8.375%.
Is Nevada a good place to retire?
Nevada is a good place to retire. This is because the Silver State is very tax friendly, thanks to no state taxes on income or Social Security benefits. This coupled with rather affordable housing means you'll have more money in your pocket.
---
Conclusion
Our list of the best places to live in Nevada not only includes the urban powerhouses but also some of the charming smaller cities. After all, the best isn't always defined by size or luxury. You have to take into consideration that people have varied interests and needs. The phase of life one is in and what they're exactly looking for will play a huge role in deciding the city in Nevada they ultimately choose. Sure, places like Carson City and Sparks will not provide you with world class education or employment opportunities. Instead it offers something unique, which can be thought of as acquired taste.
See also: Best States to Live in America | Best Moving Companies in Nevada