7 Best Neighborhoods In Tulsa For Singles And Young Professionals


VanLines Inc
Secure Storage
Easy Booking Process
Fully Trained Employees
GET QUOTE

Colonial Van Lines
Storage Services
Long-Distance Moves
Corporate Relocations
GET QUOTE

Moving APT
Vetting Process
Award-Winning
Available Nationwide
GET QUOTE
Our Take
Price
Rating
Minimum Shipment Size
Storage
Booking Deposit
Cancellation Policy
Quoting Options
Discounts

Best Overall Value


GET QUOTE

2+ bedrooms




Free 30 Days




10%

Free up to 72 Hrs

Phone / FaceTime / Text

Senior / Same day Booking

Best Industry Reputation


GET QUOTE

1+ bedrooms




30 Days




20%

Free up to 72 hrs

Phone / Facetime

Seniors Discount

Best Customer Service


GET QUOTE

1+ bedrooms







Free up to 72 hrs

Phone / Virtual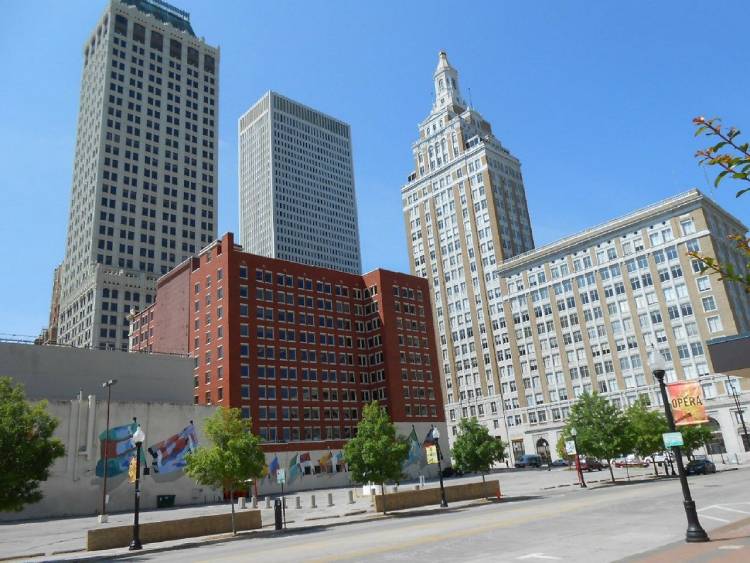 Chances are, you're here because you're thinking of moving and someone suggested Tulsa, Oklahoma as a good option. Well, they aren't wrong. This city has a lot more to it than just being a FRIENDS reference. This is a city that is known for its rapidly growing energy tech and aerospace industries. Thanks to a job market that's still growing and a relatively low cost of living, it sees a lot of newcomers. The best part is, the social aspect of living in this former oil town is evolving and is complemented by the friendly locals.
That being said, as a single individual or a young professional, you want to be able to live in a neighborhood with the amenities you need.
So, here's a list of the neighborhoods that are best for singles and young professionals moving to Tulsa.
Best Neighborhoods In Tulsa For Singles And Young Professionals
Blue Dome District
You'd never think that the Blue Dome District of Tulsa was once a practically invisible gas stop along the original Route 66. But today, this neat little district is a hub of activity known for its fantastic nightlife, many restaurants, and lively vibe.
Named after the famous Blue Dome Building located at the corner of 2nd and Elgin, this district is one of Downtown Tulsa's many sub-districts. With heavy music and art influences, the Blue Dome District is perfect for singles looking for a vibrant neighborhood and young professionals who want to let loose after a day of work. Plus, its convenient location means you have superb access to Downtown's many businesses. Of course, the district itself can prove to be fruitful for people seeking managerial positions in the hospitality industry.
The Blue Dome District truly comes alive when crowds flock to it for the annual Blue Dome Arts Festival. Happening at the same time (and within convenient walking distance from) the annual Mayfest celebrations in Tulsa, the festival is just the most popular of many. Others include a Mardi Gras parade, Tulsa Tough, the Eat Street Tulsa food truck festival, and district-wide St. Patrick's Day Celebrations. Popular spots include the Dilly Diner, Bramble Breakfast & Bar, Arnie's Bar, and Yokozuna.
Median Home Price: $105,000
Monthly Rent: $1,373
Median Household Income: $40,252
Cherry Street
In a city full of culture and business opportunities, it is difficult to find a spot that offers the perfect balance of both. Cherry Street is one such neighborhood. It has a lot of local businesses along with a lot of creative and cultural outlets, giving you that perfect chance to maintain your work-life balance! In fact, the area thrives on local businesses, which means your entrepreneurial spirit can soar here.
There are over twenty restaurants and some of the best art galleries, shopping centers, and dining venues in Cherry Street; after all, it is one of Tulsa's popular shopping districts. Lastly, if you work in Downtown Tulsa, the commute time from Cherry Street is low enough for you to feel like you have your days to yourself as well. After all, you will want as much time as you would get to take in the old-world charm that Cherry Street offers.
Some hotspots in this area include Cherry Street Farmers Market, Coffee House, and SMOKE.
Median Home Value: $345,000
Monthly Rent: $1,475
Median Household Income: $52,610
Brookside
If you are the kind to explore martini bars, wineries, and different cuisines every weekend, Brookside is the place for you. This upscale and vibrant neighborhood offers an equally vibrant social scene with a handful of boutiques, antique shops, and art galleries.
Another shopping and entertainment district like Cherry Street, Brookside has tons of restaurants and upscale shops, making it easy for those in the hospitality industry to find jobs.
Moreover, Brookside also has a few parks and coffee shops that allow you to slow down and relax. The best part is, this neighborhood is walkable enough for you to enjoy all the things mentioned here on foot without stretching your day a lot. With an average cost of living almost 10% lower than the US, Brookside is an amazing spot for young professionals.
Some hotspots in this area include Sharky's Entertainment, R Bar, and Cosmo Café & Bar.
Median Home Value: $389,000
Monthly Rent: $1,017
Median Household Income: $57,072
Riverview Historic District
There are two things that Riverview Historic District holds close: top-notch education and architecture. There are many apartment buildings as well as single-family homes here that are more than 100 years old. In fact, you can find beautiful Prairie School, Tudor Revival, and Colonial Revival-style homes in this neighborhood at rather affordable prices.
When it comes to education, you know this neighborhood takes it seriously when you realize it is named after the old Riverview Elementary School. The building is now home to the Council Oak Elementary School, which is also one that has made a good name for itself; those in the field of education are sure to find it a pleasant place to work. Some hotspots in this area include Doubleshots, Rehab Lounge, and McBirney Mansion.
Median Home Value: $165,000
Monthly Rent: $850
Median Household Income: $44,577
See Also: 7 Best Neighborhoods In Oklahoma City For Families
The Pearl District
An area that was struggling with empty homes and emptier lots about a decade ago has now turned into one of the newest white-collar business districts in the city. Thanks to the people moving in and plans implemented for revitalizing the area, it is now known for its startups. This, in turn, has brought more of the young elites to this part.
Of course, the culture of the city follows the people here as well. There are art venues, cafés, and the ever-famous Pearl Street Farmers Market. As it currently stands, The Pearl is in the middle of a wave of change and innovation. Already, it fosters several small businesses, and plans are underway to make it a neighborhood that has it all – great transit, good places to work, and tons to do once you clock out. It's slated to give you everything that you are looking for as an ambitious single or a young professional.
Some hotspots in this area include Papa Ganouj Mediterranean Grill, The Phoenix Café, and Pearl Street Farmers Market.
Median Home Value: $152,000
Monthly Rent: $1,369
Median Household Income: $83,354
Brady Arts District
Also known as The Tulsa Arts District, the Brady District is one of this city's oldest areas. Today it's a buzzing neighborhood that gives you excellent access to several businesses and offices in the area. After all, it's located in Downtown Tulsa, the city's business and finance district. Named after Tate Brady, one of the founders of Tulsa who helped to develop this particular region, the Brady Arts District has had quite a history.
Once a neglected area that was replete with warehouses, repair stores, and pipe yards, the Brady Arts District is today a vibrant little corner of Tulsa with plenty of restaurants, bars, art establishments, and loads of small businesses. This is also a great place to live if you're interested in starting a business of your own, since small businesses thrive here. Additionally, the neighborhood has the Tulsa Arts District Business Association, a group of business owners working towards the common good of the businesses in the district.
Want to soak in the history of the place? Head to the Woody Guthrie Center. Want your fill of theatrics? Head to the crown jewel of the neighborhood, the Brady Theater! The neighborhood also hosts something called The First Friday Art Crawl once each month, where you can explore local art establishments.
Median Home Value: $75,000
Monthly Rent: $1,200
Median Household Income: $42,532
See Also: 4 Best Neighborhoods in Oklahoma City for Singles and Young Professionals
Things To Look Out For Before Deciding to Move To Tulsa
Tulsa is prone to extreme weather. You will have to deal with the harsh summers, where the temperatures frequently go up to 90°F. Sometimes, you will also see the mercury hit a hundred.
The state of Oklahoma sees a lot of tornadoes. In fact, reports of close to 100 tornadoes in a year aren't uncommon for the people living here.
While cities like Tulsa are rather happening, the landscape is pretty mundane. You don't have a lot of mountains. As a landlocked state, Oklahoma doesn't have any beaches either.
Tulsa is growing, but it isn't a metropolitan yet. In fact, the state of Oklahoma lacks metropolitan areas entirely. So, while you might find everything that you would look for, you wouldn't find big-city charm.
The overall tax burden in the state of Oklahoma is a little higher than we would be comfortable with. This drips down to cities like Tulsa as well. So, if you are a big earner with a spending habit, Tulsa might not be very cost-effective for you.
Summing Up
The city of Tulsa is one of the many places that has become a people's favorite in recent times. The city is still growing on all fronts, especially infrastructure and economy-wise. However, that is where the charm hides. Moreover, almost every neighborhood in the city has its own version of the culture that Tulsans hold close to heart.
With the affordable housing, growing job markets, and a chance at a fulfilling life, Tulsa is an amazing city for the young'uns to move to and start a new chapter of their lives.
Also See: Popular Neighborhoods in Tulsa for Families
FAQs On Best Neighborhoods In Tulsa For Singles And Young Professionals
What Are The Nicest Neighborhoods In Tulsa?
Though not yet a full-fledged city, Tulsa has a handful of great neighborhoods that are perfect for you. As a young professional or single, the Blue Dome District, Brookside, and Cherry Street are your best bets. Of these, Cherry Street is also good for young families.
Is Brookside In Tulsa Safe?
Brookside is known to be a vibrant and upbeat neighborhood that makes its residents feel comfortable, safe, and welcomed.
What Is It Like Living In Tulsa OK?
With its dense suburban feel and abundance of parks and pubs, Tulsa offers a socially active city that is welcoming and happy. However, it isn't anywhere close to the bigger cities like New York or Chicago.
What Is Tulsa Best Known For?
While the history of this city is pretty well-known, there is much more to it that takes the cake. The Art Deco architecture, the underground arts scene, and the food culture of this city is something that makes here exponentially more interesting.
See Also: Top National Movers in the USA