7 Best Neighborhoods In Tucson For Singles And Young Professionals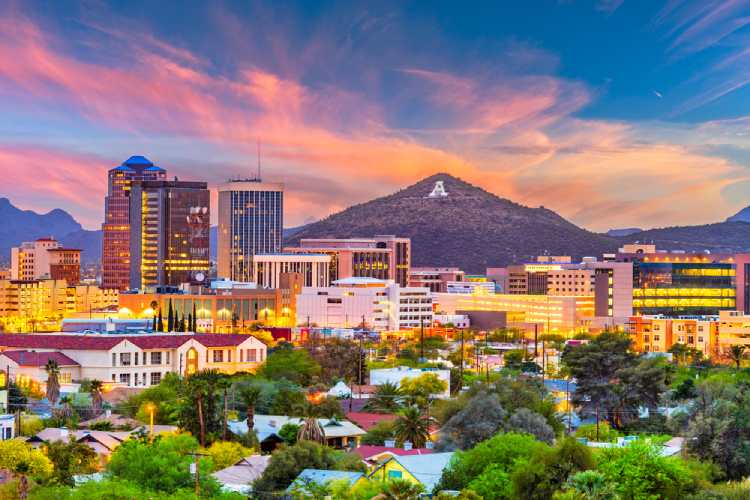 Tucson is a city located in the southern state of Arizona and is the second-largest city here. It's popularly known as Old Pueblo City and offers you affordable houses, plenty of job opportunities, great food, an array of cuisines, diverse culture, and a sunny climate. Tucson's Latin and Mexican influence peaks through its celebration of art, culture, architecture, and even food. The warm weather in the city enables you to enjoy year-long outdoor activities and take advantage of all the recreational amenities that Tucson offers.
Whether you're moving to Tucson for better job opportunities, a laidback southern lifestyle, getting a degree, or escaping to a city with more sunshine days, once you've lived here, there's no turning back. Most people locating to Tucson end up loving it too much. So, if you've made up your mind already, here are some of the best neighborhoods in Tucson for singles and young professionals that you can check out.
Best Neighborhoods In Tucson for Singles And Young Professionals
Downtown Tucson
Downtown Tucson is one of the well-known and bustling neighborhoods in the city. It's hip and noisy with an abundance of restaurants, coffee shops, museums, parks, playgrounds, schools, and some big employers as well. The Museum of Contemporary Art Tucson and the Children's Museum Tucson are two of the big employers in this area along with the local restaurants, eateries, retail and grocery shops that have job openings. A lot of these bars and restaurants also have live music and some special offers running over the weekends that you can enjoy for yourself.
Arizona Theater Company and Tucson Arena are two other places where there are some live performances every now and then. Along with these modern amenities, you also have some old architectural monuments like the Cathedral of Saint Augustine which dates back to the 1850s. So, basically, you have job opportunities, eccentric nightlife along with amenities that make Downtown a very appealing place for young people and working professionals to live in.
Median Home Value: $584,100
Monthly Rent: $1,500
Median Household Income: $45,230
Armory Park
Armory Park is a close-knit community neighborhood that is apt for young professionals who want to start a family. The education and job opportunities here are some of the best in Tucson. From elementary to middle and high schools, you'll see that the quality of education is excellent and the schools are also top-rated here. Besides, these schools also provide employment opportunities. You have healthcare and education as the employment generating industries, wherein Southern Arizona VA Healthcare Systems, the Armory Senior Center, Borton Magnet Elementary School, and The University of Arizona are some of the major employers in this area.
This neighborhood is just 10 minutes away from Downtown and hence, you have access to all the amenities of Downtown as well. Armory Park is listed on the National Register of Historic Places and is home to monuments and buildings that depict the culture for over 150 years now. This place is a bit expensive when it comes to real estate values, but the opportunities and experiences you gain make it worth a bargain.
Median Home Value: $625,120
Monthly Rent: $1,680
Median Household Income: $45,860
See Also: 6 Largest Cities in Arizona
Sam Hughes
Sam Hughes has been one of the older neighborhoods that have been around since 1920. Interestingly, this neighborhood has also been among the national historic places since 1994. It's a very warm and welcoming neighborhood that has an eccentric lifestyle balanced with a strong community vibe. This neighborhood has an association that is very active and hosts a number of events for its residents throughout the year. They have some fun events for people of all ages and these events help people in the community to socialize with each other.
For professionals looking for jobs, Davis Marathon Air Force Base, Casas Church, and the Oro Valley Hospital are some places you can check out. Besides, you also have the schools, retail stores, and even the food and beverage places that are spread across the city that provide employment. Sam Hughes is also a very safe neighborhood in the city as the violent and property crime rates are relatively lower than the national average. So, getting out during the night and taking a stroll is very normal for the locals in this area. As an individual moving to Tucson, you'll surely enjoy your time here as there are many things happening throughout the year.
Median Home Value: $597,505
Monthly Rent: $1,450
Median Household Income: $38,170
Dunbar Spring
Dunbar Spring is a culturally diverse community that is named after novelist and poet Paul Laurence Dunbar. This neighborhood boasts a number of art galleries and theaters as well. For all the theater lovers, you have the Leo Rich Theater where you can enjoy musical performances, ballets, and many other theatrical events throughout the year. The community of people living in Dunbar Spring are committed to the neighborhood and have been consistently making changes towards its development on a small and large scale.
You'll be impressed by the dining options you have in this neighborhood along with diverse cuisine. Dunbar Spring is also known for its healthcare facilities. The Carondelet St Mary's Hospital and Banner University Medicine are two of the bigger healthcare institutes that also provide job opportunities to young professionals. The vibrancy in this neighborhood is something that attracts individuals towards it, plus it's also located just a few minutes away from Downtown and gives access to the amenities there as well. Overall, it's a very diverse neighborhood with plenty of opportunities for professionals.
Median Home Value: $510,320
Monthly Rent: $1,080
Median Household Income: $30,780
Broadmoor-Broadway
Broadmoor-Broadway is a small neighborhood located in Pima County that has an urban-suburban feel to it. It's definitely one of the best ones in the city with several restaurants, bars, cafes, shops, malls, shopping centers, supermarkets, parks, gardens and much more. A majority of the population living here is a combination of youngsters, retirees, working professionals, and families. The amenities available in this neighborhood work great for all kinds of people.
Broadmoor-Broadway makes an excellent place for professionals looking to settle down. It's home to some top-rated public schools and colleges and has low crime rates as well. The community here has been working towards sustainable development in the area and has made some progress over the years. Broadmoor-Broadway is quite a unique neighborhood that has a variety of things to offer you. It's one of the reasons why it has been a popular place to move to among the professionals in recent years.
Median Home Value: $330,320
Monthly Rent: $945
Median Household Income: $94,182
Old Fort Lowell
Old Fort Lowell is one of the oldest neighborhoods in Tucson that dates back to 300 AD. It's a place that gets its name from an army post that was located there back in 1873. Since then, there have been several indigenous and other communities that have lived here on and off. What remains of Old Fort Lowell today is a unique amalgamation of culture and history that has blended into the food here. You'll see a variety of cuisines in this neighborhood that are served in the local coffee shops, eateries, and restaurants. Most of these places have live music or Friday cocktail nights organized for the locals to enjoy.
You'll also see that art is celebrated at large in Old Fort Lowell. You have art galleries, wall murals painted across the areas and streets, and even reflected in the interiors of the cafes, restaurants, and bars as well. What you should also be knowing is that the cost of houses in this neighborhood falls somewhere toward the higher end of the scale and some might even be more expensive than most others. The rent here also follows a similar pattern. But many people are willing to pay the high price as it's a very homely and warm neighborhood that just has everything you'll need. You won't have to move away or out of this place as Old Fort Lowell is a self-sufficient neighborhood in Tucson.
Median Home Value: $975,200
Monthly Rent: $1,990
Median Household Income: $37,580
El Presidio
El Presidio is another one of the historically significant neighborhood in Tucson. It's the place where Tucson was first established by the Spanish Military back in 1775. The deep Spanish roots will evidently be seen here in museums, art galleries, and the delicious authentic Spanish cuisine. The houses also depict the same as there are plenty of those vintage ones here. You'll find some options if you want to buy or rent, but you need to know that the real estate market in El Presidio is booming and it won't be cheap.
This neighborhood is a small part of the downtown area, so you'll not fall short of things to do and explore either. There are plenty of outdoor and recreational activities that you can surely engage in. This is one of the features that young professionals working here and the youth really enjoy about El Presidio. Besides, you need not worry about commuting either; all of these prime spots are just walking distance away from one another. There are also ample history and walking tours that you can be a part of to know more about this neighborhood and its history and culture.
Median Home Value: $690,980
Monthly Rent: $1,698
Median Household Income: $43,438
Things To Look Out For Before Deciding To Move To Tucson
Tucson is known for its affordable house rates. Even though the prices have gone up a little in the past few years, most areas are still pretty much in the affordable price range.
The weather in this city is going to be hot and the average temperature exceeds 100°F in summers. The lack of humidity also contributes to the heated weather and the winters are mild here. You might have to be mindful of this, especially if you're moving from cities that experience a much colder climate.
The crime rate in Tucson is higher than the national average. Both property and violent crimes here are on the rise and it's not the safest city to reside in. But if you're moving here, make sure to reside in neighborhoods that are safer among the lot.
Hiking, trekking, running, cycling, skiing, mountain biking, sledding, and horseback riding are just some of the many outdoor activities that you can easily enjoy in this city. It's also a bike-friendly city and also has really good biking and cycling infrastructure. You'll find bike and cycling trails along the roads and even parking spaces. This makes getting around the city convenient.
One thing that this city lacks is the freeways running across towns. This contributes to traffic congestion and extra commute time. This is also one of the reasons why locals prefer cycling their way around.
Tucson is a very large city and having a car is going to make commuting easy for you. Even though they have their very smooth functioning Sun Link Streetcar and Sun Tran transit systems, a car is your best bet to reach places in time.
Another benefit and an important characteristic of Tucson that attracts young professionals and singles is its low cost of living. According to Payscale, the cost of living here is almost 6% lower than the national average and that gives you a few opportunities to save on your expenses.
Summing Up
Moving to a new city is always going to be a big change and a challenging process as well. Thanks to the warm and welcoming community of Tucson, the job opportunities, great lifestyle and plenty of places to explore, adjusting to this place will be much easier. It's definitely one of the best cities to live in as you also have a comfortable lifestyle and excellent career options as well. All of the neighborhoods that are mentioned above are some of the best ones in Tucson to reside in. They have several amenities and opportunities waiting for you. So have a look at them to understand which ones you like better and would consider moving to, before you move here.
FAQs On Best Neighborhoods in Tucson For Singles And Young Professionals
What Is The Best Neighborhood To Live In Tucson?
If you're looking for the best neighborhoods for singles and young professionals in Tucson, Sam Hughes, Dunbar Spring, Broadmoor-Broadway, Old Fort Lowell and El Presidio are some that might interest you. They have some great amenities and excellent opportunities for singles and professionals alike.
What Part Of Tucson Is Safest?
Tucson is a city with crime rates higher than the national average. But if you look at neighborhoods like Downtown Tucson, Sam Hughes, and El Encanto, you'll notice that they have crime rates that are relatively lower and safer. The property and violent crimes here are under control with the help of local authorities and they make for safer neighborhoods to live in.
What Are The Pros And Cons Of Living In Tucson Arizona?
Like any other city that you can think of, Tucson too has some positives and negatives that may or may not change your mind about moving.
Pros Of Living In Tucson
The cost of living in the city is lower than the national average.
Transportation, even though limited, works efficiently.
Mexican food in this city is one of the best ones you'll try outside of Mexico itself.
Cons Of Living In Tucson
The infrastructure when it comes to transportation is very poor.
Crime rates in this city are higher than the national average.
The weather in Tucson is very hot and you may not necessarily appreciate it.
See Also: Out of State Moving Companies