8 Best Neighborhoods In San Francisco For Families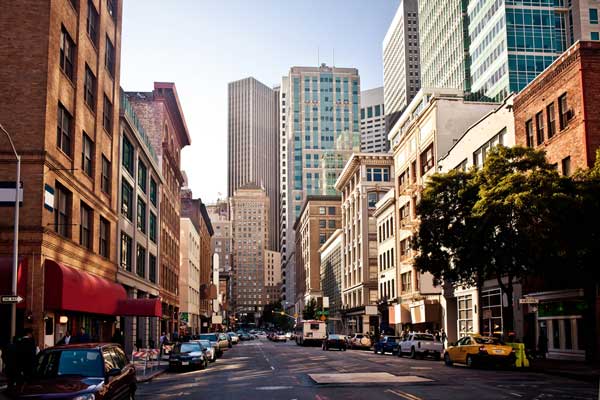 No one needs to sell you on living in San Francisco. The Golden City's diverse scenic landscape, thriving tech industry, and charming colorful homes are enough reasons to want to live here! The expansive San Francisco hills offer some of the most breathtaking views of the Golden Gate Bridge, miles and miles of meandering hiking trails, the salty sea breeze and waterfront views of the Bay area and the Golden Gate Park. To add to all this natural beauty, the city's charming sidewalks, the cable cars with their nostalgia-striking bells, the seamless mix of old vintage and sleek new architecture, and the overall colorful vibe of the city, make San Francisco a lively and eclectic city to live in.
Many people also move to San Francisco for its booming tech industry. With big tech companies like Google, Tesla, Microsoft, Netflix, and Facebook setting base in the San Francisco valley and many more major companies opening headquarters here, the city is a perfect place for high-flying tech opportunities. San Francisco also has an extensive and efficient public transportation system – that is also biker-friendly – which will make you want to forego owning a car altogether! And how can we forget about the Golden City's amazing food scene? Food is at the heart of the community and you'll find a diverse range of options ranging from Michelin-Starred restaurants to mouth-watering street food stalls.
The salty sea air, charming vintage houses and colorful modern apartments, lively and artistic streets, winding hills, and breathtaking views are enough to pull you into the gorgeous web of San Francisco! But your experience of The Golden City will depend on the neighborhood you choose to live in. So, we bring you the best neighborhoods in San Francisco to make your San Fran life an unforgettable experience.
Best Neighborhoods In San Francisco For Families
1. North Beach
2. Russian Hill
5. Castro
North Beach
North Beach is nicknamed 'Little Italy' due to its local history and Italian heritage that's woven into the neighborhood's culture. It'll come as no surprise that the neighborhood is home to a large population of Italian Americans. Located near the Financial District and Chinatown, this neighborhood is a great option to live in if you work downtown. Perfect for families, young professionals, and retirees alike, North Beach's proximity to downtown makes it a popular spot among residents who don't wish to commute for hours to get to work. The neighborhood is laden with old historic buildings and beautiful piers, many open green spaces and parks, scenic waterfronts, and hilly streets – which translate to an abundance of outdoor activities.
You'll find authentic Italian pizzerias, coffee shops, gelato bars, and restaurants here. If you're an avid old-school reader and the smell of old leather-bound books and the feel of the coarse pages enlivens your soul, then be sure to visit the famous City Lights Bookstore that features multiple signing events. The nightlife in North Beach is as eclectic as the neighborhood's heritage. This also makes North Beach a popular destination among tourists and the streets are almost always bustling with a lively crowd.
Median Home Value: $1,105,000
Monthly Rent: $3,100
Median Household Income: $68,423
Russian Hill
As its name suggests, this hilly neighborhood offers some of the most amazing views of the waterfront and the city. The Russian Hill is famous for the Lombard Street which is known as the 'most crooked street in the world' and is a major tourist attraction. Russian Hill is a more quiet and relaxed neighborhood in comparison to most of the bustling neighborhoods in San Francisco. A part of the charm of this quaint neighborhood comes from the echoing tinkle of the cable car bells, as the car lumbers down Hyde Street.
This idyllic San Francisco neighborhood has its fair share of delicious restaurants, trendy shops, and nightspots located at Union Street for the more outdoorsy residents. If you're a workout buff or enjoy exercising and going on nature walks, then this hilly neighborhood will offer you some breathtaking views of the Golden Gate and Bay Bridges, the stunning skyline melding seamlessly into the waterfront – all the while helping you get fit! Not a bad deal, is it? A small hidden gem of the Russian Hill is the pedestrian walkways and the stairs lined with tropical plants that add to the charm of this peaceful neighborhood.
Median Home Value: $1,477,500
Monthly Rent: $3,345
Median Household Income: $83,495
Haight-Ashbury
Haight-Ashbury is a historic town and is known for its part in the countercultural movement of the 60s and 70s. The neighborhood stands today as a remembrance of this revolutionary era and you'll still see ripples of it woven in the present neighborhood's eclectic and diverse character. Haight-Ashbury has a distinct free spirit, a bohemian hippie vibe, surrounded by several funky stores, vintage boutiques, retro restaurants and dining, tattoo parlors, and thrift stores. The neighborhood has some amazing eateries and retro dive bars that retain the funky vibe of the 70s. Haight-Ashbury holds its history close to its heart with beautiful splashy murals decorating the sidewalks and walls.
But don't let this neighborhood's free spirit and funky vibes fool you! Haight-Ashbury is more than just an eclectic neighborhood that is fit for millennials and the younger generation. The neighborhood is considered one of the safest neighborhoods in San Francisco, which has brought numerous families and young professionals flocking here. It has multiple colorful and vintage Victorian homes lining the streets, beautiful museums, botanical gardens, tennis courts, and some of the best green spaces in the city. The neighborhood is very close to Golden Gate Park as well as the famous Amoeba Record Shop known for its notable collection of vinyl records and retro posters.
Median Home Value: $1,487,500
Monthly Rent: $2,900
Median Household Income: $167,807
Cow Hollow/The Marina
Though Cow Hollow and the Marina are technically two different neighborhoods, they are adjacent to each other and have similar vibes and character. The Marina is located on the waterfront – hence the name – while Cow Hollow is located just south of the Marina. The neighborhoods are bestowed with gorgeous views of the expansive bays, and truly stunning homes of the Billionaires' Row. The neighborhoods are upscale and posh in comparison to other neighborhoods in San Francisco, with yoga studios, swanky restaurants, trendy and chic bars, and luxurious stores. It's scattered with sleek modern high-rise apartments and condos and, in stark contrast, beautiful vintage Victorian homes. So, you have some great housing options to look forward to, here!
San Francisco's major landmarks are all within walking distance of this neighborhood. So, you're never going to have a dull weekend here! If you love sports or enjoy good exercise, then be sure to check out the Chrissy Field and the Golden Gate Promenade where you can run along the waterfront. And if you want to spend some quality time with your pet pals, then bring them along – the Promenade is pet friendly and both you and your furry friend will love it!
You can find some amazing eateries on Chestnut Street and Union Street. Union Street is popular for its patio-lined brunch spots that serve some amazing cocktails and food. Cow Hollow and Marina are truly great areas that showcase what life in San Fran is all about; beautiful water views, unique attractions, and diverse people.
Median Home Value: $2,885,000
Monthly Rent: $2,995
Median Household Income: $179,143
Castro
One of the proudest LGBTQI+ communities in the State, Castro is truly an experience to immerse yourself in if you wish to have a vibrant and lively neighborhood. From some of the most amazing Pride Parades to Rainbow Street Crossing, there's no questioning that this neighborhood is a colorful and energetic one! The residents of this neighborhood aren't the only ones with a wide diversity. Castro's collection of houses and architecture is absolute eye candy. From Victorian-style to Queen Anne, Gothic and Mission to Tudor architectural styles, this neighborhood has brought diverse pieces of history to life. The neighborhood is very walkable and bikeable and is well connected by various public transit services, which is a serious plus point as parking isn't readily available in Castro.
With ample bars, dance clubs, and quirky restaurants, the nightlife in Castro is super energetic and jovial. The streets come alive later in the evening with the bustling crowds of young people and drag queens bar-hopping or walking around the neighborhood flaunting their style! In terms of things to do in Castro, you can have an evening of fun walking down the Castro Street History Walk, look around the various museums and art galleries in the neighborhood, or enjoy a relaxing walk at the Rikki Streiter Field. Castro is truly a great neighborhood if you wish to be close to all the action, yet live in a quiet street, with an open-minded and LGBTQI+-friendly community.
Median Home Value: $1,610,000
Monthly Rent: $3,148
Median Household Income: $158,188
Fisherman's Wharf
Fisherman's Wharf is one of the most iconic and famous neighborhoods to live in San Francisco. The neighborhood is located on the northern waterfront, so you'll never fall short of breathtaking views and gorgeous bayside scenery to feast your eyes on. Add to this its proximity to the Golden Gate Bridge and the charming hillside streets, it comes as no surprise that Fisherman's Wharf is a popular attraction for tourists and locals alike!
Being such a tourist hotspot, the neighborhood is lined with numerous quaint hotels and adorable little souvenir shops. Fisherman's Wharf is known for the well-known Pier 39, which is the most visited tourist attraction in the city. And being a bayside neighborhood, the Wharf is bound to have some fantastic aquariums and aquatic life to explore and see. The neighborhood has an array of trendy restaurants that serve some of the most delicious seafood. It also has beautiful local boutiques, live performance events, video game arcades, Alcatraz, and the Ghirardelli Square. Fisherman's Wharf is a great place for families and young professionals, as the neighborhood flaunts a low crime rate.
Median Home Value: $3,150,000
Monthly Rent: $2,650
Median Household Income: $106,369
Mission District
Also called 'Mission Dolores', after the iconic 18th-century Mission Dolores, the oldest surviving structure in San Francisco, the Mission District, is an ever-evolving Latin neighborhood. The traditional Latin neighborhood which was well-known for its authentic Mexican burritos and tacos has been seeing great changes with the influx of tech companies in the area. The community has become more diverse in terms of culture and people, without losing out on its Hispanic heritage. The streets are covered in colorful art, mouth-watering street food vans and carts, and breathtaking murals. There's always something going on in these sun-kissed streets (known for its lack of fog), and its vibrant communities make Mission District a cultural epicenter.
Living in Mission District comes with a major perk of easy access to the famous Dolores Park which offers 16 acres of expansive green space, dog park, tennis court, basketball court, and soccer field to enjoy your weekend playing, sunbathing, or relaxing with your friends. The residents of the neighborhood will vouch for the stunning views of the city skyline that can be seen from Dolores Park.
Median Home Value: $1,310,000
Monthly Rent: $2,800
Median Household Income: $113,238
Financial District
As the name suggests, the Financial District is the business center of San Francisco and is often referred to as 'The Wall Street of the West Coast'. The neighborhood is filled with tall skyscrapers and iconic landmarks. While the Financial District is a great place to live for young professionals and aspiring entrepreneurs, the neighborhood is also a great place to raise a family. The neighborhood's central location is a major pro in case your workplace is in the neighboring district or town. Bordered by the North Beach and Chinatown, Financial District is close to major locations like Market Street, Grant Avenue, Embarcadero, and Broadway Street. The neighborhood is also well-connected by cable car lines so getting around the Financial District without a car is super easy.
Financial District is not only a business hub but also has tons of other things to offer to its residents, from stunning waterfront views to a plethora of restaurants and little cafes. If you enjoy exhibitions, be sure to check out the Exploratorium which holds exhibitions all year round. The Waterfront Restaurant, Pacific Heritage Museum, and the Ferry Building are great places to visit to get away from the 9 to 5 grind of the workweek. Due to its downtown location, the neighborhood has a number of high-end restaurants and amazing date night spots to make your stay here exhilarating. If you are a wine lover go check out the San Francisco Wine Society which features some of the most amazing wines from Napa Valley and all over the world. With plenty of modern and sleek high-rise buildings, salty sea breeze flowing in from the waterfront, and quiet nights, this neighborhood is a true highlight of the San Francisco Bay Area.
Median Home Value: $658,000
Monthly Rent: $3,323
Median Household Income: $66,666
Things To Look Out For Before Deciding To Move To San Francisco
All good things come with a price. San Francisco is, by no means, a cheap place to live in. The cost of living, rent prices, housing prices, and overall utilities and facilities are all on the pricey side. So, before moving to the city, make sure that you have a stable job with a good salary and have kept aside some savings for contingencies.
The weather in San Francisco is a pro-con and entirely dependent on what climate range you prefer. San Francisco is infamous for its foggy days to such an extent that you'll find Instagram and Twitter hashtags like #SanFranciscoFog.
Unfortunately, the Golden City is not so golden on its sunshine front. You'll see more gloomy and cloudy days in San Francisco. But in contrast to some cities that see extreme weather, San Francisco is blessed with a fairly constant climate.
The west coast has become infamous for raging wildfires in the past few decades, and unfortunately, San Francisco is not immune to them. Wildfires and subsequent low air quality have been noticed during the summer months.
San Francisco is known to be one of the top cities with the worst traffic congestion. On average, a resident of San Francisco loses 97 hours a year to traffic! So, be prepared to face occasional bouts of mind-boggling traffic, especially during rush hours, whether you're taking the public transit or driving your car.
See Also: Best Neighborhoods in San Francisco for Singles and Young Professionals
Summing Up
San Francisco is a city full of character and charm and has something for everyone. Whether you're moving locally or relocating long distances, be sure to check out the neighborhood that intrigues you the most and that seems to be the right place for you. Do check out the community, local shops and restaurants, schools, transport facilities, and any other points of importance for you.
Also See: Moving to San Francisco | Top Long Distance movers in the USA
FAQs On Best Neighborhoods In San Francisco For Families
Do You Need A Car In San Francisco?
You don't necessarily need to own a car to live in San Francisco. The city has an extensive and efficient public transportation system that provides transport services like buses, metro rails, cable cars, streetcars, and taxis. Even if you plan to travel by car, prepare to face bad traffic.
What Salary Do You Need To Survive In San Francisco?
San Francisco has a pretty high tax rate, so having a good amount of money in hand after tax deductions is important. On average, your pre-tax annual income should be approximately between $93,000 to $95,000. Since the average cost of a one-bedroom apartment in San Francisco is $2,500, your monthly pre-tax income should be at least between $7,500 to $8,500 for living comfortably in San Francisco.
Is It Fun To Live In San Francisco?
San Francisco is a complete vibe to live in! The city truly has something for everyone. Whether you're an outdoor enthusiast or love the vibrant nightlife, art buff, or a scenic photographer, you'll find something that piques your interest for sure. From the sprawling hills, luscious woods, winding trails, and beautiful waterfronts for nature lovers and adventurers, to an assortment of cafes, restaurants, quirky bars, and pubs for the foodies and nightlife enthusiasts, and the Oracle Park for avid sports fans, San Francisco is, by no means, a dull city.
Does San Francisco Have Beaches?
San Francisco has no shortage of beaches, even though they may not be the sunny, warm variant of beaches as in California. San Francisco beaches provide some of the most breathtaking views from rocky crevices and cliffs to hillsides with blooming wildflowers. You may not be allowed to swim or surf at every beach in San Francisco, but you can surely enjoy relaxing nature walks and hikes, sunbathing, picnics, and more.
See Also: Best Moving Companies in San Francisco