7 Best Neighborhoods In Raleigh For Singles And Young Professionals


VanLines Inc
Secure Storage
Easy Booking Process
Fully Trained Employees
GET QUOTE

Colonial Van Lines
Storage Services
Long-Distance Moves
Corporate Relocations
GET QUOTE

Moving APT
Available Nationwide
Award-Winning Movers
Extensive Vetting Process
GET QUOTE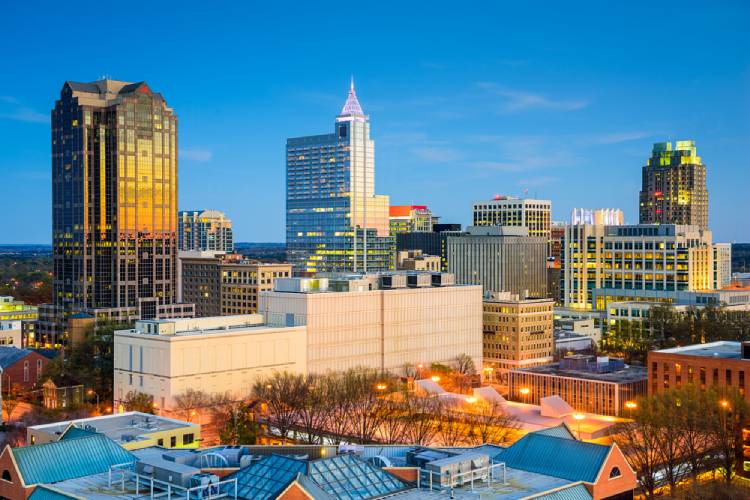 Raleigh, the capital of North Carolina, has a lot to offer to newcomers. Its finest Southern charm attracts many to move to its eclectic neighborhoods that are filled with history. Having a rich art culture, Raleigh is one city that overflows with a plethora of surprises. And if you're a single or a young professional who loves surprises, then Raleigh will certainly not disappoint.
Raleigh has a long list of neighborhoods that contribute to the overall vibe of the city. And to see which one attracts you the most, read our article on the best neighborhoods in Raleigh for singles and young professionals to know more.
Best Neighborhoods In Raleigh For Singles And Young Professionals
Boylan Heights
Situated in the western region of downtown Raleigh, Boylan Heights is a vibrant neighborhood that many have been noticing lately. Being a historic neighborhood, this area is home to some of the finest colonial architecture. Some notable mentions are the Queen Anne Style of English architecture that reflected the reign of Queen Anne, and the Colonial Revival-style structures that preserved the remains of American colonialism.
As a neighborhood, Boylan Heights is home to many college students and young professionals. One notable feature of the neighborhood is that several residents bicycle or walk to work; you can imagine the convenience of commute it offers if this is the trend!
One of Boylan Heights' famous attractions is the Montfort Hall, a mansion that stood the test of time and survived the American Civil War. It's regarded as a historic landmark and is currently renovated into a boutique hotel that goes by the name Heights House Hotel. If you want to taste a bit of opulence while scoping out the neighborhood, you can book a stay in this luxurious hotel.
The neighborhood is close to several parks, all within walking distance. During the Christmas season, an Art Walk is held in this area to appreciate and support local artists. So, if you're looking for a way to spread some Christmas cheer, an Art Walk in Boylan Heights is perhaps the best way to do so!
Median Home Value: $550,000
Monthly Rent: $1,834
Median Household Income: $72,775
North Hills
Located in Midtown Raleigh, North Hills is a neighborhood that's more upbeat than most others mentioned in this list. It's fast, loud, and is home to a lot of action. The area sprawls with a variety of chic restaurants, large malls, and a range of entertainment options. The North Hills Mall and North Hill Plaza are two primary areas you should take notice of to fulfill all your shopping needs. If you're hungry, you can head down to Midtown Grille for some casual dining or Another Broken Egg Café to have a hearty breakfast.
Due to its commercial nature, you will find a perfect blend of local and corporate businesses established over here. It also gives you good access to some major highways going through the city, making your commute to work convenient. Or, simply pick one of the businesses housed in Class A office spaces, and walk to work! Several craft breweries are also situated within the grounds of this bustling neighborhood. So, whenever you're having a chilled pint at one of the pubs in North Hills, you know where it's coming from!
The area also hosts several concerts, festivals, and farmer's markets, so if you're looking to have some fun with your pals, North Hills has plenty of outdoor opportunities. This neighborhood also happens to be one of the fastest-growing and we can't see a reason why people wouldn't want to move to this bustling place.
Median Home Value: $430,000
Monthly Rent: $1,494
Median Household Income: $74,406
Historic Oakwood
If you want to live in a neighborhood that has a strong sense of community, then you should consider Historic Oakwood. Located in downtown Raleigh, this neighborhood contains many Victorian-style homes. And, many homes that were built during the American Civil War are still preserved today. The diverse range of homes that are seen in this area is immense!
When it comes to your neighbors, they will be the sweetest and warmest people you'll ever know. Throughout the year, various potlucks and picnics are held by the community of Oakwood, which means that you'll never feel lonely or left out in this quaint neighborhood.
The Oakwood Candlelight Tour is held annually to showcase the history of some iconic homes in Oakwood. For plant enthusiasts, the Oakwood Garden Club is a venture by the community to educate others about the importance of gardening. It's an event where neighbors have a good time bonding with each other.
If you're single and want to be among pleasant company or a young professional who needs to be near good job opportunities, this neighborhood caters to you!
Median Home Value: $570,000
Monthly Rent: $1,934
Median Household Income: $63,894
Hayes Barton Historic District
Situated in the northwest region of downtown Raleigh, this neighborhood is known for its proximity to amenities and businesses. Living life in the Hayes Barton Historic District is convenient, making it suitable for singles and young professionals to settle in. It's home to many businesses, restaurants, and parks, so you'll always find a bustle on its streets.
For our history buffs, you should visit the Jolly-Broughton House, a Georgian-era-styled structure where North Carolina Governor J. Melville Broughton and First Lady Alice Willson Broughton resided. If you're fond of vintage jewelry and browsing rare ornaments, you can drop into The Shops at 1700. If you want to have an afternoon of fun and games, you can head over to Tic Toc Escapes and solve intriguing puzzles.
Housing and rent are expensive in this neighborhood, but if you're willing to spend, living here will not be disappointing at all!
Median Home Value: $1.7M
Monthly Rent: $2,596
Median Household Income: $119,211
South Park
South Park is a great neighborhood that's just a short distance away from downtown Raleigh. A lot of new projects have been up and coming in this neighborhood along with new amenities such as supermarkets and shops. Although you won't get much of that fast-paced urban lifestyle, this neighborhood has a very homely charm, all thanks to its warm and jovial residents.
There are quite a few things to do in South Park if you look around. If you're a young professional looking to do some skateboarding, then head to Neighbor Skate Park to practice those ollies. To enjoy those blue suburban skies that the Beatles talk about, you can visit Junious N. Sorrell Park. For all those who enjoy live, energetic performances, there's always the Duke Energy Center for the Performing Arts located on the outskirts of South Park.
And last but not least, there's Bklyn's Bodega, a fast food outlet that sells juicy burgers and french fries!
Median Home Value: $510,000
Monthly Rent: $1,663
Median Household Income: $58,144
Cameron Park
Cameron Park, also known as Forest Park, is located on the west side of downtown Raleigh. This neighborhood is filled with American and colonial history and has been inducted into the National Register of Historic Places. Many of the homes still have that Georgian and Tudor aesthetic in their architecture and that's why real estate is expensive in this neighborhood.
Amenities are pretty close to each other and this makes living convenient and easy in Cameron Park. If you ever feel hungry after a heavy day of shopping, pop into My Way Tavern to enjoy some American comfort food or David's Dumpling & Noodle Bar for some scrumptious Asian cuisine.
You won't find a lot of bustle in Cameron Park, but if you do miss the fast-paced action of city life, downtown Raleigh is just a few miles away. Staying here is ideal for those of you who want an easy commute to your job downtown, but want to come home to a peaceful, cozy neighborhood.
Median Home Value: $1.1M
Monthly Rent: $2,845
Median Household Income: $130,769
Mordecai
Regarded as one of Raleigh's oldest, Mordecai is a small neighborhood that also has a deep history. The neighborhood is named after Mordecai House, the birthplace of 17th American president, Andrew Johnson, which is regarded as Raleigh's oldest foundation.
The warm charm and serene nature of this neighborhood are what draw many to live in it. It's a bit secluded and it's best for those who want to unwind from their busy life. The area has seen an immense amount of development happening and is one of Raleigh's most desired neighborhoods due to its short distance from downtown.
Although its streets are quiet, you will find small crowds near their restaurants and eat-outs. Some poignant ones you should check out are the Yellow Dog Bread Company, Two Roosters Ice Cream, and Escazu Chocolates. If you ever need to socialize and enjoy a drink, then hang out at Person Street Bar.
Median Home Value: $522,000
Monthly Rent: $1,578
Median Household Income: $66,350
Things To Look Out For Before Deciding To Move To Raleigh
Raleigh's housing is pretty expensive. If you're looking to buy a house in this city, ensure that you have a good job before you make the move.
Summers can get extremely hot with temperatures crossing 90°F. Winters are much milder in comparison. But, if you're looking for a city with four-season weather, you should look elsewhere.
This city has numerous parks for a fun day out in the sun and a variety of restaurants to satisfy your gastronomy needs. But, when it comes to nightlife, Raleigh doesn't offer many options. So, that's something you'll have to deal with.
Beaches in Raleigh are pretty spread out. It'll take you a minimum of 2 hours of driving from your location to the Atlantic stretch. Also, there's the traffic you'll have to consider and that can stretch the estimated time longer.
Raleigh has several pollen cycles throughout the year, so if you have a history of allergies, make sure you avoid stepping out often during those months.
Getting to places in Raleigh can be tedious if you don't owe your vehicle. You could rely on its public transportation but again, the bus system is not efficient. That's why before moving, ensure that you have some form of personal transportation.
Also See: 5 Best Neighborhoods in Raleigh for Families | Best Moving Companies in Raleigh
Summing Up
These are some of the best neighborhoods in Raleigh for singles and young professionals. The City of Oaks sure strikes a chord with all of its new residents. It's charming and warm, all thanks to how close-knit and welcoming the community is. If you're looking for a place that truly makes you feel at home, then Raleigh should be on your list. On a side note, hire a professional moving company for this long-distance move to Raleigh. Your work is cut out by half since they do the majority of the heavy lifting!
FAQs On Best Neighborhoods In Raleigh For Singles And Young Professionals
Is Raleigh NC A Nice Place To Live?
Raleigh is known for its warm community and family-filled atmosphere. It has a booming economy, beautiful southern scenery, and good outdoor activities for anyone to enjoy. If you want to experience Southern hospitality at its finest, then you should move to Raleigh.
What Is A Good Salary In Raleigh NC?
The median salary per annum in Raleigh is $48,000. So, any amount above that can be regarded as a good salary in Raleigh. All thanks to Raleigh's robust economy, you won't have to search far for lucrative job opportunities.
What Is Raleigh Famous For?
Most of Raleigh's neighborhoods are sprawling with oak trees and that's why it has been named the "City of Oaks." Raleigh is also known for its Research Triangle Park (RTP), the tri-city region of Raleigh, Durham, and Chapel Hill where major forms of development happen.