7 Best Neighborhoods In Phoenix For Families


VanLines Inc
Secure Storage
Easy Booking Process
Fully Trained Employees
GET QUOTE

Colonial Van Lines
Storage Services
Long-Distance Moves
Corporate Relocations
GET QUOTE

Moving APT
Available Nationwide
Award-Winning Movers
Extensive Vetting Process
GET QUOTE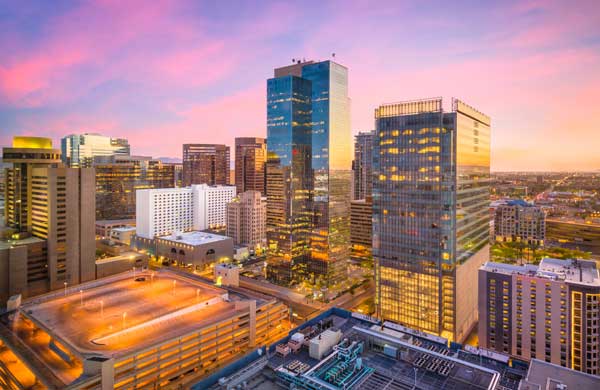 Arizona's capital city Phoenix is also the largest city in the state and the fifth-largest city in the US. Located in Maricopa County in the south-central part of the state, it's one of the fastest-growing cities in the country with a population of around 1.75 million. Phoenix draws more citizens than any other city in the nation, whether it's families, young professionals, or retired people. Often referred to as the Valley of the Sun, the city is best known for its splendid natural beauty, sunset views, flora and fauna, and a number of major public attractions.
The climate of Phoenix can best be described as a subtropical desert with mild winters and hot summers. The city is known for its year-round sun and those who can't handle winters must definitely consider Phoenix to set up residence. Apart from some brilliant schools and universities, Phoenix has a robust job market with major sectors like tourism, aerospace, defense, healthcare, bioscience, film and digital media, technology, and manufacturing. Some of the top employers are US Airways, Intel Corp, Wells Fargo, Bank of America, and Luke Air Force Base. To help you make the best choice for your residence, here are some suggestions of the top neighborhoods in Phoenix for families to live in.
Best Neighborhoods In Phoenix For Families
Ahwatukee Foothills
Home to around 87,425 people, Ahwatukee Foothills is located in the southern part of the city of Phoenix, and according to Money Magazine, it's among the best places to live not just in Arizona, but the entire country. The neighborhood is family-friendly and extremely safe with its crime rate being 55% lower than the average rate in Phoenix. The city offers its residents everything from stunning sceneries and quiet streets to lots of amazing places to eat and drink, shopping centers, entertainment, and schools. In other words, Ahwatukee Foothills provides a mix of a small-town feel and big-city facilities. The highly walkable neighborhood also has ample open spaces and parks including three beautiful golf courses and the largest municipal park in the US called South Mountain Park. This gives the people options of hiking, running, walking, and biking.
The biggest reason behind its popularity among families is the presence of top-quality schools in the neighborhood. Kyrene School District serves Ahwatukee Foothills and some of the best schools include Kyrene de las Manitas School, Desert Vista High School, Summit School of Ahwatukee, BASIS Ahwatukee, and Desert Vista High School. As far as housing is concerned, you'll get to choose from options like the contemporary, Mediterranean style, and Spanish mansions. For the foodies, there are restaurants like Trattoria D'Amico, Caffe Boa, and Spinato's Pizzeria that you'll absolutely love. Additionally, commuting to and from this neighborhood is really easy.
Median Home Value: $532,500
Monthly Rent: $1,769
Median Household Income: $102,675
Arcadia
Located in the extreme north of the Phoenix metropolitan area, Arcadia is home to around 40,621 people. Although it's an upscale neighborhood with luxury that not everyone can afford, the kind of safety that its residents enjoy along with many other amenities and facilities is worth it. Arcadia is one of the most sought-after neighborhoods in Phoenix due to reasons like its location (it's in the center of other awesome neighborhoods), great schools, amazing career opportunities, high-end resorts, restaurants, bars, nightlife, boutiques, and golf courses. Arcadia is surrounded by Scottsdale, Paradise Valley, and Echo Canyon Recreational Area. The nearest airport is just 15 minutes away from the picturesque neighborhood which also happens to have a lot of shopping options.
The architecture in Arcadia is similar to that in the southern part of California since the area is filled with the Mediterranean, Spanish-style houses, and single-story dwellings. Talking about your children's education, major schools in the neighborhood are Hopi Elementary School, The Hills School, Phoenix School of Academic Excellence, and Arcadia High School. Some of the best restaurants in the neighborhood are The Henry, Chelsea's Kitchen, Nano Brewery, and Postino Wine Cafe.
Median Home Value: $1,100,000
Monthly Rent: $1,700
Median Household Income: $71,662
Roosevelt Row
Located in the Downtown area of Phoenix, Roosevelt Row is home to around 8,618 people. Famous for being a hub for arts and small businesses, this neighborhood is surrounded by McDowell Road, Fillmore Street, Central Avenue, and Seventh Avenue. The people living in this area often call the neighborhood 'RoRo' and they take pride in the way they have developed it. When it comes to housing, you'll get to choose from a number of different options like single-family homes, townhouses, condos, and stylish apartment buildings. The energetic and vibrant neighborhood is a fast-growing area with numerous music venues, open-air markets, restaurants, bars, boutiques, breweries, clubs, schools and universities, and art galleries. Best suited for young families and professionals, Roosevelt Row will make you appreciate life like no other place.
You need not worry about the education of your children just because it's a neighborhood full of young people. Two of the best schools are Bioscience High School and Garfield Elementary School. Apart from this, there are plenty of other things to do and places to visit and enjoy with your family like participating in the independent film festival, visiting the Heard Museum of Native Cultures, and trying cafes like Jobot Coffee.
Median Home Value: $545,000
Monthly Rent: $2,440
Median Household Income: $50,153
Willo
Willo is centrally located, right in the middle of Phoenix, and has the McDowell Road and Thomas Road running to its south and north, respectively. One of the oldest neighborhoods in Phoenix, Willo was planned in the 1920s. It's a small and tight-knit community with just around 3,415 people, all of whom support and help each other as well as tourists and any visitors. These people of the historic neighborhood, today, enjoy all the top amenities and facilities that the city has to offer or that you can ask for. Phoenix Sky Harbor International Airport is just a few minutes away and if you move to Willo, you'll have a number of public transportation services at your disposal.
The houses in the neighborhood are more than a hundred years old and include architectural designs like Tudors, bungalows, American Colonial Revival, Spanish Colonial Revival, and ranch-style homes. If you're worried about your child's education, the two best schools in Willo are Mohave Valley School and Willow Canyon High School. There are many amazing restaurants and bars as well like Barrio Cafe Gran Reserva, Bitter & Twisted Cocktail Parlour, The Dressing Room, and The Breadfruit & Rum Bar. You'll have ample opportunities to enjoy as a family in this neighborhood.
Median Home Value: $634,000
Monthly Rent: $1,373
Median Household Income: $89,400
Deer Valley
With a population of close to 200,000, Deer Valley is a charming residential neighborhood located in the northwest part of the Phoenix Metropolitan area. An extremely peaceful area, Deer Valley has its name on the lists of some of the safest and most affordable neighborhoods in the city. The accessibility to the nearby freeway makes commuting increasingly easy to the other parts of Phoenix. Another major advantage is that the cost of living in Deer Valley is about 2% lower than the average in the city, which means you'll save just a little more on utilities, groceries, and food than most other citizens. Considered among the best neighborhoods for families to live in the city, Deer Valley offers the people cottages, ranch-style, and Spanish Revival homes at affordable prices.
This is a huge area and hence, there are many well-ranked schools to choose from like Reid Traditional Schools' Valley Academy, Painted Rock Academy, Jefferson Preparatory High School, Las Brisas Elementary School, and Barry Goldwater High School. The Glendale Community College is probably the best one for those seeking higher education. A few of the most amazing spots where you'll enjoy with your family are Hurricane Harbor, Adobe Mountain Train Museum, Victory Lane Sports Park, and the Deer Valley Petroglyph Preserve.
Median Home Value: $430,000
Monthly Rent: $1,506
Median Household Income: $57,660
Paradise Valley
Paradise Valley is the best place to be if you love outdoor activities. Home to around 15,000 people, this neighborhood is located just around 14 miles northeast of Downtown Phoenix. Surrounded by stunning views of the Camelback Mountains, Mummy Mountains, and Piestewa Peak, the neighborhood offers the residents a complete view of the entire city. The housing styles in this neighborhood include southwest single-family homes and modern condos. A low crime rate means that you'll not have to worry about the safety of your loved ones at all. But what you should also know is that Paradise Valley is a luxurious neighborhood where the cost of living is nearly 11% higher than the average in Phoenix.
The Scottsdale Unified School District serves the area of Paradise Valley with high-quality schools like Chaparral High School, Montessori Academy, North Phoenix Prep, Vista Verde Middle School, and Paradise Valley High School. You'll also get to visit and enjoy numerous public attractions like McCormick-Stillman Railroad Park, the Echo Canyon Recreation Area, OdySea Aquarium, Echo Canyon Park, and Phoenix Swim Club. In addition, there are various open spaces and golf courses like Orange Tree Golf Course and Stonecreek Golf Club. If you can afford the higher cost of living, Paradise Valley is definitely one of the best neighborhoods in Phoenix for families.
Median Home Value: $3,450,000
Monthly Rent: $1,934
Median Household Income: $212,773
Camelback East Village
Home to around 52,022 people, Camelback East Village is located between the Camelback Mountain and the Piestewa Peak. Although there's everything available that you would want in your hometown, the entire area is a lot more peaceful and quieter than the city as a whole. The closest neighborhood to Camelback East is Arcadia but the lifestyle in the former is relaxed and laid-back. As far as housing is concerned, you'll get a wide variety including new developments, mid-century fixer-uppers, condos, and awe-inspiring bungalows. Your kids will have access to some brilliant public and private schools like Great Hearts Academies, Villa Montessori (Phoenix Campus), and Madison Highland Prep.
You'll also find a lot of family-friendly and kid-friendly activities in Camelback East Village. A few of the best public attractions are the Desert Botanical Garden, the Phoenix Zoo, Papago Park, and Phoenix Mountains Reserve. There are some awesome restaurants as well like Culinary Dropout, The Henry, and Luci's at The Orchard. If you're looking for an affordable neighborhood offering a decent standard of living, Camelback East Village is definitely worth considering.
Median Home Value: $581,000
Monthly Rent: $1,620
Median Household Income: $69,028
Things To Look Out For Before Deciding To Move To Phoenix
The weather in Phoenix is a prime reason why people move to the city. It gets year-round sunny weather. However, the summer season could get pretty harsh with temperatures reaching 100 degrees at times.
The job market is great with industries like defense, aerospace, science and technology, healthcare, education, financial services, etc. Some of the employers are Freeport McMoRan, PetSmart, Avnet, Republic Services, and Insight Enterprises.
For a major city, the cost of living of 103.7 is pretty impressive. While it's a little over the national average, it will still not be so heavy on your pockets, especially if you're moving from parts of the country that have a higher cost of living.
There are endless things to do and places to visit all across Phoenix, whether it's restaurants and bars or public attractions, sports, and recreational activities.
The crime rate is an issue in some parts of the city. As per Neighborhoodscout, the violent and property crime rates in Phoenix are 8.49 and 31.77 per 1,000 residents respectively. Some neighborhoods are definitely safer than others, so make sure to choose wisely.
While public transportation in the city is fairly accessible with light rail, transit buses, and private taxis, traffic congestion is a major issue in Phoenix.
Summing Up
So there it is. These are some of the most desirable neighborhoods in Phoenix that are best suited for families to raise their kids. Each and every neighborhood in the city offers almost everything that people look for, most importantly, the job sector and education options. Convincing the children will definitely not be a problem given the huge number of exciting activities that are there in the city. We hope this list of places helps you when you're making your final decision.
Also See: Phoenix, AZ: Surrounding Suburbs Guide | Moving to Phoenix | 5 Best Neighborhoods in Phoenix for Singles and Young Professionals
FAQs On Best Neighborhoods In Phoenix For Families
What Is The Median Home Value In Phoenix?
According to Zillow, the median home price in Phoenix is around $413,494. From March 2021 to March 2022, this rate has seen a huge increase of almost 29%. Also, this is much higher than the national average which is around $337,560.
How Much Should A Person Earn In Order To Live Comfortably In Phoenix?
As per Payscale, the overall cost of living in Phoenix is almost 5% lower than the national average. This means that you get to save on all your costs such as real estate, utilities, transportation, groceries, and healthcare. For a renter to live comfortably in Phoenix, they should be able to earn around $4,872 every month which means a yearly income of around $58,464.
Which Are The Most Affordable Neighborhoods In Phoenix?
Some of the most affordable neighborhoods in Phoenix are Florence, Avondale, Tolleson, Apache Junction, Youngtown, Buckeye, Gilbert, and Guadalupe.
Is Phoenix Safe To Raise A Family?
Phoenix has a violent and property crime rate of 8.49 and 31.77 per 1,000 residents, respectively. If you want to compare it with the national average, it is 4 for violent crimes and 19 for property crimes. Some parts of the city have extremely low crime rates and are comparatively safe to raise a family. Just be sure to make the right choice!
Also See: Affordable Movers in the USA