7 Best Neighborhoods In Omaha For Singles And Young Professionals


VanLines Inc
Secure Storage
Easy Booking Process
Fully Trained Employees
GET A QUOTE

Colonial Van Lines
Storage Services
Long-Distance Moves
Corporate Relocations
GET A QUOTE

Moving APT
Available Nationwide
Award-Winning Movers
Extensive Vetting Process
GET A QUOTE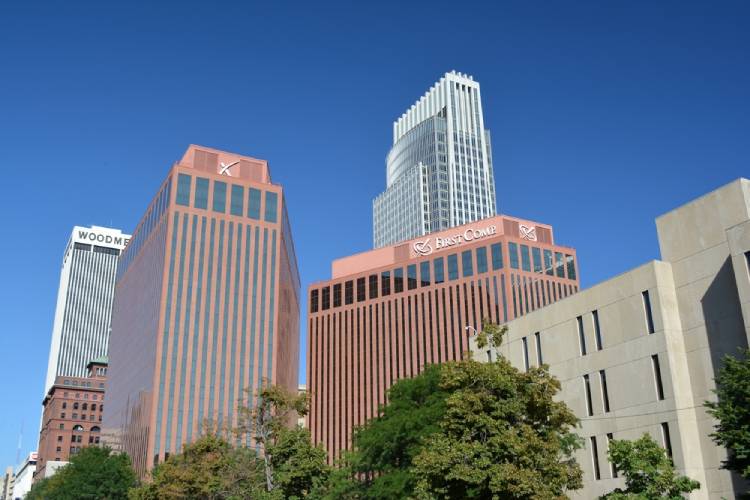 If you're thinking about moving to the Gateway of the West, then we must say, you're making a good decision. You'll be spoiled with its world-class cuisine, massive sports culture, and vibrant partying scene. Home to several multinational corporations and four Fortune 500 companies, Omaha is the place for those who want to practice their business acumen.
This city's neighborhoods welcome people from all walks of life. And if you're looking for some of the best neighborhoods in Omaha for singles and young professionals, you've come to the right place. Keep reading to find out more.
Best Neighborhoods In Omaha For Singles And Young Professionals
Dundee
If you desire to live in a neighborhood that serves lip-smacking food everywhere, then Dundee should be on your list. Located in the heart of Omaha, you'll find Dundee to the west of Midtown Omaha. It's known for its tight-knit community, clean streets, and historic homes. If you're invested in the business sphere, you should know that Warren Buffet calls this neighborhood his home. Plus, it was the place where Paul McCartney, founding member of the Beatles, caught up with Warren Buffet to enjoy Dundee's ice cream!
The unemployment rate is lower than the national average as well, so if you're looking for job opportunities, Dundee will provide them to you, mainly in the business and tourism sectors. Let us speak about the juicy part of Dundee, which is the amazing cuisine it has. Whether you're a single or a young professional, you'll surely enjoy this side of Dundee.
One of its main food attractions is eCreamery, an ice cream parlor that serves 16 flavors of hand-churned ice cream. This place is so famous that it appeared on the Oprah show as well. If you enjoy relishing some coal-fired pizza, visit Pitch Pizzeria or if you crave some European delights, visit Amsterdam Falafel & Kabob. Most of these local hubs are just a stone's throw away from one's home, so you can say that the neighborhood is pretty walkable.
Median Home Value: $285,000
Monthly Rent: $1,120
Median Household Income: $44,210
Benson
Benson is a quaint historic neighborhood situated a few miles west of Downtown. You'll find that its streets are lined with large trees as you drive along its broad roads. You will spot small but charming houses a lot in this neighborhood and that's something you're going to love once you move there. Just a fun fact: This neighborhood draws its name from Erastus Benson, a land speculator and investor in Omaha who invested in Thomas Edison's inventions such as the phonograph and the Kinetoscope.
Benson is known to be the hub of Omaha's party scene. The nightlife is immense in this neighborhood and will surely suit singles and young professionals the best. Live music, chill frosty beer and diverse cuisine is what makes Benson an uplifting place to live in. In terms of employment, the town is home to the Benson Business District, and also has a main street retail district. The Benson Theater is perfect for those who are artistically and theatrically inclined.
If you want to unwind and kick the Monday blues, drop in at The Waiting Room – an indie rock club that all locals admire. Along the Benson strip, you'll find a couple of famous bars such as Barley Street Tavern, The Sydney, or Burke's Bar if you fancy a drink at any point of the day. For all our beer enthusiasts, head over to Benson Brewery and Infusion Brewing Company if you'd like to have some variety in your beer. Or if you enjoy having a pint while playing video games, stopover at Beercade where you can play classic arcade games such as Mortal Kombat, Pacman, and Skeeball.
Benson is one of Omaha's more well-to-do neighborhoods that has several monuments such as the Benson U.S. Post Office, Benson High School, and also a Masonic Temple. If you head towards downtown Benson, you'll find several services including yoga sessions, physical therapy studios, and chiropractic workshops.
Median Home Value: $168,500
Monthly Rent: $1,095
Median Household Income: $40,788
Aksarben Village
Located 5 miles southwest of Downtown Omaha, you'll find Aksarben Village, a charming community that sees the continued growth of people. To go back to its creation, it was in 1895 when a group of Omaha businessmen decided to enrich Omaha by promoting agricultural, educational, and civic activities. This group was called Aksarben, which, if you look closely, is the reverse of Nebraska.
Land as large as 200 acres was purchased near Elmwood Park where industrial development began. Today, Aksarben Village is home to many upscale apartments, lush gardens, and chic restaurants, making it one of the best neighborhoods in Omaha for singles and young professionals. It is said that some of the houses in this neighborhood are as old as 100 years! And this adds more character and charm to the overall vibe of this bustling place.
Aksarben Village is home to UNO's (University of Nebraska at Omaha) Aksarben Campus which contains learning centers, research centers, and dorms. It is also home to Blue Cross Blue Shield of NE's Headquarters, offices of DLR Group, Grubb & Ellis/Pacific Realty, Olsson, First Data's Omaha offices, and several other medium and small businesses. Needless to say, there are plenty of job opportunities available.
The best thing about Aksarben Village is that there are a ton of things to do. If you are a fan of the sport of 'curling', you should definitely test your skills at the Aksarben Curling Club. If you crave some sweetness for your sweet tooth, head over to Jones Brothers and relish some of their scrumptious gourmet cupcakes, pastries, frozen yogurt, and more. Fancy a stretch in the cool Aksarben air? Then drive to Stinson Park. Apart from hosting concerts and open-air markets, the place is great to just enjoy the outdoors and unwind. Don't forget to bring your pet along for a walk.
Median Home Value: $240,000
Monthly Rent: $1,500
Median Household Income: $52,824
Downtown Omaha
Downtown Omaha is where all the action resides. Located comfortably on the Missouri River, it is the main hub for business and social activities. A variety of companies are headquartered in this part of Omaha so you'll always see people in suits scurrying around trying to get to work on time. It is home to the headquarters of Mutuals of Omaha and Kiewit, and has businesses from major industries like utilities, finance, trade, transportation, telecommunications, and insurance.
Downtown Omaha is rich with historical elements in its streets. When it comes to the social scene, Old Market is the place you need to head over where you'll find a whole range of vibrant restaurants and chic boutiques. A wide range of major events such as the annual Heartland Pride Parade & Festival and the SeptemberFest are organized here, sealing the fact that you'll never run out of interesting things to do in this neighborhood.
When it comes to practicality, downtown Omaha is a neighborhood that brings forth convenience. The area is extremely walkable as amenities such as supermarkets, or restaurants are just a few minutes from your abode. And if you're coming from a traffic-laden city like Las Vegas, you'll indeed find downtown Omaha more accessible and easier to get daily chores done. The area also has a vast list of biking trails, and walkways, encouraging citizens to use their feet more and stay healthy
Median Home Value: $215,000
Monthly Rent: $1,008
Median Household Income: $42,516
Ramble Ridge
If you're looking for a neighborhood that gives you a family feel, then Ramble Ridge is the place for you. Located in northwest Omaha, this neighborhood has a whole range of three-story homes and quaint apartments adorning its street corners. The neighborhood is also home to a variety of playgrounds, shopping areas, restaurants, and quick interstate travel.
For you to enjoy the outdoors, Ramble Ridge has plenty of amenities. Standing Bear Lake and Tranquility Park are just a short drive from this neighborhood and they are both great places for biking or just casual lazing around. If you're in the mood for some golf, you have the Eagle Run Golf Course or the Knolls Golf Course to practice your swings. You can do ice-skating at Moylan Iceplex or enjoy some spicy Chinese food at Dragon Wok.
Thanks to its location, it gives you great access to all the employment and business hubs of northwest Omaha. There's a lot to experience in and around Ramble Ridge, and that's why it is one of the best neighborhoods in Omaha for singles and young professionals.
Median Home Value: $175,000
Monthly Rent: $1,066
Median Household Income: $75,842
Blackstone
Located just 5 minutes from downtown Omaha, Blackstone is one of Omaha's most thriving and dynamic neighborhoods. The area is extremely walkable as amenities such as shopping malls, supermarkets, and more are just a few meters away from any spot in the locale. You will also find some of Nebraska's major employers in this neighborhood including Nebraska Medicine, Kiewit, and Mutual of Omaha.
Blackstone is located in the heart of midtown Omaha and it's pretty close to the interstate. So, you won't have to drive too far if you need to travel to South Dakota. The area has a whole list of dining options too such as Noli's Pizzeria, Blackstone Meatball, etc, and if you'd like some coffee, pop into Archetype.
Median Home Value: $185,000
Monthly Rent: $1,088
Median Household Income: $52,390
Leavenworth
In the midtown region of Omaha, you'll find a serene neighborhood called Leavenworth. It's dotted with a variety of lush parks, Instagram post-worthy homes, and great shopping and nightlife opportunities. The neighborhood is extremely walkable and filled with friendly folks as well.
The community in Leavenworth is growing day by day. New retail options and restaurants have been opening up because it has a strategically good location in the city of Omaha. And, many local businesses have been set up here as well! The overall atmosphere of this area brings about a mutual feeling of community, harmony, and fondness.
Also, you will find that the neighborhood is extremely walkable too – no more driving too far now to get a crate of beer! Where some of Leavenworth's casual attractions are concerned, you can drop into Spielbound Board Game Café to socialize while you munch on some of their delicious pizzas. Or you can walk to Midtown Crossing at Turner Park to enjoy a wide range of recreational activities including Monday Night Movies, Wednesday Workouts, Chalk Art Festivals, etc.
Median Home Value: $386,500
Monthly Rent: $1,033
Median Household Income: $42,394
Things To Look Out For Before Deciding To Move To Omaha
The crime rate in Omaha is quite high in comparison to other densely populated cities.
Summers in Omaha can touch even 100°F and can get a bit harsh. Keep this in mind if you're someone who can't handle the heat.
Property taxes are steep in Omaha.
Not much landscape or scenery is to be seen due to its geographical position.
Summing Up
Now you know all about the best neighborhoods in Omaha for singles and young professionals. Omaha is a great city to move to since it's always bustling and the job opportunities offered are plentiful. We're sure that you're going to enjoy your stay in the Gateway to the West; if you're moving long-distance, it's better to choose a professional moving company to make the move that much smoother. Till then, happy moving!
FAQs On Best Neighborhoods In Omaha For Singles And Young Professionals
Is Omaha Good For Young Professionals?
Omaha is one of Nebraska's best places for young professionals to move to. It has an active nightlife, various mega-events, and a whole list of multi-cuisine restaurants. Not to mention the low employment rate and robust economy this city has as well. Major industries here include telecommunications, insurance, transportation, food processing, agriculture, education, and healthcare.
Where Should I Not Live In Omaha NE?
North and South Omaha have a history of violent crimes, all incited by the gang culture. So, be cautious of these two neighborhoods while you're searching for homes. Even if you live in them, avoid dodgy areas and keep your security game strong around your house.
What Is Omaha Known For?
Omaha, nicknamed the Gateway to the West, is known for the Henry Doorly Zoo and being the home of Warren Buffett, the world's most profound business investor. The city is also home to four Fortune 500 companies and organizers of one of America's mega baseball tournaments, the College World Series.
Is Omaha Expensive?
Living in Omaha is surely going to save you some bucks because its cost of living is 8% lower than the national average, all thanks to its inexpensive housing, groceries, and utilities.
See Also: Cheap Moving Companies in the USA