7 Best Neighborhoods In Oklahoma City For Families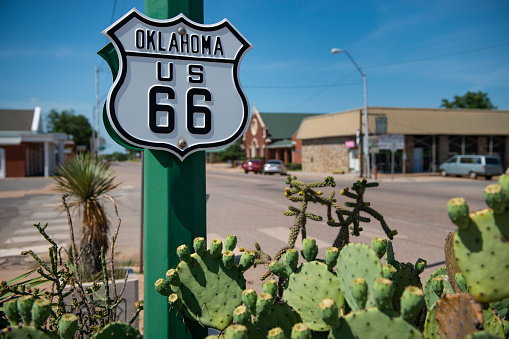 There is no better feeling than living in a state capital city and if you're able to save a fortune while at it, why would one want to live anywhere else? You're right, we're talking about Oklahoma City, which provides all the amenities and charm of a top metropolitan city minus the high costs! If you're a fan of cowboy culture and deeply entrenched communities that honor family and western traditions, then Oklahoma City is rightly going to be a haven for you. Not only is it the eighth-largest city in the entire United States but it's also home to the burgeoning Bricktown Entertainment District.
This family-friendly city is a popular moving destination for numerous families and rightly so. If you want to know how well Oklahoma City is going to suit your family, refer to the list below of the best neighborhoods in Oklahoma City for families and make your pick!
7 Best Neighborhoods In Oklahoma City For Families
Deep Deuce
Unlike the game of Tennis where each player is at 40 points when a deuce is called, we give this neighborhood the highest score there is to be accorded – actually, might as well declare it the winner while at it. A great place for families to call home, Deep Deuce has been keeping up with the times pretty well. The historic buildings and structures that date back to the 1900s will take you to a different era altogether while bringing you back from time to time with its elegant touch of modernity.
The thriving Jazz influence here will make you realize what Ryan Gosling was really trying to savor in La La Land. The delectable food scene in Deep Deuce is enough to make you stay for a good number of years for this reason alone. If you're not yet convinced, the affordable housing rates here will definitely make you reconsider your hesitation. With crime at a steady decline here, families have been considering residing in Deep Deuce for many years now. You'll find a lot of high-rise apartments and condominiums to fit a family of basically any size in Deep Deuce. The walkability in this neighborhood only adds to its beauty and lifestyle. Despite being one of the most expensive neighborhoods in Oklahoma City, Deep Deuce is almost at par with the national average when it comes to home values.
Median Home Value: $380,020
Monthly Rent: $1,485
Median Household Income: $53,365
Crown Heights-Edgemere Heights
As the first name of this neighborhood hints, Crown Heights is a posh neighborhood that provides a luxurious living experience to residents and tourists alike while maintaining its connection with its historic roots. The streets here are lined with lovely towering trees which will instantly give you a homely and secure feel.
The residents here take great pride in the tight-knit community that uplifts and encourages each other in every endeavor. The locals here aim at fellowship, preservation, and beautification in the neighborhood – which means active participation and involvement of every Crown Heights resident to advance its welfare. If your family is big on green initiatives, you'll be pleased to know that the beautiful green spaces you'll find in this neighborhood are all managed by neighborhood volunteers. So, you have a chance at simultaneously contributing to the environment and befriending people with like minds. Win-win.
When it comes to housing, you can choose from a wide range of options available here depending on your budget. To name a few, split-level ranch homes, duplexes, quaint bungalows, and historic colonial-style homes are all choices that you could indulge in. Once you're settled in the Heights, the hoard of annual celebrations here will keep you well engaged. The prominent ones involve the 4th of July celebrations and the OKC Memorial Marathon. This neighborhood is perfect for families looking for a small-town vibe but with all the essential amenities that a town can offer.
Median Home Value: $370,000
Monthly Rent: $725
Median Household Income: $58,390
See Also: Best Professional Moving Companies
Gatewood Historic District
If a perfect recipe of Downtown amenities and historic charm is what you're looking for in a neighborhood, you cannot possibly go wrong with Gatewood Historic District. The fairly affordable housing options here are a major reason for families to consider Gatewood as their moving destination. The fact that 48% of the homes in Gatewood are owner-occupied proves that. About 66% of the architectural makeup of this neighborhood was done before 1939 so it's safe to say that Gatewood also has numerous history lessons to share. Speaking of which, you can visit the Epworth Methodist Church, the Victoria Building, and many such historic places to get a feel of this neighborhood.
Moving to a new place with kids poses one important question; the quality of schools in the new locale. In Gatewood, you can consider enrolling your children in renowned schools like Gatewood Elementary School and Eugene Field Elementary School. Living here, you also won't have any problem accessing major parts of the city as Gatewood is well connected to all the popular towns in Oklahoma.
Median Home Value: $395,000
Monthly Rent: $1,472
Median Household Income: $40,290
Plaza District
If yours is an outgoing family and is always eyeing the next plan to get a load of fun, Plaza District will best serve your interests. Known for its amazing nightlife and cultural scene, you'll always have something to do in this vibrant neighborhood. To get the best of what this neighborhood has to offer, you can experience the 'Live! on the Plaza' which is held every second Friday.
This bustling commercial neighborhood promotes local businesses which is why you'll see a familiar face around every corner of the neighborhood once you're settled in here nicely. The excellent schooling system here makes Plaza District a great place to raise kids. When the theoretical history taught in the schools gets a little monotonous for your little ones, you can always take them to the many historical sites this neighborhood proudly boasts of and give them a real taste of it.
For adults, the lavish nightlife here will be a great way to spend your weekends. The top-tier bars and restaurants here offer lip-smacking food that will make your tummy crave for seconds. If you're a beer connoisseur, you can hit the Oak & Ore and The Mule to experience the best breweries in this neighborhood. Art enthusiasts, there is no reason to fret as the art galleries here will keep you marveling at exquisite art pieces for long. To top it all off, the affordable housing rates will help you save quite a bit whilst enjoying a pleasant lifestyle in Plaza District.
Median Home Value: $
Monthly Rent: $1,225
Median Household Income: $50,000
Downtown Oklahoma City
Every city has that one particular neighborhood that is the most sought-after moving destination. In the context of Oklahoma City, Downtown is that neighborhood. A great place for business, nightlife, and quite possibly everything you desire, Downtown will cater to all your needs in spectacular fashion. With cultural events popping up every other day in this neighborhood, your 'to visit' list will forever be expanding in Downtown Oklahoma City.
Being positioned in the geographic heart of Oklahoma City, you'll have access to just about everything you need here. Honestly, it makes life a whole lot easier when your family doesn't get the chance to take your case about not getting the correct items from the grocery list! The food scene is unlike any other neighborhood as Downtown has some of the most delectable cuisines on the menu at any restaurant you choose to dine in.
Median Home Value: $391,550
Monthly Rent: $1,210
Median Household Income: $52,000
Bricktown
Next on this list of best neighborhoods in Oklahoma City is the entertainment district called Bricktown. This thriving urban neighborhood attracts crowds from all over the country for all the right reasons. From chic wine bars to family-friendly public attractions, this neighborhood has it all to keep your excitement levels at their peak.
You can hire the Bricktown Water Taxi along the Bricktown Canal for tours and dinner cruises when you're in the mood to try something new. For sports enthusiasts, the Chickasaw Bricktown Ballpark will infuse the air with electric excitement when the Dodgers bring their A-game. After doing enough chanting and rooting for your favorite team, you'll need to munch on some delicious meals to compensate for the lost energy. This is where the neighborhood's food scene comes into the picture. With more than 45 bars and restaurants, you'll have no shortage of food options in Bricktown. Some of the famous eateries and bars you can try here are Rendezvous Pizza, Fuel Bar & Grill, and Bricktown Brewery. As for housing, Bricktown ranks among the most expensive part of Oklahoma City with a rate that's slightly higher than the national average.
Median Home Value: $414,000
Monthly Rent: $1,485
Median Household Income: $53,370
Heritage Hills
Even before your moving process begins, you start imagining life in the new place you're about to relocate to. The kind of life you'll be living, the things you're going to do, and most importantly, the house you'll be spending most of your time in. Should you choose to relocate to Heritage Hills with your family, all these fantasies will turn into reality – in the best possible way!
The neighborhood is known for its historic homes and mansions which, let us tell you, are the largest in the city. The annual Heritage Hills Historic Homes and Gardens Tour is also something that you might want to get a glimpse of while here. If you have your little ones with you, the Wilson Elementary School will be a great educational institute to enroll them in. The intellect levels of this neighborhood are not to be taken lightly as about 46% of adults in this area have an advanced degree as compared to the national average, which stands at a mere 12%. So, if a well-rounded, educated neighborhood is what you're eyeing, Heritage Hills should be on top of your list of moving destinations.
Median Home Value: $545,100
Monthly Rent: $1,415
Median Household Income: $90,420
Things To Look Out For Before Deciding to Move To Oklahoma City
Oklahoma City is one of the most budget-friendly cities in the entire nation with the average housing rates well below the national average. So, if you're planning to splurge some money on adventures and on the hip nightlife whilst maintaining a comfortable roof over your head, Oklahoma City will be a good fit for you.
The crime rate in the city is something you might want to be a little careful about. According to NeighborhoodScout, Oklahoma City is safer than just 5% of the cities in the country.
This state capital city has an unemployment rate of 3%, which is a few notches below the national average of 3.6%. This proves that there are plenty of employment opportunities in Oklahoma City.
Oklahoma City is one of the fastest-growing entertainment hubs in the southwest with numerous museums, family-friendly theme parks, and a vibrant nightlife.
Summing Up
An affordable lifestyle along with the amenities of upscale neighborhoods is no longer a myth and Oklahoma City is a live example of it. When you have a family to feed, it becomes all the more necessary to be mindful of your costs and the place you choose to live in should accommodate the same. The list above aims to provide you with all the information you need about the best neighborhoods in Oklahoma City for families.
FAQs On Best Neighborhoods In Oklahoma City For Families
Is Oklahoma City A Good Place To Raise A Family?
Oklahoma City is an excellent place to raise a family in and the affordable cost of living is a major reason behind this. The top-notch education program in this city ensures that the kids get a high-quality education. Various housing options available here make it easier to choose a home according to the size, budget, and other requirements of your family.
Does Oklahoma City Get Tornadoes?
Owing to its nearness to the 'Tornado Alley', Oklahoma City is quite prone to tornadoes. So, you might want to read up on all the safety measures and take the necessary precautions one should be aware of in such situations before making the decision to move.
Is Bricktown, Oklahoma City Safe?
The Bricktown neighborhood in Oklahoma City is a relatively safe place to reside in, for the most part. So, you won't find any trouble living here as compared to other similar-sized neighborhoods in Oklahoma City.
See Also: Cheap Movers in the USA