8 Best Neighborhoods in New York for Families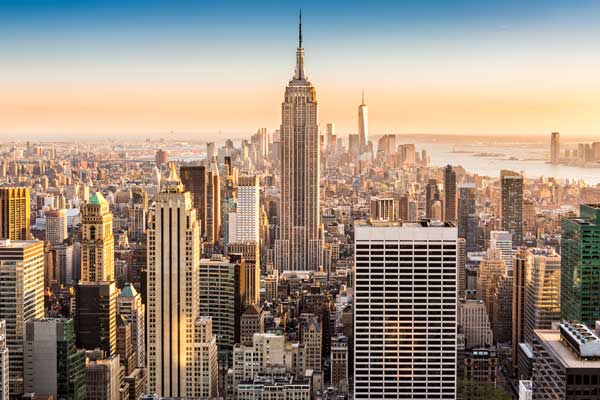 Whether you have visited New York or not, you are in love with it and so are we, because come on, it's New York City. Visiting New York is a dream for many but if you are fortunate enough to see the possibility of living and raising a family in the state of the Big Apple, keeping our jealousy aside, we are here to help you out. We are sure you must be all pumped up about this move but being prepared will only do you good because as exciting as New York is, getting carried away with little research isn't a smart choice.
If you are planning to move with your family, it becomes all the more important to be thorough with the best neighborhoods in the city which will not only offer you the comfort of a home but also provide you safety. Here are our picks of some of the best neighborhoods in New York for families so you can simply decide which one suits you the best and get to further planning.
Forest Hills
An amalgamation of two beautiful parts of nature: forest and hills, Forest Hills is a breathtaking neighborhood in New York City which is centered on Station Square. It's decked in beautiful Tudor-style buildings and half-timbered houses. You will witness many clothing boutiques and factory outlets on the ever-famous and bustling Austin Street. Forest Hills is great in terms of food too, with plenty of dining options that include old-school Italian, Ramen options, and Middle Eastern fare. The neighborhood is great for young families because the residents of Forest Hills enjoy a dense urban feel and most residents own their homes.
You will find plenty of happening bars, restaurants, coffee shops, and parks in the neighborhood while many families, young professionals, and retirees lean towards the liberal ideology. You can find many public schools around too for your kids and mind you, tennis runs in the blood of the residents here because Forest Hills has a longstanding association with tennis too. The Forest Hills Stadium has been a host for the U.S. Open till 1978. However, keep in mind that the crime rate in Forest Hills is slightly on the higher end – 34.85 (per 1,000 residents) during a standard year. People who live in Forest Hills generally consider the northwest part of the city to be the safest.
Median Home Value: $388,500
Monthly Median Rent: $1,950
Median Household Income: $84,713
Riverdale
No, we aren't suggesting you move to the dark neighborhood from Netflix's show Riverdale. If you love the drama, sure, why not? But, right now we're talking about the stunning and very real neighborhood of Riverdale which is a residential neighborhood located in the northwestern portion of the New York City borough of the Bronx. Riverdale offers you a suburban area feel while being well-connected to the urban parts of the city.
It is surrounded by many parks, hiking trails, the amazing Wavehill Botanical Garden, and quiet streets that are just great for enjoying your life in this stressful time. To add to all the goodness, the neighborhood of Riverdale is also safe and quiet making it a perfect environment to raise a family. It has beautiful parks and good restaurants so your weekends are also sorted.
Median Home Value: $364500
Monthly Median Rent: $1925
Median Household Income: $112,908
Also See: 6 Best Long Distance Movers In The Bronx
Battery Park City
If you enjoy a balanced neighborhood that can give you room to hustle during the week and offers you peace on the weekends, set along the Hudson River, Battery Park City may be the one for you. It is a mainly residential neighborhood of upscale high-rise apartment buildings. During the workweek, its casual eateries and bars draw professionals from the nearby Financial District. On weekends, the area slows down, though locals and visitors are drawn to the multitower Brookfield Place shopping center and the bike-friendly paths of the riverfront park.
Known for various attractions and historical places like the Museum of Jewish Heritage and the Irish Hunger Memorial, Battery Park City also has many recreational spaces and a vibrant community. Most of the residents here are liberal and rent their homes. The neighborhood also has pretty decent public and private schools and is relatively safe and diverse. It is voted as one of the best neighborhoods in New York for families by many trustworthy forums so you can be assured that you will be living in the best New York area.
Median Home Value: $1,000,000
Monthly Median Rent: $4,155
Median Household Income: $161,419
Park Slope
Located in the area that was once known as South Brooklyn, Park Slope is a stunning neighborhood in northwestern Brooklyn in New York City. If you are freaking out looking at the high rents and home prices, the neighborhood of Park Slope might offer you some relief because it is comparatively affordable. It is a splendid and diverse neighborhood with tree-lined streets and historic brownstones.
Mind you, just because it's affordable doesn't mean Park Slope is a sloppy neighborhood. Rather, it offers you a perfect amalgamation of indie boutiques, peaceful bars to have a drink in, and casual restaurants to meet your dining needs along Fifth and Seventh Avenue. You will also find residents here having a gala time in Prospect Park for outdoor concerts, picnics, and even jogging. You will find various well-kept homes, pedestrian-friendly streets, and friendly residents in this neighborhood and it is also one of the safest neighborhoods in New York City.
Median Home Value: $150,000
Monthly Median Rent: $3,700
Median Household Income: $179,029
Tribeca
One of the fun parts about New York neighborhoods is that they all carry their individual personalities and have a significant cultural and historical standing, Tribeca is one such popular and important neighborhood. The neighborhood of Tribeca is a hip area known for its old industrial buildings out of which many have now turned into residential loft spaces. You will witness cobblestone streets lined with trendy boutiques and restaurants in the neighborhood while taking a stroll down the area.
Tribeca is also home to the Tribeca Film Festival which takes place here every spring. The name Tribeca stands for 'Triangle Below Canal Street' and, over the years, the neighborhood has built a reputation of being a safe, upscale residential neighborhood hence making it an ideal choice for families.
Median Home Value: $400,000
Monthly Median Rent: $5,320
Median Household Income: $168,627
Prospect Heights
If you are thinking NYC is all about the rush, fast cars, and fashion, Prospect Heights is one neighborhood that will break all your notions because it is unlike any neighborhood of the city. It is quiet, mellow, and located in Brooklyn. Prospect Heights has many prospects for you to admire which include its brownstones and luxury condos, cultural institutions like the Brooklyn Botanical Garden and the Brooklyn Museum. If you prefer a place with strong roots, you will be pleased to know that Prospect Heights is home to a deeply rooted Caribbean-American community that is a living breathing example of rich history.
Diversity is also strong in Prospect Heights because of the high-profile music and sports events at the Barclays Center. Prospect Heights is preferred by singles, students, and young professionals alike because it provides one of the most affordable rental options in Brooklyn. Let us not forget about the safety aspect and Prospect Heights checks in that area too as it has one of the lowest crime rates in the city of New York.
Median Home Value: $120,000
Monthly Median Rent: $3,795
Median Household Income: $101,792
SoHo
We have all aspired to dress like Rachel Green from FRIENDS at least once in our lifetimes. Did you know that she was a girl from SoHo, New York? Known for its designer boutiques, fancy chain stores, and high-end art galleries, the neighborhood of SoHo screams luxury and fashion and is a top shopping destination for all fashion enthusiasts. It is also one of the most expensive neighborhoods in the city and is known for its elegant cast-iron facades and stunning cobblestone streets.
The neighborhood of SoHo is more like a high-end fashion show every hour because you will find the most trendy clothes on people casually walking in the streets. Other than the luxurious fashion, SoHo is also home to many high-end restaurants and nightlife hotspots. If you can afford a place in SoHo, you will have access to the best of everything the world has to offer in terms of accessibility, luxury, fashion, food, and jewelry. It is one of the most expensive neighborhoods in the already expensive New York where the residents are an elite crowd with high profile jobs and own their homes.
Median Home Value: $360,000
Monthly Median Rent: $4,300
Median Household Income: $109,829
Greenwich Village
If you and your family prefer a lively neighborhood where you can get bored of each other but not of the variety of entertainment options, then Greenwich Village should be your home. It used to be the epicenter of the city's 1960s counterculture movement which is a historically and culturally significant movement. Not just that, Greenwich Village is also extremely pleasing to the eyes with its tree-lined streets, popular cafes, bars, and restaurants.
You can hear jazz music playing out of the clubs here and if you enjoy theatre, Greenwich Village is home to many off-Broadway theaters which can be easily found amid the brownstones and the University buildings. Greenwich Village is also in a very prime location from where other popular neighborhoods like SoHo, Chelsea, Union Square, and Tribeca are easily accessible. Lastly, it is home to some of the best private and public schools in New York while also having big parks and being safe in nature.
Median Home Value: $150,000
Monthly Median Rent: $4,875
Median Household Income: $198,390
Things To Look Out For Before Deciding to Move To New York
The Big Apple has one of the highest tax rates in the entire country.
You will be spending a lot more because it's no secret that New York has really high cost of living.
You will need to be extra cautious because the crime rate is also pretty high in the city, especially violent crimes.
It's New York so be prepared to live in small apartments while paying big rents.
You will need to walk or take a subway in most cases because, in NYC, people do not prefer (and can't afford) cars as they come with a lot of hassle due to the congested nature of the city.
The commute in New York is going to be insane because of the traffic and crowd. Make sure to wear comfortable shoes while commuting as there will be a lot of walking involved.
Rain can get pretty intense in the city.
Also Read: Best Moving Companies in New York City (NYC)
Summing Up
The Big Apple can offer to make your big dreams come true as long as you wear comfortable shoes to walk the insane roads and don't mind the hustle. As Joey from FRIENDS would say, 'It's New York City Baby'. Just keep an expense tracker and be safe while traveling, rest assured New York will not let you rest and you can literally get anything and everything you desire in the City that Never Sleeps. We hope that you and your family find the right inspiration from our article while also getting clarity about the best neighborhoods in New York for families.
FAQS On Best Neighborhoods in New York For Families
Is New York City Good For Families?
While the media and pop culture have advertised New York City as a hub for partying and fast-paced life, rightly so, but what they often missed to show was that it is also a wonderful place to raise a family. Any parent looks for a diverse environment, healthy culture, and facilities, for their kids, and NYC has it all and a lot more. You can get a cute house in an adorable neighborhood where your kids will have access to big parks and a vibrant lifestyle to learn and evolve.
See also: 12 Best Places to Raise a Family in the U.S.
Where Do The Middle-Class Live In New York?
One of the interesting parts about the Big Apple is the fact that it is made of five boroughs and each borough caters to a different vibe and crowd. Out of all the five boroughs, Queens can be classified as New York's most middle-class borough. If we look at the numbers, at least 54% of the Queen's population falls under the middle-income subsection.
What Is Minimum Wage In New York?
New York is massive and a dream city for many. You cannot live a dream without the means to support it and minimum wages play a very important role in knowing what you can expect. The minimum wage in NYC has increased significantly over the years and it now stands at $13.20 per hour, still quite far from the $15 mark, but employees are certainly hopeful.
See also: Largest Cities In New York | 10 Most Affordable Places to Live in New York