7 Best Neighborhoods In Milwaukee For Singles And Young Professionals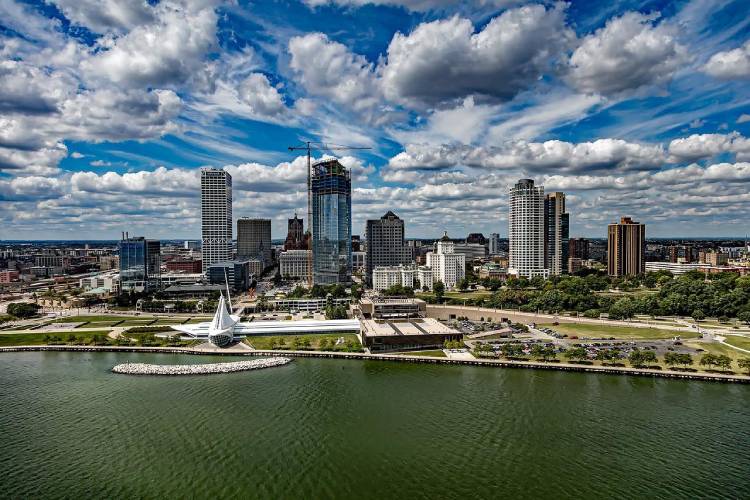 Milwaukee is the fifth-largest city in the Midwestern United States and is known for its crafted beer, but that's not the only thing that's been fermenting here. You have the growing economy, the diverse ethnic cultures, the delicious food culture, the open green spaces, unique nightlife, and a plethora of festivals that make Milwaukee a very appealing city to move to. Interestingly, it was acknowledged as the 'Coolest City in the Midwest' by Vogue magazine in 2018.
Besides, Milwaukee also has ample job opportunities in sectors such as insurance, manufacturing, finance, electronics, medical technology, food and beverage production, IT, and power and energy. So, if you're a working professional looking for job opportunities in these sectors, Milwaukee has plenty of opportunities for you. If these are some things that have sparked an interest and you've made up your mind to move to this city, here are some of the best neighborhoods in Milwaukee for singles and young professionals that you can consider living in.
Best Neighborhoods In Milwaukee For Singles And Young Professionals
Yankee Hill
Yankee Hill is one of the most picturesque neighborhoods in Milwaukee and also among the oldest ones to be found. This neighborhood is popular among singles as well as working professionals for the kind of amenities and outdoors that it has. You'll also find plenty of job opportunities in the hospitality, retail, and entertainment space here. In terms of safety, Yankee Hill is a fairly safe place with low property and violent crime rates.
You'll see gothic, Greek revival, and Italianate styles of architecture peeking through the churches, old buildings, and some other monuments in the neighborhood. It's one of the more expensive places to live in but has all the amenities that you'd need to live comfortably. To have a fun weekend with your family and friends you can go to the local parks, eateries, and restaurants nearby. You also have ample shopping centers, malls, boutiques, and thrift stores where you can shop your heart out and then go unwind at the local parks. This neighborhood sure has everything you need in one place.
Median Home Value: $427,600
Monthly Rent: $1,575
Median Household Income: $55,700
Bay View
If you're looking for a hip and young neighborhood with urban city amenities and lifestyle, your search has ended with Bay View. It's one of the popular neighborhoods among the younger generation and working professionals planning to settle down in Milwaukee. Some of the top employers in Bay View are the Port of Milwaukee, South Shore Yacht Club, Jones Island Water Reclamation Facility, and US Coast Guard Sector Lake Michigan. The education and retail sectors are also strong contributors to the job opportunities here.
Houses in Bay View have a beautiful view of Michigan Lake and this place is just a 10-minute drive away from Downtown. Most of these houses are traditional brick bungalows, modern apartments, comfortable townhomes, and also some cool condos, all available for renting and also buying. For a fun night out, you can try out the trivia night and a pint at Blackbird Bar on a Thursday evening. The Vanguard, Frank's Power Plant, The Stone, Stone Creek Coffee, and Small Pie are some of the other popular eateries and cafes among the locals here.
Median Home Value: $180,650
Monthly Rent: $1,110
Median Household Income: $66,690
Riverwest
Riverwest is one of the more self-sustained and communal neighborhoods in Milwaukee. It's known for its strong community that hosts a ton of events throughout the year. They have their annual cycling event – Riverwest 24, and their very own radio station whereby they discuss the daily happenings and updates in the neighborhood. The sense of community here comes through all these things that people in Riverwest contribute toward. You also have all of the restaurants, bars, and cafes that you can go to over the weekends for some quality time with friends.
Plus, there's a wide range of grocery stores to run your errands and also some flea and farmers markets that you can explore as they are organized very often in Riverwest. Pet lovers will be delighted to know that along with these amenities, there are many dog parks in as well in this neighborhood. Riverwest is also a very popular hangout spot for students of the University of Wisconsin-Milwaukee. Most of these students find affordable housing here and find it convenient to commute back and forth. All these factors considered, it's quite evident that Riverwest is a neighborhood that is a popular choice among prospective students, professionals, and even singles.
Median Home Value: $262,405
Monthly Rent: $870
Median Household Income: $47,961
Northpoint
Northpoint is just a few minutes' drive towards the north from Downtown Milwaukee. This is a residential neighborhood that has several things for young professionals and singles. For professionals, there are employment opportunities and for singles, there are the outdoors and the nightlife that caters to the bustling neighborhood vibe. You'll not be bored in Northpoint as you'll always have something interesting to look forward to in terms of the festivities or something to engage in terms of outdoors and recreational opportunities. As a professional working in Northpoint, you have Ascension Columbia St Mary's Hospital and Lake Park Golf Course as two of the major employers along with the small business and retail shops along the streets.
The houses in Northpoint are valued much higher than most other neighborhoods in Milwaukee, but you do get to choose from the old-styled apartments that are restored, gracious family homes, grand condos, stunning mansions, and luxurious houses. Besides, you also have the view of the beautiful lakes, shopping centers, bars, restaurants, tree-lined roads, parks, green spaces, warm and welcoming neighborhoods, and much more that makes the high price point a pinch worth taking.
Median Home Value: $559,850
Monthly Rent: $1,555
Median Household Income: $59,270
See Also: Leaving Milwaukee? 5 Best Places To Move From Milwaukee
Historic Third Ward
Historic Third Ward is a super popular neighborhood among the young professionals in Milwaukee. This is majorly because of the urban vibe that it has and also how convenient it is to get to the downtown area from this neighborhood. The residents here get to enjoy the amenities of both Historic Third Ward and Downtown Milwaukee. It was a former warehouse district that is now a mixture of modern and vintage aesthetics. Here, you have the vintage buildings and some other charming houses and apartments that you can buy or rent. However, do keep in mind that the houses in this neighborhood might not be the most affordable to either buy or rent.
In Historic Third Ward you have Carefree Boat Club of Milwaukee, Port of Milwaukee, retail stores, local restaurants and cafes, Milwaukee Academy of Science, Milwaukee Institute of Art and Design, and the Milwaukee Parks and Recreation as some of the top employers. These are just some of the many places and companies that provide employment opportunities to working professionals in and around this neighborhood.
Median Home Value: $364,540
Monthly Rent: $1,560
Median Household Income: $89,780
Brewer's Hill
Brewer's Hill is one of the smaller urban neighborhoods in Milwaukee with some of the best employment opportunities for young and budding professionals. Some of the major employers in Brewer's Hill are from the local retail, businesses, food and beverage, and service sectors. There are also a number of restaurants, cafes, coffee shops, and bars here that will provide you with ample job opportunities. The majority of people living in this neighborhood are highly educated and have high-paying jobs as well.
No wild points for guessing, but the name of this neighborhood is tied up with the many bars and brewhouses that it's home to. Brewer's Hill overlooks the Milwaukee River and has the most beautiful view of it. You'll find big and small houses, condos, townhomes, family homes, and apartments in modern building complexes to rent and buy here. Looking at these opportunities and amenities, it may seem like Brewer's Hill is a luxurious or expensive neighborhood, but that's not the case. Affordability is one thing you don't have to worry about, as from real estate to taxes and everything else is quite affordable in this neighborhood and that's one of the benefits of living here.
Median Home Value: $270,890
Monthly Rent: $1,360
Median Household Income: $39,250
Lower East Side
Located between Milwaukee Bay and Milwaukee River is the hip and uptown neighborhood of the Lower East Side. As a single or a professional looking for jobs, this place will truly be the one that will enable you to balance both work and life. Fishing, jogging, running, and boating are some of the outdoors that you can engage in when living here. You'll also enjoy the thriving bar scene and the array of pubs that are lined up on the Lower East Side. This is also a neighborhood that has low crime rates and is safer than most other neighborhoods in the city.
The retail, food, and service sectors are booming in the Lower East Side, with the many restaurants, clubs, cafes, coffee houses, and other eateries that it has. Milwaukee Parks and Recreation, McKinley Marina, Milwaukee Yacht Club, Milwaukee Community Sailing Center, and some local restaurants and cafes like Sip and Purr Cat Cafe, Comet Cafe, Stone Bowl Grill, Rice N Roll Bistro, and Simple Cafe are some of the top employers in the Lower East Side. If you're on the lookout for jobs in these sectors, moving to the Lower East Side will be the ideal thing to do.
Median Home Value: $265,340
Monthly Rent: $1,050
Median Household Income: $53,800
Things To Look Out For Before Deciding To Move To Milwaukee
The community of people in Milwaukee is diverse and it's very warm and welcoming as well. You'll feel a strong sense of community here and most festivals and celebrations are enjoyed together.
The winters in this city are something you won't probably look forward to, due to its harsh nature. The daylight hours are shorter and the temperatures are also pretty low.
The cost of living in Milwaukee is lower than the national average by almost 3% according to Payscale. You'll be spending a bit more on the utilities here but your housing and groceries will cost lower.
The crime rate in Milwaukee is also something of concern. The violent crimes here are on the rise and higher than the national average as well. But some neighborhoods are definitely safer than others, so make sure to choose your residence wisely.
Milwaukee is the industrial and commercial hub for the Great Lakes region. This makes it an economically strong city and it has great employment opportunities.
The property here might be cheaper, but the property taxes are not. Milwaukee is one of the few cities in Wisconsin with a higher property tax rate.
The city is planned out in such a way that everything is in close proximity and getting around becomes very easy on foot. It's the 15th most walkable city in the country.
Real estate in Milwaukee is one of its biggest attractions. You'll find houses at a median price of $180,500 in this city. This is a much more affordable rate compared to the national median house prices.
Despite the extensive transit system, the traffic is still a bit of an issue, especially during peak hours. The traffic congestion can be pretty unbearable and if you want, carrying some board games to keep yourself entertained could be an option during this time!
Summing Up
As you may have seen, Milwaukee is an up-and-coming city that offers you nothing less than an exceptional job market, some great outdoors, festivals to celebrate all year long, affordable living, and a great transportation system among many other things. You may not want to miss out on an opportunity to move here and live in a neighborhood that caters to your needs. Hopefully, all the ones mentioned above will help you get a clear picture of what to expect when moving to a neighborhood in Milwaukee. So, make sure you have a look at these neighborhoods and then see which one fits your shoe the best.
FAQs On Best Neighborhoods In Milwaukee For Singles And Young Professionals
Where Do Young Adults Live In Milwaukee?
You have the Yankee Hill, Bay View, Riverwest, Northpoint, Historic Third Ward, Brewer's Hill, and Lower East Side as some of the more prominent neighborhoods in Milwaukee that the young adults are most attracted toward. These neighborhoods provide a strong urban setting, outdoors, fast food, and a dynamic lifestyle in general.
Is Milwaukee A Good Place For Young Professionals?
Milwaukee is a major city in Wisconsin known for its job market, low cost of living, dynamic neighborhoods, employment opportunities, and also for providing a quality lifestyle. All these factors considered, it does make a good place for young professionals to live.
What County Is Bay View WI In?
Bay View is a very appealing neighborhood located in Milwaukee. It's located in Kewaunee County in Wisconsin and it's an unincorporated community in the county. It's known for its small local businesses, job opportunities, and affordable living.
See Also: Cheapest Cities to Move to