7 Best Neighborhoods In Long Beach For Singles And Young Professionals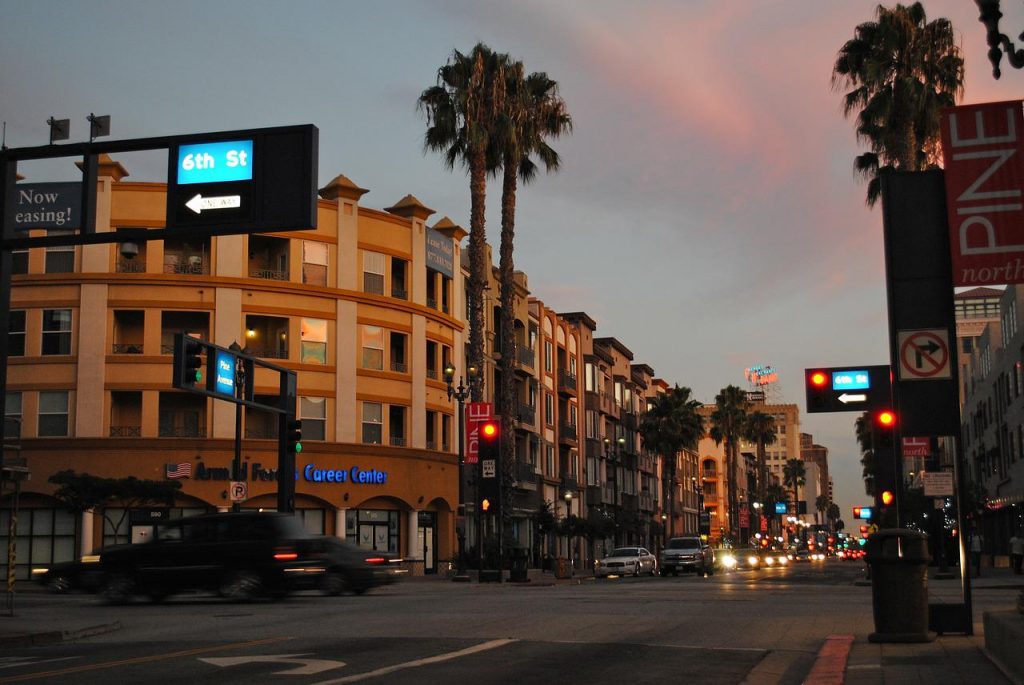 One cannot talk about California without mentioning Long Beach. This coastal city located in Southern California is bursting with clean and sandy beaches, a booming economy, and a wide variety of entertainment options. Known for famous attractions such as The Queen Mary Hotel and the Aquarium of the Pacific, Long Beach gives off a more small-town feel despite being one of the country's most populous cities.
Whether you're a single or a young professional, opportunities flood the neighborhoods of Long Beach. And if you're looking to move to this coastal city, scroll below and continue reading our guide on the best neighborhoods in Long Beach for singles and young professionals.
Best Neighborhoods In Long Beach For Singles And Young Professionals
Bixby Knolls
Located a few miles from downtown Long Beach, Bixby Knolls is a bustling neighborhood that has a deep homely vibe. Its proximity to nearby cities and neighborhoods is one prime reason why people choose this neighborhood. You just hit the 405 and you are in Las Vegas in no time (but only on days where there is no traffic).
Apart from being a central location, Bixby Knolls is known for the vibrant community it possesses. And to inculcate a sense of harmony into this community, the neighborhood hosts a variety of events. One of the more famous ones is First Fridays, an event that supports local businesses and artists by setting up a mini-market. The event also hosts a couple of live music sessions, contributing to the overall jubilant atmosphere of the place.
Many restaurants and local shops dot the streets of this neighborhood and they are just a short distance from each other. The real estate in this area has an early 20th-century vibe and it makes the neighborhood retain some amount of its nostalgia. To get a feel of Bixby Knolls, you can visit The Helen Borgers Theater, the Historical Society of Long Beach, and the Los Cerritos Ranch House.
The place also has a healthy amount of job opportunities. You can find vast opportunities in the culinary scene since Bixby Knolls has plenty of restaurants. And you can even find vacancies in healthcare, accounting, and business. In other words, you won't have a problem searching for lucrative jobs.
Median Home Value: $900,000
Monthly Rent: $1,856
Median Household Income: $77,966
Naples
No, we are not talking about the city Naples in Italy although many of its qualities are in Long Beach's version of Naples. Constructed on three islands within the peripherals of Alamitos Bay, Naples is a charming and historic beach neighborhood in Long Beach. Life here is like a never-ending vacation. It's laidback and it's a great place to unwind, especially if you're coming from a metropolitan area.
Naples' star value doesn't just come from it being on the waterfront. Its nightlife and shopping areas are the life of this scenic neighborhood as well. Here you'll find the finest Italian cuisine – check out Michael's Pizzeria for some scrumptious plates of pasta, pizzas, salads, and more.
There are plenty of outdoor opportunities for you to enjoy in Naples. You can head over to Naples Plaza if you want to have a stretch. Or you can visit Mother's Beach to spend a day on the sands or wade through gentle waves. There is a playground and several beach volleyball courts set up on this beach too.
Tourism is what Naples generates its revenue from and that's why you will find many jobs in the hospitality and management industry. Otherwise, opportunities in the healthcare and technical lines are available as well.
Median Home Value: $2,500,000
Monthly Rent: $2,632
Median Household Income: $125,125
Carson Park
If you're looking for a neighborhood that is away from the usual bustle that you find in a city, then add Carson Park to your list. It grants you quick access to nearby neighborhoods such as Lakewood Village, El Dorado Park, and Heartwell Park. So if you have friends or family staying in any of those neighborhoods, you can easily just drop by and say "hi".
Located in the western region of Long Beach, Carson Park contains some of the prettiest Craftsman and Bungalow-style homes. Many of the homes were built by GIs (a term used to describe American WWII soldiers) during the end of World War II and that's why you get a rich American feel in this neighborhood. Adding to the charm, Carson Park has beautiful tree-lined streets and friendly neighbors. Finally, a low crime rate tops it off, and that's why it's one of Long Beach's most serene neighborhoods to live in.
Carson Park has one of the best school districts in Long Beach. So as teaching opportunities go, this neighborhood will bless you with many. Real estate is another occupation that's booming in this neighborhood, so you can try your hand at that as well if you know how to sell and strike good deals.
Median Home Value: $875,000
Monthly Rent: $2,217
Median Household Income: $111,163
Lakewood Village
Located on the northeast corner of Long Beach, Lakewood Village is another among Long Beach's quieter neighborhoods. Shopping areas, restaurants, and cafés are all within short walking distance, which means living here is going to make life convenient.
Lakewood Village has several green open spaces for anyone to unwind. Pan American Park has ample green space to enjoy those evening jogs. Plus it contains a gym, a playground, and picnic areas too. Heartwell Park is another famous park in this neighborhood, with skate paths, a fishing pond, and a library.
If you ever need to travel cross country, Long Beach Airport is just a few miles away. This domestic airport caters to flights coming in from nearly every major city in the country – an added reason why you should consider Lakewood Village as your next move. When it comes to food, this neighborhood has a diverse range of restaurants. From Mexican to Asian cuisine, the range of dishes just keeps on increasing. Panvimarn Thai Cuisine is a famous Thai restaurant among the residents!
Like its restaurants, Lakewood Village has a diverse range of homes as well. From 2-bedroom apartments to spacious mansions, the neighborhood suits the accommodations styles of any. You'll usually find Ranch, Spanish Colonial, Tudor, and Craftsman-type homes in this area. Your neighbors will usually have management positions as far as their occupation goes. Also, the real estate market is pretty high in this neighborhood, so real estate occupations are a big deal here in Lakewood Village as well.
Median Home Value: $992,000
Monthly Rent: $1,922
Median Household Income: $94,564
California Heights
California Heights, or Cal Heights as the locals call it, is just adjacent to Bixby Knolls and lies north of Interstate 405. This neighborhood gives out a homely vibe and that is what makes Cal Heights so warm and welcoming. It's also a historic neighborhood with many of its homes having Spanish Colonial and Tudor Revival elements in them.
Community is what the residents of this neighborhood thrive on. They are always active in some form of community service or the other and this neighborhood has won several awards due to that. If you like to serve the community and mingle around with people, then Cal Heights should be checked out.
If you want to explore the neighborhood, Cal Heights has a decent amount of restaurants and shops as well. Atlantic Avenue is just a 10-minute drive from this neighborhood where there are lines of boutiques, clothing stalls, and restaurants.
Median Home Value: $700,000
Monthly Rent: $1,856
Median Household Income: $93,095
El Dorado Park
Located on the eastern corner of Long Beach, El Dorado Park is a neighborhood that has plenty of outdoor activities, all thanks to the presence of the El Dorado Regional Park. The regional park is flooded with several amenities such as soccer fields, fishing lakes, physical fitness facilities, and more. The area has several bicycle paths as well, and many homes are located in proximity to this regional park.
In addition, the Joint Forces Training Base Los Alamitos is just a short drive from this neighborhood. So, if you've got plans to serve the country, residing in this area would give you an upper hand. The crime rate is below the national average so as far as your safety goes, you don't have to worry too much.
Median Home Value: $1.2M
Monthly Rent: $2,702
Median Household Income: $105,598
East Village
If you're into the creative side of things, then you will love East Village. Also known as the East Village Arts District, this neighborhood is located just a short distance away from downtown Long Beach. You will find the neighborhood painted with colorful murals, making the vibe more hip and contemporary. Don't miss the Long Beach Art Walk that is held on every second Saturday of the month.
The nightlife in this neighborhood is immense and you should see how the pubs and restaurants come to life. Blind Donkey and House of Hayden are two local favorite hangout pubs that serve a variety of strong drinks. Also, if you're not much of an alcohol fanatic, you can always head over to the chic coffee houses that dot the streets of this neighborhood.
Another added bonus to this neighborhood is that it has relatively inexpensive real estate. What more could you ask for?
Median Home Value: $365,000
Monthly Rent: $2,882
Median Household Income: $54,616
Things To Look Out For Before Deciding To Move To Long Beach
The cost of living in Long Beach is high and this is all credited to the expensive real estate. Also, groceries and utilities in this coastal city are higher than the national average. So, if you're planning to move to Long Beach, see that you have a well-paying job first.
Traffic in this city is intense, especially on Interstate 405, the main highway that serves the city. Keep a few sudoku books in your glove compartment to keep you occupied while you wait out rush hour in your car.
Another point you need to consider before moving to Long Beach is its crime rate. Property crimes are high in this coastal city, so keep your home security game up to date.
California sees a lot of wildfires and although Long Beach might not directly be affected by them, it's the annoying smoke you'll have to deal with. Southern California tends to get earthquakes and unfortunately, Long Beach comes within this range. So, beware and take necessary precautions.
Parking spaces in downtown Long Beach or by the beach fill up quickly, so that's something you'll have to be aware of as well.
Summing Up
These are some of the best neighborhoods in Long Beach for singles and young professionals. Each neighborhood has a peculiar character and offering. Now, you need to find out which neighborhood attracts you the most and then execute your plan to move. Moving is a gigantic task, so plan early, prioritize well, and good luck!
FAQs On Best Neighborhoods In Long Beach For Singles And Young Professionals
Is Long Beach CA A Good Place To Live?
If sandy shores, bikeable neighborhoods, and vibrant community events excite you, then Long Beach will be good for you. If you're looking for more reasons to move to this coastal city, the area has diverse job opportunities, a thriving culture, and great weather too.
Is Long Beach CA Expensive?
Although Long Beach is a good place to live, you have to consider its high cost of living. It is 43% higher than the US average and this is attributed to its expensive real estate. Other contributing factors to this high cost of living include rent, groceries, and taxes.
Where Should You Avoid In Long Beach?
Poly High, North Long Beach, and some areas surrounding Long Beach Airport have crime rates higher than other neighborhoods in Long Beach. So avoid visiting them, especially during night hours.
See Also: Top-rated Out of State Moving Companies in the USA