6 Best Neighborhoods In Las Vegas For Families


VanLines Inc
Secure Storage
Easy Booking Process
Fully Trained Employees
GET A QUOTE

Colonial Van Lines
Storage Services
Long-Distance Moves
Corporate Relocations
GET A QUOTE

Moving APT
Available Nationwide
Award-Winning Movers
Extensive Vetting Process
GET A QUOTE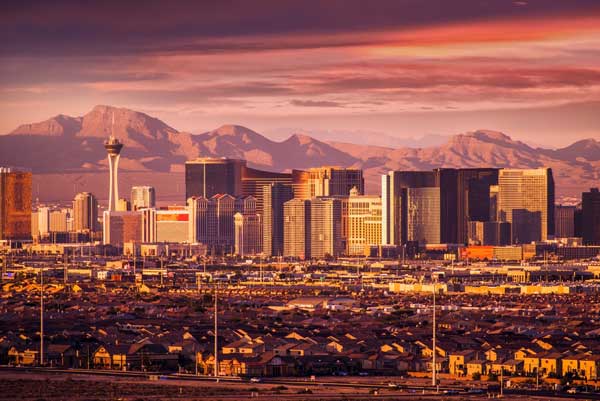 "Vegas, Baby!" Two words are enough to describe everything about the kind of lifestyle you'll be experiencing in Las Vegas. Being the hub of entertainment, this city will exceed all your expectations thanks to the innumerable attractions and amenities offered here. Lavish nightlife, top-notch restaurants, high-end shopping stores, spacious houses, you name it – the city has got it all. Did you know that Las Vegas is dubbed the 'Entertainment Capital of the World'? Situated in the heart of the Mojave District, this city is as young as your aspirations and you'll never run short of the blinding lights and various avenues of entertainment.
Apart from the obvious entertainment angle, Las Vegas is also known for its advanced healthcare, a large assortment of fine-dining restaurants, as well as a plethora of museums and galleries. So, if a move to this lively district is on the cards and if your family is joining in on the fun, consider the list below of some of the best neighborhoods in Las Vegas for families.
6 Best Neighborhoods In Las Vegas For Families
Summerlin
The city of Las Vegas is a melting pot of great master-planned communities and Summerlin takes the cake by offering the very best of amenities for families. It's easily the best neighborhood in all of Las Vegas and the regular influx of migrating population in Summerlin is proof of that. One of the many reasons one chooses to relocate to a different place is the rapid urbanization that leaves little to no breathing space.
In the case of Summerlin, about 30% of the land is dedicated to community space. So, if you feel like giving those legs a much-needed walk, have a go at the expansive walking trails available here. With more parks than cards in a pack, your kids will have a lot of options to choose their next playground in this neighborhood. The Red Rock National Park here will ensure that all your family members, right from your two-year-old baby to the elderly, have the time of their life. The place takes equal care of adults, too, as the golf courses here will provide you with a good chance to channel your inner Tiger Woods.
Moving to the educational side of things, Summerlin ranks among the top neighborhoods with excellent schools in the entire city of Las Vegas. The West Career & Technical Academy, Las Vegas Academy of the Arts, and The Adelson Educational Campus are some of the best schools in this neighborhood. The only thorn in this Summerlin's flesh is the high housing rates. So, make sure you have your pockets lined up before you choose to move here.
Median Home Value: $710,000
Monthly Rent: $2,450
Median Household Income: $62,750
See Also: 7 Best Moving Companies in Las Vegas
Whitney Ranch
Feel the need to hit the brakes and enjoy a relatively slow-paced life in the buzzing city of Las Vegas? Whitney Ranch is the right fit for you. This Clark County neighborhood provides simple and pleasant living conditions for you and your family to enjoy a decent and comfortable lifestyle. It has a population of about 11,000 and houses 51% of families with kids under the age of 18. This shows that a good number of families tend to reside here and enjoy all that Whitney Ranch has to offer.
The cost of living in this neighborhood is about 5% less than the national average which is why it's easier for families of any size to move here without parting ways with their bank balance. The huge open spaces in the neighborhood make for a great place for weekend picnic trips with your family. Nearby parks like the Stephanie Lynn Craig Park and various cafes and restaurants will make your time out in the sunny weather worthwhile. Though Whitney Ranch doesn't rank among the top neighborhoods in terms of walkability, your daily errands can be done on foot without much hassle.
If you're worried about your kid's education should you decide to move here, the Nevada State High School, Henderson, Burk Horizon Southwest Sunset High School, and Northwest Career & Technical Academy High School are some of the top schools you can enroll them in.
Median Home Value: $425,010
Monthly Rent: $1,640
Median Household Income: $49,152
Centennial Hills
Located in the Northwestern part of Las Vegas, Centennial Hills is fast becoming a preferred choice for families looking for a suburban lifestyle. Homes to suit every budget and amenities to cater to every age group – there is nothing that this neighborhood doesn't offer. If you're big on shopping and buying fancy things for yourself and your family, the countless boutique stores in this neighborhood will pose as a paradise for you.
In a city like Las Vegas where the entertainment quotient is off the charts on all days of the year, it's tough to find a neighborhood that provides a sense of calm and quiet. Centennial Hills is one such neighborhood that might as well become your Fortress of Solitude for when the hustle and bustle gets to you. If even that doesn't scream enough me-time, the Red Rock Canyon National Conservation Area, which is just 10 miles away from Centennial Hills, should do the trick for you.
We can all agree that kids' preferences are never constant and that includes their choice of neighborhood, too. If the surroundings and the amenities don't suit them well, you're in for long hours of whining, to say the least. Fortunately, Centennial Hills will make sure that the tissues stay in the box and that your kids are outdoors having fun. The neighborhood has lots of fun parks and recreational places for your little ones to keep up their shenanigans. Schools in this part of the city are equally good and six of them have received a 9/10 rating from Great Schools. Life for the elderly will also be a smooth ride here majorly because it houses the famous Centennial Hills Hospital which provides all sorts of care and facilities.
Median Home Value: $460,020
Monthly Rent: $1,690
Median Household Income: $71,870
Mountain's Edge
Just like Professor Utonium nailed the formula of creating the most awesome superhero trinity, the creators of this neighborhood called Mountain's Edge have achieved a similar feat. The right blend of nature, history, and community is what makes this neighborhood a desirable moving destination for families. The fact that it has constantly been the top-selling community in the entire country proves its quality further.
The neighborhood is filled with parks, restaurants, and shopping stores making it an all-rounder of a place with every amenity imaginable. As a sign of their existence back in the day, the Native American Tribes left their markings (calling cards, if we may) known as petroglyphs at several locations here. So, a normal family hike or a weekend visit to the historic places here is going to be filled with adventures and exciting stories about the past.
Being a master-planned community, it goes without saying that the schools here have the best possible staff, amenities, and all the required facilities to ensure an exceptional education for your kids.
Median Home Value: $489,050
Monthly Rent: $1,780
Median Household Income: $80,133
See Also: 5 Best Neighborhoods in Las Vegas for Singles and Young Professionals
Queensridge
Some neighborhoods are known for their amenities, some are known for their parks, while some others are known for the kind of lifestyle they offer. Similarly, Queensridge is a neighborhood known for its elegant architecture inspired by the European style. This Peccole Ranch neighborhood offers all the amenities of a lavish neighborhood while maintaining a cozy community vibe owing to its small size.
Safety is one aspect in which this neighborhood scores excellent marks. It has a lot to do with Queensridge being a 24/7-guarded gated community. The lush recreational parks here will keep people of all age groups occupied and longing for more. The miles of walkways will make your investment in that smartwatch worth it. Other amenities in this neighborhood include state-of-the-art fitness facilities, spas, pools, etc.
If you don't mind spilling a bit more on housing, your life in Queensridge will be nothing short of a vacation.
Median Home Value: $785,000
Monthly Rent: $1,940
Median Household Income: $79,480
Southern Highlands
Moving to a more upscale side of things, Southern Highlands, in the city of Las Vegas, offers a luxurious lifestyle for families. Known to be surrounded by the Southern Highlands Golf Club, this neighborhood has enough outdoor activities to keep your family engaged for hours on end – the Somerset Hills Park and Olympia Sports Park being the prominent ones contributing to the entertainment aspect here.
The secret to a happy family is having good quality food because who in their right mind can stay sad on a full stomach? The neighborhood is home to many casual and formal dining options that offer mouth-watering cuisines. Families are happy when the kids are in school giving the adults some breathing space for once and the schools in Southern Highlands take care of that for you – and provide great intellectual development while at it. The Aldeane Comito Ries Elementary School, Desert Oasis High School, and the Evelyn Stuckey Elementary School are some of the best schools in Southern Highlands. Getting some much-needed relaxation in the locale's green spaces while your kids stay motivated for their careers at the same time, it doesn't get any better than this!
Median Home Value: $565,000
Monthly Rent: $2,020
Median Household Income: $97,830
Things To Look Out For Before Deciding to Move To Las Vegas
In an exciting city like Las Vegas, there is no shortage of fun activities to indulge in. Your time here will fly by like a breeze.
The city of Las Vegas is blessed with a No State Income Tax policy which means that you'll have more bucks to spend on the various amenities available here.
The unemployment rate in Las Vegas stands at 5.2% currently, which is quite higher than the national average unemployment rate of 3.6%
If you don't want the sunny summers to end, moving to Las Vegas might be the best decision for you.
Since the city has a lot of entertainment spots available, it goes without saying that the food scene in this part of the country is also just as amazing.
Las Vegas isn't big on public transportation so you'll need a car to get around in the city for the most part.
Summing Up
No matter which corner of the country you're moving from, once you set foot in Las Vegas, the enthralling energy will suck you right in. The hoards of entertainment options here will quench your thirst for thrill and fun. And if you're moving to Vegas with your family, the fun only gets doubled. Therefore, the list above of the best neighborhoods in Las Vegas for families strives to provide you with all the details you need to know before you make the big shift.
FAQs On Best Neighborhoods In Las Vegas For Families
Is Las Vegas A Good Place To Raise A Family?
Though the city of Las Vegas is known for its entertainment value that attracts a sizable young population, the city is a great place to raise a family. Neighborhoods like Summerlin, Queensridge, and Mountain's Edge are excellent places for families.
What Is The Safest Neighborhood In Las Vegas?
Neighborhoods like Centennial Hills, Summerlin, and Southern Highlands are some of the safest neighborhoods in the city of Las Vegas.
Is Moving To Vegas A Good Idea?
Moving to Las Vegas is a great idea for people who are eyeing a snazzy, comfortable lifestyle filled with all sorts of amenities and attractions. Families and retirees can enjoy a decent living in this city.
See Also: Interstate Movers