8 Best Neighborhoods In Indianapolis For Families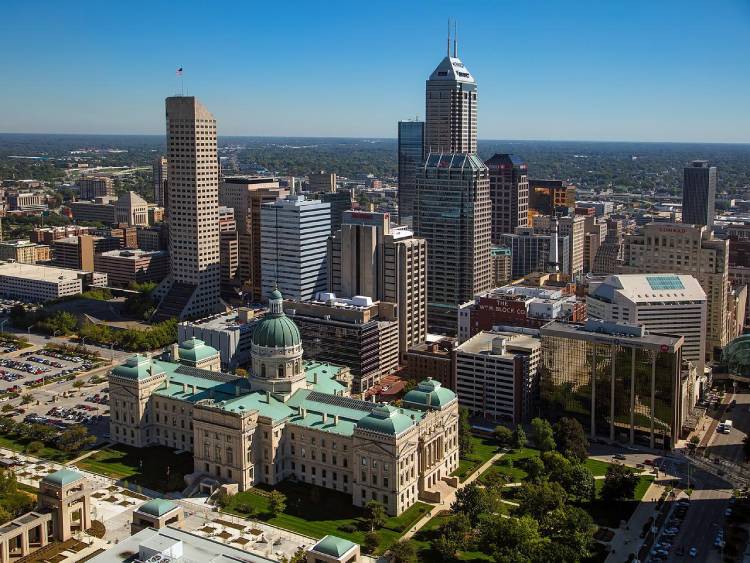 The capital city of Indiana, Indianapolis, is a city that is a seamless culmination of big-city and small-town charm. Located in the heart of the Midwest, Indianapolis, colloquially known as 'Indy', is a welcoming city – as is expected with all its Midwest etiquettes and community-centric vibe. The residents of the city are known to be super-friendly and push for a tight-knit community, making it a great city to move to with your family. Indianapolis boasts a low unemployment rate, a dynamic sports scene, and one of the best food and agricultural scenes in the country. Being the capital city, Indianapolis has become an economic and cultural center of Indiana.
In 1821, Indy was known as a major transportation and manufacturing hub, becoming the second-largest railroad center as well as an automotive manufacturing industry. But, Indy is more than just trains and automobiles. The city has a huge following for amateur sports and has some of the most affordable costs of living, great job opportunities. It's known as the 'Crossroads of America' for this very reason.
Indianapolis has a lot to offer to newcomers but the neighborhood you choose will define the rest of your Indy living experience. So, we bring you the best neighborhoods in Indianapolis that are definitely worth a look!
Best Neighborhoods To In Indianapolis For Families
Downtown Indianapolis
Downtown Indianapolis is made up of various cultural districts, but Mile Square and Wholesale District sit at the heart of Downtown. Mile Square is a crowd favorite for locals who wish to enjoy a variety of bars, restaurants, galleries, and more. It is the city's business center, with major employers like Anthem, Cummins Indianapolis, and Simon Property Group HQ-ing here! Downtown has a spectrum of housing options from renovated apartments in Art Deco buildings to newly-constructed condos and townhouses. This makes Downtown a comfortable place for students, young professionals, and married couples.
You can find some of the best food joints in Downtown Indianapolis. The neighborhood has an array of restaurants serving gourmet and diverse cuisines, and numerous bars and cocktail lounges. If you're a sports fanatic, then you'd definitely love to visit Lucas Oil Stadium or the Bankers Life Fieldhouse to catch the live NBA or WNBA matches! For all the outdoor enthusiasts, go boating, biking, or on nature walks at the White River State Park. Or, simply hop onto a gondola for a cruise around the manufactured canals, and enjoy the beautiful sunset!
Median Home Value: $415,000
Monthly Rent: $1,414
Median Household Income: $50,216
Broad Ripple Village
Located to the north of Downtown Indianapolis, Broad Ripple Village is a beautiful neighborhood with great amenities and a laid-back, bohemian vibe. Broad Ripple Village is a trendy, dynamic neighborhood and is counted among the six designated cultural neighborhoods in Indy. It boasts a reputation for its diverse and lively social atmosphere. The neighborhood has a plethora of swanky restaurants, trendy bars, and local craft beer breweries. It comes as no surprise that Broad Ripple Village is an entertainment and nightlife hotspot.
This Village is one of the older locales in Indianapolis, and the neighborhood airs a more residential feel. The housing options here vary from ranch-style and mid-century modern houses to newly-built condos and apartments. The Broad Ripple Park offers residents meandering hiking trails, expansive tennis courts, and even a swimming pool. Numerous patio-covered restaurants lining the parklands are pet-friendly, so you can bring along your furry friend for a stroll around the park. Be sure to visit the Arts Park at the Indianapolis Arts Center or the multiple small art galleries that showcase wonderful creative pieces.
Median Home Value: $294,500
Monthly Rent: $1,499
Median Household Income: $77,377
Fountain Square
Fountain Square is built around a central fountain and plaza, from which it gets its name. This Indianapolis neighborhood is reminiscent of a European plaza square and is also one of the six designated cultural districts of Indy. The once-rundown streets of Fountain Square are now lined with adorable little coffee shops, entertaining music venues, incredible restaurants, and very many comic book stores, boutiques, cocktail bars, bowling alleys, and record stores, all in this very walkable neighborhood.
Being one of the cultural districts, Fountain Square attracts numerous artists, musicians, and creative-minded people to its doors. It brings together modern amenities and a vintage charm that appeals to its residents. The neighborhood has a variety of pocket-friendly options in housing styles, from single-family homes and duplexes to former factory buildings that have been converted into modern lofts and apartments. However, if you're planning on buying a brand new contemporary apartment, then be prepared to pay a high rate! Fountain Square is a haven in terms of available homes. This quirky little neighborhood is quite unique and worth carving a home out of.
Median Home Value: $311,000
Monthly Rent: $1,165
Median Household Income: $41,321
Meridian Kessler
Meridian Kessler is located quite close to Mile Square and has easy access to urban amenities while being far enough to maintain a quiet and suburban lifestyle. It is one of the most well-established and stunning historic neighborhoods in Indy. The neighborhood is like a charming time capsule with quiet streets, plentiful greenery and foliage, spacious Tudor-style cottages, and Craftsman-style homes, away from the hustle-bustle of city life. Almost all of these historic vintage homes have been renovated and touched up to fit modern needs, without sacrificing their timeless charm.
The neighborhood may seem like a time capsule, but it is well-integrated into the 21st century. The streets are lined with amazing restaurants, local shops and businesses, charming cafes, and more. In some areas, the original infrastructure and wide sidewalks have been maintained. But a particular point about Meridian Kessler is that there is no single main street here. Instead, you'll find small pockets and alleyways throughout the neighborhood. These pockets often lead to wondrous little finds with regard to cafes and stores, upon exploration. Meridian Kessler is a quiet suburb but not a sleepy one and you'll end up finding everything you need, wherever you settle.
Median Home Value: $385,000
Monthly Rent: $950
Median Household Income: $64,722
Castleton
If you're looking for a diverse and tight-knit community, then look no further than Castleton. The neighborhood is family-friendly and has very affordable rents, an easy commute, and is walkable and bikeable. Castleton is home to Castleton Square, the largest mall in the state of Indiana, making this neighborhood the shopping hub of Indianapolis. Castleton is one of the best neighborhoods in Indy for families, due to its various amenities, cheap housing, and the community spirit of the neighborhood.
Other than the neighborhood being the shopping center of Indianapolis, Castleton has a lot more to offer to its residents. The neighborhood has its fair share of chain restaurants, fantastic local restaurants, and ethnic eateries. Castleton's Sahm Park covers 85 acres and has a pool with three slides, signifying a fun way for kids and families to spend their summer breaks! The neighborhood also offers amenities such as expansive green spaces, pavilions, hiking and biking trails, tennis courts, basketball courts, soccer fields, and disc golf courses, too. And if you're looking for something adventurous and exciting, the neighborhood has an ax-throwing arena and an indoor rock-climbing space as well!
Median Home Value: $213,250
Monthly Rent: $1,160
Median Household Income: $64,160
See Also: 5 Best Neighborhoods in Indianapolis for Singles and Young Professionals
Keystone At The Crossing
Keystone At The Crossing is located in the heart of Indianapolis' office submarket. The neighborhood is well-known for the Fashion Mall which is a hotspot for shopping enthusiasts. Living close to the Fashion Mall means you can simply step out of your home and have immediate access to fast food chains, branded stores, and other amenities. The neighborhood is a prestigious office park and has some of the best facilities in the city. Keystone At The Crossing is vibrant and attracts several millennials and Gen Z residents.
The residents of this neighborhood are mostly renters since the locale fits just about any renter, in terms of their needs, rent prices, and other additional facilities. For instance, younger residents and working professionals are drawn to the neighborhood center due to the concentration of jobs and the thriving commercial sector. However, families prefer a bit more peace and quiet, so they look for homes away from the mall but still close enough to enjoy the convenience and facilities. The neighborhood boasts expansive sidewalks, sprawling city views, and skylines that are absolutely stunning during sunsets!
Median Home Value: $260,500
Monthly Rent: $1,127
Median Household Income: $63,267
Willow Lakes
Willow Lakes, located in the southeast pocket of the metropolis, is one of the most affordable neighborhoods in Indianapolis. The neighborhood embraces the cozy residential lifestyle and is well-connected to other parts of the city. You can choose from sleek modern studio apartments to larger two-story family homes. The neighborhood's location maintains its upscale and posh vibe away from the hustle and bustle of downtown. The neighborhood has a friendly community and hosts several community events to connect with the locals and residents.
Willow Lakes offers several amenities to its residents from a plethora of food joints and restaurants serving diverse cuisines to luxurious cocktail lounges and charming outdoor cafes. You'll find meticulously landscaped grounds and lush parklands, swimming pools, numerous fitness centers, and specialty gyms. Living at Willow Lake means you'll have access to high-end amenities, thoughtfully designed common spaces, and spacious apartments with custom interiors and luxury features. The residents of this locale come from a variety of backgrounds and the community is a healthy mix of young professionals, families, seniors, and everything in between. Willow Lakes is a great residential neighborhood perfect for raising a family.
Median Home Value: $145,000
Monthly Rent: $1,070
Median Household Income: $79,381
Old Northside
Located in the northeast of downtown is Old Northside which exudes timeless charm and aged elegance. Old Northside is a beautiful historic district that emitted a sense of affluence and prestige in the late 1800s. But the neighborhood had a major decline during the world wars with half of its original houses demolished. The revitalization in the 1970s brought back the old brick sidewalks, Victorian-era homes, and Italianate and Queen Anne mansions. Additionally, new constructions were made that historically compliment the original structures. These beautiful tree-lined streets and vintage homes are the signature look of Old Northside.
The community here celebrates the neighborhood's historical and cultural heritage through various social gatherings, theater plays, and art. The neighborhood has several artistic spaces, theaters, museums, galleries, and stadiums. Old Northside seamlessly blends classic historic charm and urban edginess and hence is one of the most sought-after neighborhoods in Indianapolis. The Morris-Butler House Museum here hosts numerous cultural events throughout the year. The North Western Christian University is also located here. The best perk of Old Northside, however, is its proximity to other major neighborhoods and easy commute.
Median Home Value: $399,000
Monthly Rent: $1,315
Median Household Income: $50,216
Things To Look Out For Before Deciding To Move To Indianapolis
Indianapolis is not situated near any mountains or water bodies giving this region a whole lot of flat land. So, get your bike and running shoes out. The flat terrain is quite advantageous to Indy in making it a walkable and bikeable city. You'll find numerous residents biking or walking to work or for errands. Join the bandwagon of healthy and sustainable transport!
Indianapolis is called the 'Crossroads of America'. With several interstates and highways passing through the city, it's quite a short drive to get to other cities like Chicago, Cincinnati, Detroit, and Michigan. So, have your car serviced and in top condition before the weekend hits.
Indianapolis is quite cost-effective, especially for those moving to Indianapolis from cities like Chicago and Denver. You're bound to save money here, due to inexpensive housing and low costs of living. Indy is a great place to buy your first home in due to its cheaper prices.
Another pro of Indy's affordability is that if you're thinking about starting a new business, there's no place better than this Midwestern City. Other than affordable prices for materials and space, the community-centric culture here makes networking super easy. Not just that, the local business bureau, too, is extremely friendly and invested in making your business big.
Like most Midwestern cities, Indy experiences the four seasons quite distinctly. With hot and humid summers, rainy springs, cool and pleasant autumns, and snowy winters, watching the seasons change is absolutely beautiful. But, it's always wise to be prepared for instances of hail, snow, humidity, and tornadoes.
Summing Up
Indianapolis is called the 'little big city' for a reason. The city may not be vast, but the distinctiveness of each neighborhood from the other makes moving through the city seem like moving across different regions altogether! So, you need to choose your neighborhood wisely. Are you looking for a family-friendly neighborhood? Do you want a more quiet and suburban neighborhood? Are you looking to be close to the action at the heart of the city? Are you looking for cultural diversity and vibrant nightlife? Such questions should help you filter down your perfect type of neighborhood and then you can go from there!
Also See: 7 Best Moving Companies In Indianapolis
FAQs On Best Neighborhoods In Indianapolis For Families
What Is Indianapolis Known For?
Indianapolis is known for several things. Firstly, it's known as the second-largest railroad network and automobile manufacturing hub. Secondly, for the annual Indianapolis 500 sporting event! Furthermore, the city is home to the largest children's museum in the country.
Is Indianapolis A Good Place To Live?
According to Forbes Magazine, the cost of living in Indianapolis is 7.6% below the national average making it a great place to live. To add to this, Indianapolis has ranked 21st in the U.S. in terms of career opportunities, and this is due to the healthcare industry and growing technology sector. The city boasts a low unemployment rate of 4.2% making it a great place to work in as well.
What Should You Know Before Moving To Indianapolis?
Indianapolis has wild weather, much like most of the Midwest. The city is no stranger to hail, snow, humidity, and tornadoes, so it's wise to be prepared for anything if you decide to move here.
What Is The Best Area To Live In Indianapolis?
Some of the best neighborhoods to live in in Indianapolis are Downtown Indianapolis, Castleton, Willow Lakes, Broad Ridge Village, North Indianapolis, and Keystone At The Crossing, due to their all-round amenities and affordable housing.
Also read: Best Out of State Moving Companies in the America