8 Best Neighborhoods In Fort Worth For Families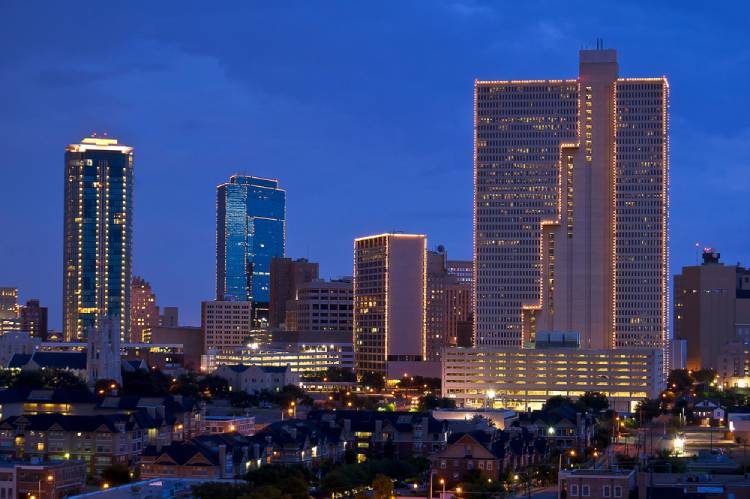 Fort Worth is a major city in the Tarrant County of Texas State. If you're planning to move to this ever-growing metropolitan area, you're not alone! With its diverse job market, growing economy, expansive outdoor spaces, variety of recreational activities, and good schooling system; the city has attracted flocks of people from all over the country here. Fort Worth's booming job market and diverse job opportunities have made it the 4th-strongest job market in the U.S. Due to all of these obvious pros, it is not at all surprising that the population in Fort Worth has been growing in the past few decades.
But these are not the only positives that Fort Worth has to offer. The housing market and cost of living in this area, while slightly higher than the national average, is definitely affordable in comparison to other major metropolitan cities. Fort Worth exudes a 19th-century Old West allure and if you truly enjoy the Western Cowboy scenes, then you're in luck. Fort Worth truly embodies the Texan culture and Western Cowboy heritage. The city has found cohesion between the Wild West culture and the urban sophistication of a metropolis, which makes this city truly amazing. From top-notch restaurants and trendiest bars to beautiful museums and jovial live music events – Fort Worth has something for everyone!
Whether you're moving to Fort Worth for new job opportunities or simply looking for a change of scenery, the neighborhood you choose to live in is an important decision. It will define your future life and experience of living in Fort Worth. So, we bring you a carefully curated list of the best neighborhoods in Fort Worth that are worth moving into!
Best Neighborhoods In Fort Worth For Families
Arlington Heights
If you're looking for a quiet suburban neighborhood with urban convenience, Arlington Heights is the perfect place for you. The neighborhood provides its residents with ample space, but it is also in close proximity to amenities. With practically zero crime rate, the neighborhood has consistently ranked as one of the best neighborhoods for families and the elderly. Add to that tree-lined streets, numerous outdoor parks and garden spaces, and a variety of beautiful cozy homes that feature craftsman-style architecture; Arlington Heights certainly has its reputation as a good place for anyone.
The neighborhood has easy access to the I-30 highway, the Trinity Park and is at a drivable distance to West 7th street, the perfect combo for people looking for some recreation on the weekends. While most of the neighborhood may seem like quiet and peaceful suburbia, Arlington Heights does have its fair share of recreational activities to offer. The neighborhood has plenty of amazing restaurants and cafes, quirky bowling alley, craft cocktail bars, popular shopping centers, tons of grocery stores, stunning museums, and expansive outdoor parks to enjoy your weekend.
Median Home Value: $430,000
Monthly Rent: $1,652
Median Household Income: $72,265
Also See: Top Neighborhoods In Arlington, Texas For Singles And Young Professionals | 5 Best Neighborhoods in Arlington for Families
Fairmount
Located in the Southside district, Fairmount is a historical neighborhood with beautiful architecture, exciting landmarks, and well-kept streets. The neighborhood is known as the largest historical neighborhood in the Southwest and boasts an impressive collection of turn-of-the-century homes and beautiful historical bungalows that reflect the old Fort Worth charm through and through. The neighborhood is a great place for young professionals, families with kids, and retired and elderly individuals due to its small-town charm and all the urban conveniences it provides. Fairmount is an affordable neighborhood with access to a top-rated schooling system, a number of coffee shops and restaurants, and other amenities.
Other than its impressive collection of 18th and 19th-century architectural houses, Fairmount has a lot more to offer its residents in terms of recreation and fun. Magnolia Avenue is located close to Fairmount and is a popular street full of delicious restaurants, great cafes and bistros, trendy bars and pubs, and much more. Fairmount has kept the history of Fort Worth alive with untouched architecture, local businesses that have been operating for decades, and tons of Old West landmarks. The neighborhood also has a number of parks and playgrounds like the Magnolia Green Park, Trinity Park, and Fort Worth Water Gardens, which are great picnic spots with numerous walking trails and exercise spaces.
Median Home Value: $426,017
Monthly Rent: $1,300
Median Household Income: $78,479
Rivercrest
Rivercrest is known to be one of the most exclusive and coveted neighborhoods in Fort Worth city. Surrounding the Rivercrest Country Club, the neighborhood is certainly something to talk about! Rivercrest offers a quaint and peaceful atmosphere to raise a family, and the neighborhood reflects the same with its laid-back suburban lifestyle. Located close to Downtown Fort Worth, Rivercrest maintains its elusive charm without sacrificing urban amenities. The neighborhood is the perfect blend of urban and suburban life, by cutting out the hectic hustle and bustle of city life. Most of the homes in Rivercrest are beautiful, spacious, and listed at a high value due to their prime location. The neighborhood has great access to some fantastic schools, fine dining restaurants, picturesque parks, walking trails, and growing businesses.
You'll find tons of wooded areas and beautiful outdoor parks with winding trails for walking, jogging, and biking here. A short drive from Downtown, Rivercrest offers a stunning view of the Trinity River and Falls. You can enjoy your free time at the Rivercrest Country Club for some scrumptious brunch options, the Kimbell Art Museum and Modern Art Museum of Fort Worth to take in the awe-inspiring artworks, sculptures, and gallery ceiling work, and finally, the Fort Worth Botanic Garden that features beautiful rose and Japanese gardens.
Median Home Value: $1,822,500
Monthly Rent: $1,628
Median Household Income: $109,641
Westover Hills
Westover Hills is one of the wealthiest neighborhoods in Fort Worth and Texas as a whole as the area is known to have some of the highest-paid income brackets. While the population of Westover Hills is not quite large, the real estate is huge and comes with a similar price tag! But given the household income of the neighborhood, residents can afford the living costs of Westover Hills quite easily. To add to its exclusivity, the neighborhood's crime rate is quite low, and has its own town hall, city council, and police department. It also boasts lower property taxes than nearby neighborhoods.
Westover Hill is a quaint neighborhood with sprawling mansions, large plots, and beautiful homes dating back to the 1930s. The properties are built on elevated landscapes to offer both an eastern and western view of the city. The neighborhood is a mere 10-minute drive from Downtown, where residents can enjoy eclectic urban activities. It is within a drive distance from the Cultural District and River District in case you wish to try out suave restaurants, cozy cafes, mesmerizing art galleries and museums, and the natural beauty of Trinity Park. A major highlight is the Dickies Arena which hosts some of the greatest touring entertainment, and the Fort Worth Stock Show and Rodeo.
Median Home Value: $2,240,190
Monthly Rent: $1,588
Median Household Income: $417,442
Westcliff
Westcliff is the home to the top-rated Texas Christian University and is a popular neighborhood for college students, young professionals, and families alike. The neighborhood is located to the southwest of Downtown, which makes it a hotspot neighborhood due to its accessibility to the Downtown District's amenities. To add to this, Westcliff showcases a variety of houses in terms of sizes and pricing. Whether you're looking for a mid-sized condo or apartment or a two-story home, you're sure to find something of your liking in Westcliff. Westcliff has an expansive range of house pricings, from $150,000 going up to $2 million! The neighborhood is an awesome place to buy real estate for this very reason, especially for first-time homebuyers
The neighborhood houses residents from all income levels and has easy access to various amenities like prime shopping centers, homely restaurants and cafes, beautiful parks, and a number of successful businesses. To top it off, the neighborhood has some of the most elaborate schooling systems and is home to one of the most reputed universities in Texas. Westcliff is no longer a student hub but has a diverse population. If you are an avid football fan, then you can catch the football games held at the Amon. G. Carter Stadium and revel in the Horned Frog spirit of the community!
Median Home Value: $481,000
Monthly Rent: $1,400
Median Household Income: $69,266
Downtown
If we're talking about the best neighborhoods in Fort Worth, it is impossible to leave out the heart of the city itself – Downtown! The vibrant and eclectic neighborhood is a great place for young professionals and newcomers who are looking to get the whole Fort Worth experience. The neighborhood offers the best of the city nightlife, restaurants, and entertainment. You'll find plenty of entertainment options like contemporary art galleries, hideaway bistros with live music and tasty cocktails, bar hopping on Houston Street, and lively restaurants. If you're new to the neighborhood, nothing beats the networking opportunities Downtown offers in the form of the various neighborhood events!
But Downtown is more than just an entertainment hub. It has a great number of job opportunities as well, which is the primary reason that professionals flock to this area in big numbers. From well-known national firms to local start-ups and unicorns, many businesses have their bases set here. Also, along with the amazing employment opportunities, Downtown also features a number of varied housing styles. From luxury homes, urban lofts, high-rise, and mid-rise condos, and urban apartments, you'll find something that fits your needs.
Median Home Value: $293,800
Monthly Rent: $1,849
Median Household Income: $54,066
North Richland Hills
Unlike what its name suggests, North Richland Hills is a surprisingly affordable neighborhood in Fort Worth. It is a cozy suburban neighborhood just north of Fort Worth with an exceptionally low cost of living and affordable real estate for both owners and renters alike. North Richland Hills is the perfect neighborhood for anyone looking to have prime real estate within a budget. Though the neighborhood is a bit farther from Downtown Fort Worth, it most definitely doesn't miss out on the entertainment and recreational options. With nearby waterparks, batting cages, and mini-golf courses, North Richland Hills has its own form of family-friendly fun!
Other than its amazing real estate market, North Richland Hills boasts highly-rated schools, a welcoming and neighborly atmosphere, public libraries, recreation centers, more than 800 acres of parkland, and bustling shopping centers. If this doesn't scream family-friendly and community-centered, then we don't know what does! The neighborhood has numerous biking and hiking trails, tree-lined streets, parks and green spaces, and an overall well-maintained and quiet living space. Other than this, the neighborhood is home to many small businesses, start-ups as well as some major businesses. The overall quality of life of North Richland Hills is excellent and has a well-known reputation.
Median Home Value: $357,942
Monthly Rent: $1,430
Median Household Income: $92,880
Tanglewood
Tanglewood is located to the southwest of Downtown Fort Worth and is a picturesque neighborhood known for its prime location and peaceful community. It is one of Fort Worth's most desirable neighborhoods with a low crime rate and a tight-knit community. The neighborhood is great for families and retirees and the elderly alike. Living in Tanglewood feels like living in scenic parkland, located near the branch of the River Trinity. With numerous biking and walking trails meandering through the neighborhood, and majestic pecan and oak trees lining the streets, this shaded neighborhood is a great place to call home. If you are an outdoor enthusiast, then the numerous parks, expansive green spaces, and winding biking and jogging trails will definitely be something to look forward to.
Tanglewood has spacious ranch-style homes, with large lot sizes and beautiful yards, and its central location from Downtown – the city's best amenities makes this neighborhood a sought-after place to move to. And let's not forget the great public school system and close proximity to the Texas Christian University, which makes this place a family's dream neighborhood. Other than this, Tanglewood also has some top-notch shopping and dining options, cozy local eateries, farmer's markets, and food truck lanes. On the weekends you should definitely visit the Colonial Country Club and the Colonial Golf Course, and the Trailhead at Clearfork to witness the neighborhood's suburban charm.
Median Home Value: $701,519
Monthly Rent: $1,513
Median Household Income: $81,861
See Also: Best Neighborhoods in Fort Worth for Singles and Young Professionals
Things To Look Out For Before Deciding To Move To Fort Worth
Fort Worth is different from Dallas. While the area is collectively known as Dallas-Fort Worth metropolis, both these cities are quite different from one another. One of the major differences is the cost of living. Fort Worth is more affordable than Dallas.
Being a part of Texas State, Fort Worth has a track record of unpredictable weather. Be prepared to experience a humid subtropical climate with hot, muggy summers and windy winters. Keep an umbrella handy for sudden showers and thunderstorms.
Fort Worth is no stranger to tornados. With the beginning of spring comes the Tornado season in the region. If these windy giants don't deter you from Fort Worth, nothing else will!
With spring also comes allergy season. But with all the tornados the city sees, the allergy season is up a whole other level in Fort Worth. So, be prepared for a lot of sneezing and a runny nose, if you're allergic to pollen.
Like every other metropolitan city, Fort Worth also struggles with traffic problems, due to its close proximity to Dallas and the major highways that connect the city. But another point that adds to the already existing traffic problems is the road infrastructure and increased number of toll booths.
Fort Worth is known for its western cowboy culture. It may be a fun quirk for some and may not be all that loved by others. So take that as you will, though the cowboy culture is not a citywide scene.
Summing Up
Fort Worth is a great place to live in with all its amenities, affordable housing and living prices, booming job market, and vibrant recreational scene and cultural heritage. But moving to a new city can bring up many questions and doubts in mind. You have to consider your expenses, crime rates, educational facilities, healthcare facilities, and many more such factors before finalizing your move. We have cut down on your neighborhood research by bringing to you the best neighborhoods in Fort Worth. So, glance through our list, and happy moving!
Also See: Moving to Forth Worth | 6 Best Moving Companies in Fort Worth
FAQs On Best Neighborhoods In Fort Worth For Families
Is Fort Worth Texas A Good Place To Move To?
Fort Worth is a great place to move to. With affordable housing prices and cost of living, a booming economy and diverse job market, good schooling system, and healthcare facilities, the metropolis is definitely a good place to live with your family. Other than these amenities, Fort Worth also has numerous parks, a vibrant culture, western heritage, and an eclectic art scene. If you are planning to move to Texas you may refer to our list of affordable places in Texas.
Is It Cheaper To Live In Fort Worth Or Dallas?
Dallas and Fort Worth are similar in several ways, but in terms of housing and cost of living, Fort Worth is more affordable than Dallas. The real estate market in Fort Worth is slightly cheaper in comparison to Dallas. According to Numbeo, the rent prices in Fort Worth are 11.85% lower than that in Dallas.
Where Should I Not Live In Fort Worth?
Some of the neighborhoods to avoid in Fort Worth are Southside, Western Hills, Ridglea, Eastside, Northside, Sycamore, and Wedgewood.
How Much Does It Cost To Live Comfortably In Fort Worth?
To live comfortably in Texas, an amount of $63,500 is taken as a basic requirement. Keeping this in mind, for a comfortable living in Fort Worth, a homeowner will need to earn $79,000. According to GoBankingRate, out of this annual income, $35,000 is required for yearly expenses, $20,000 for discretionary spending, and $20,000 for savings.