7 Best Neighborhoods In El Paso For Families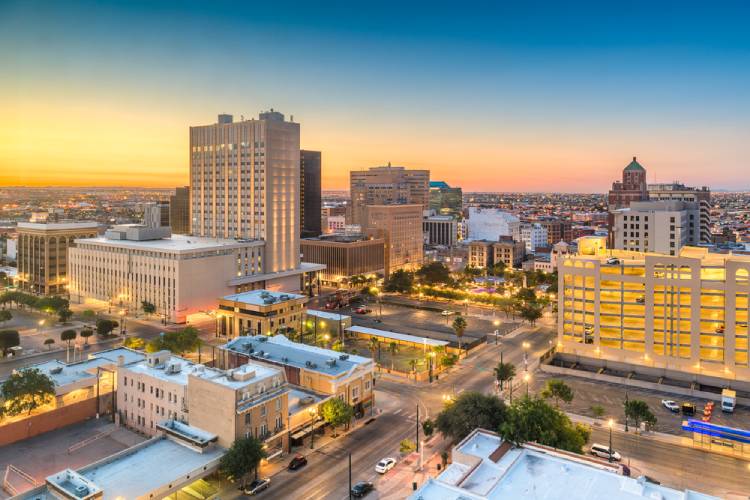 The epitome of Southern culture, living in Texas will introduce you to culture and traditions you've never experienced before. To be a little more precise with the location, the city of El Paso will cater to all your cultural and culinary wishes in a spectacular fashion. With a hip nightlife, a good mix of historic and modern architecture, and an impressive educational system, the city of El Paso makes for a perfect destination for families looking to settle down in a homely environment. To top it all off, the affordable cost of living in El Paso makes it harder to resist a move here.
With a mix of urban amenities and laid-back suburban charm, El Paso, or 'Sun City' has the best of both worlds on display. It's a great place to move to and can widen your living horizons to a whole new level. So, if you're tempted enough, check out the list below of some of the best neighborhoods in El Paso for families.
7 Best Neighborhoods In El Paso For Families
Mountain View
Located in the northeast region of El Paso is the beautiful neighborhood of Mountain View. Being a neighborhood that sees large concentrations of military families, it's safe to say that the crime rate in this area is quite low. The reason this place is filled with military personnel and their family members is due to its close proximity to the Fort Bliss Army Base.
For nature lovers, this is a fantastic place to reside and soak in the pure aesthetics this neighborhood has to offer, in all its unadulterated glory. For families, Mountain View is nothing short of a paradise, thanks to the amazing blend of educational institutes and recreational parks and sites to keep one occupied. The Irvin High School and Magoffin Middle School are some of the famous schools located here where a majority of the kids are enrolled. The El Paso Zoo is also a great place to take your kids to teach them about the animal kingdom. Art connoisseurs will particularly love visiting the El Paso Museum of Art.
The extremely affordable housing rates in this neighborhood make it really easy for families to put Mountain View at the top of their relocation destinations list.
Median Home Value: $135,300
Monthly Rent: $950
Median Household Income: $40,190
Mesa Hills
The biggest green flag to look forward to in a neighborhood is its safety and when you're moving in with a family, it becomes all the more important. In the El Paso region, Mesa Hills is a neighborhood that has a very high safety index. The crime rate in this neighborhood is 91% lower than the national average. So, you can rest assured that your family won't have to watch their backs every step of the way.
Now that we have established how safe your life in Mesa Hills will be, let's talk about the housing options you'll be getting in this neighborhood. From exotic brick ranches and vintage Spanish-style houses to single and multi-family homes, you can choose from a varied range of houses that best suit your budget. Thanks to the neighborhood's closeness to major parts of the city, all the amenities and attractions that you might want to avail of and visit will be at a fairly walkable distance. These spots include some of the best fine-dine restaurants, shopping malls, and recreational parks.
Since you're going to be moving in with your family, schools are one other aspect that you might want to consider during your long-term stay here. Fortunately, Mesa Hills has many good schooling programs which you can enroll your kids into, the IDEA Mesa Hills, Morehead Middle School, Lyndon B. Johnson Elementary School, etc. being a few of them.
Median Home Value: $237,450
Monthly Rent: $985
Median Household Income: $63,315
Castner Heights
Next on the list is yet another affordable neighborhood called Castner Heights. Known to be an extremely family-friendly neighborhood, Castner Heights has something for everyone here. To give you an overview of what you can expect around here, the neighborhood is extremely walkable, so you have no excuse for skipping your evening walks in the slightest. Push your limits on an adventurous hike at the Franklin Mountain State Park.
Take your family out for lunch or a lavish dinner at the many lip-smacking restaurants this neighborhood has to offer. The Little Bavarian Restaurant and Hilda's Tamales should be a good start. With lots of single-family homes available at economical rates in the neighborhood, you won't have to break your bank to earn a decent living here. As mentioned before, the place caters to everyone in your family, so it definitely includes your kids, too. Lots of good parks are situated in Castner Heights for your little ones to swing, fly and maybe fall, too, because that is how you learn. Speaking of learning, the El Paso Independent School District has graced this neighborhood with top-quality schools which is one of the many reasons why it's the most sought-after neighborhood by families.
Median Home Value: $201,550
Monthly Rent: $880
Median Household Income: $45,600
Highland Park
If you're looking for a neighborhood that serves not just yours but your entire family's interests at a mean price rate, then there is no better place to be than Highland Park. This neighborhood sits comfortably at a location where it's easy to access all kinds of amenities. For instance, the El Paso International Airport is just around 20 minutes away from this neighborhood.
Not just that, some of the most highly rated schools in the locality like the Moreno Elementary School and Silver Christian Academy are also housed in this neighborhood. The El Paso Community College is also a stone's throw away from here. Though not extremely walkable, the neighborhood has a score of 64 out of 100 which means that you'll have no problem completing your daily errands on foot.
Other famous attractions here that your family might be interested in are Franklin Mountains State Park, Centennial Museum and Chihuahuan Desert Gardens, and the Magoffin Home State Historic Site
Median Home Value: $136,550
Monthly Rent: $1,040
Median Household Income: $36,815
See Also: Moving To New Mexico
Manhattan Heights
Before being added to this list, Manhattan Heights was already added to the National Register of Historic Places, for obvious reasons. To give you a bit more context, while your kids learn valuable lessons about the country's rich history in schools, the numerous historical sites in this neighborhood might also teach you a thing or two about the good old days. It goes without saying that the houses in this neighborhood complement the classic style. The Georgian, Tudor, American bungalows, Spanish-Italian, and Foursquare are some of the architectural styles you might come across when it comes to homes here.
The recreational parks and gardens in this neighborhood are plentiful and the most popular one is the Municipal Rose Garden. This garden has about 400+ varieties of roses which will keep you spellbound by their mesmerizing beauty. Another very famous attraction is the St. Alban's Episcopal Church.
Apart from this, the affordable house rates, which are lower than the national average, make it relatively easier for one to raise a family and have a quality lifestyle in this Texan city.
Median Home Value: $305,550
Monthly Rent: $1,040
Median Household Income: $36,820
Cielo Vista
If you're moving to the city of El Paso and looking for a neighborhood that constantly makes it to the list of most livable neighborhoods in the city, then Cielo Vista is the one for you. According to AreaVibes, Cielo Vista occupies the 9th position in the entire city of El Paso when it comes to livability conditions. It certainly wouldn't make sense if you don't consider this neighborhood to reside in with your family.
If you're not convinced yet, the fact that Cielo Vista has a crime rate lower than 76% of the neighborhoods in the city, should strengthen this case. Also, if you are looking for quality schools to send your kids to and have a quiet environment at home for a few hours, this neighborhood wouldn't disappoint on that front either. The Cielo Vista Elementary School and Burges High School offer great education programs for your little ones to learn the ABCs of life in a fun and interactive way. Nearly 42% of the families in this neighborhood have kids under 18 years of age, so it's safe to say that your neighbors are also fairly young and that your kids will have lots of friends their age.
The famous Cielo Vista Mall is quite possibly the most famous attraction here which houses multiple high-end stores for you to shop your heart out at. Other places of interest include the Lone Star Golf Club and the El Paso Public Library.
Median Home Value: $240,000
Monthly Rent: $880
Median Household Income: $49,225
Montoya Heights
Your hunt for an affordable house in the heart of the El Paso region ends here as Montoya Heights will offer you just that. With delectable food options available at every corner in this neighborhood, it's safe to say that your family will be bidding adieu to Sunday night cravings for good.
The elderly and the kids are going to love strolling around in the family-friendly parks here – lots of green spaces for you to relax and finish reading your favorite novel in peace. A family sometimes also includes four-legged furry friends and the neighborhood understands this part very well. You can take your pet dogs to the Westside Community Recreation Center & Dog Park and let them run wild in the expansive open space.
As important as it is to keep their entertainment quotient high, it's also essential that your kids gain quality education to excel in life. The Herrera Elementary School aims at delivering just that and is, thus, one of the best schools in the entire El Paso region. Though the population in this neighborhood is a little over 1,600, there are close to 61% of families with kids under 18 years of age residing in this neighborhood which proves that Montoya Heights is a great place to raise your kids.
Median Home Value: $270,000
Monthly Rent: $1,000
Median Household Income: $64,135
Things To Look Out For Before Deciding to Move To El Paso
Moving to a Texan city is not for the faint of heart and this is because the state is known for its intense heat. El Paso is no stranger to skull-scorching summers, so beware if you don't deal well with heat waves.
The city of El Paso has an astounding cultural diversity and you'll get to meet people from all walks of life here.
The affordable cost of living here is something that has caught the attention of many over the years which is why more and more people are planning to move to this Texan city.
El Paso is infamous for traffic congestion so you might want to consider this if you rely heavily on private vehicles for your daily commute.
The food scene here will certainly not disappoint you as a variety of yummy Mexican dishes are ready to be devoured and reviewed by food bloggers.
According to data by Neighborhoodscout, the city of El Paso is safer than 38% of cities in the nation.
Texas is one of the only 9 states in the country that doesn't have an income tax policy. So, you'll be getting the full value of what you earn in this city.
Summing Up
Nothing beats the joy of living in a place that offers the best of everything and saving tons of money at the same time. If you want in on this joyful ride, consider moving to the affordable city of El Paso and you'll realize why a large number of families are choosing El Paso. We hope that we've simplified your moving research and helped you narrow down on your future home locale!
FAQs On Best Neighborhoods In El Paso For Families
Is El Paso A Good Place To Raise A Family?
With affordability being one of its major selling points, El Paso has seen a huge influx of families over the years. Great schooling options, an excellent food scene, and numerous family-friendly parks make El Paso a great place to raise a family.
What Is The Safest Area In El Paso?
Some of the safest neighborhoods in El Paso are Castner Heights, Cielo Vista, and Montoya Heights among others.
Is Texas Cheaper Than California?
The cost of living in Texas is significantly lower than that in California so you won't have to worry about owning a lavish home in this state. California is 31.4% pricier than Texas and this translates to housing, utilities, and groceries.
See Also: Interstate Moving Companies