8 Best Neighborhoods In Denver For Families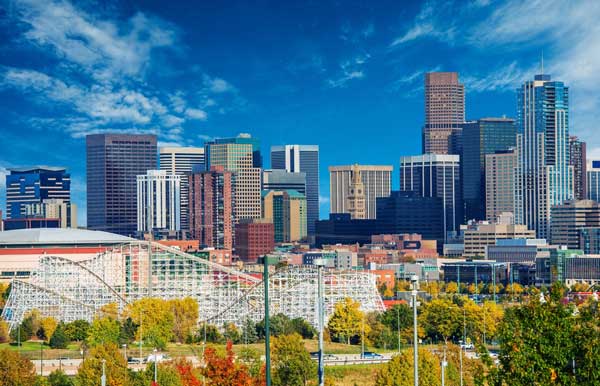 If you're planning to move to Colorado, your first choice would probably be the state's capital city, Denver. And why not? Denver's ski slopes and beautiful, mountainous landscape are enough to sway your soul into moving to the 'Mile High City'. Aptly nicknamed so, the city is located at the base of the Rocky Mountains and is downright a gorgeous place to live in. From miles of meandering hiking and trekking trails to ski slopes to mountain climbing, Denver is an outdoorsy person's paradise!
Other than the city's ever-present beauty, Denver's job market is booming with some big league players and numerous Fortune 500 companies. And let's not forget the other major leagues that need a special mention! If you're an avid sports fan, you probably already know that Denver has all major leagues covered from NFL to NBA to MLB. If this is not enough, Denver has a plethora of top-notch breweries, restaurants, local shops, epic street art, and phenomenal museums – the beauty of it accentuated by Denver's year-round sunshine!
Denver is, no doubt, stunning and a super fun place to move to, but the city is quite expansive and has a diverse variety of neighborhoods. Are you looking for a quieter suburb, away from the hankering of the city or do you wish to live in the center of city life? You'll find exactly what you need as we bring you the best neighborhoods in Denver to choose from.
Best Neighborhoods In Denver For Families
Capitol Hill
Capitol Hill is one of the oldest neighborhoods in Denver and is full of beautiful parks and impressive historic buildings. From Victorian mansions to new-age apartments and condos, Capitol Hill has quite the collection of houses. While the neighborhood has a grand platter of houses to choose from, you might lose out on spaciousness for affordability. But you're sure to love the neighborhood irrespective of the housing space. With canopied streets and plenty of parklands, life in Capitol Hill is a perfect balance of nature and city life.
The neighborhood has evolved to be a hip and trendy locale due to the influx of students and young professionals. And with a plethora of amazing restaurants, cafes, bars, and shops as well as beautiful museums, landmarks, and concert venues, Capitol Hill has quite the vibrant nightlife scene. If it still seems to fall short, then the neighborhood's proximity to Downtown ought to solve that problem! If you decide to make Capitol Hill your neighborhood, be sure to visit the iconic Colorado Capitol building – the dome is plated with real 24 karat gold! Also surf through the streets of North Capitol Hill or 'Uptown' to unwind and enjoy the sunshine at Denver's largest green space, City Park.
Median Home Value: $370,000
Monthly Rent: $1,400
Median Household Income: $63,425
Highlands
Highlands is located just outside Downtown and is a hotspot for Gen Z residents and families owing to its community-centric and environment-friendly personality. The residents are super friendly and the entire locale is dotted with bike stations and bike lanes, encouraging a more eco-friendly form of transit. The Highlands is filled with numerous farm-to-table restaurants, local eateries and shops, trendy cafes, and more. The restaurant and bar scenes of this neighborhood are super quirky and Instagram-worthy! Foodies will love the Highlands, without a doubt.
Apart from the incredible food scene, the neighborhood has a peculiar layout with three distinct locales with their own characters. The Highland Square with the best local shopping centers and stores, Tennyson Street which is the artistic epicenter of Denver, and Lower Highlands, the food and wine trendsetter of the neighborhood. The neighborhood's Confluence Park is an excellent place to indulge in water activities like kayaking, swimming, and tubing. And if that's not your thing, you can simply relax at a picnic table and bask in the warm sun!
Median Home Value: $800,000
Monthly Rent: $2,075
Median Household Income: $92,622
Cherry Creek
Cherry Creek is literally the cherry on the cake! This neighborhood is one of the poshest, most luxurious areas in Denver and is located to the west of Downtown. The neighborhood has a lot going on with plenty of luxury shops, boutiques, fancy art galleries, swanky restaurants, and suave wine bars. Cherry Creek is known as the 'Shopping Hub' of Denver, and rightfully so. The neighborhood is laden with nearly 16 blocks worth of clothing stores, boutiques, local and luxurious shops, and stores – nearly 300 stores! And if this doesn't seem enough to blow your mind, the Cherry Creek Shopping Mall houses nearly 160 world-renowned luxury brands. Shop till you drop seems like an apt phrase right about now, doesn't it?
But Cherry Creek isn't only about the shopping experience. The neighborhood is truly a great place to live with your family, especially if you have or plan to have kids. The neighborhood has some of the best schools in the district and the whole city! Cherry Creek schools almost always make the list of the top schools in Denver, thanks to their academic excellence and outstanding sports programs. Furthermore, the neighborhood is filled with luxury townhouses, upscale duplexes, and condos, and is an art and culinary destination. Not enough? The neighborhood is well-rounded with several parks, tennis courts, and even a golf course! Cherry Creek caters to everyone's unique needs, making it a haven of a neighborhood.
Median Home Value: $1,350,000
Monthly Rent: $2,598
Median Household Income: $88,475
River North Art District
As the name suggests, River North Art District, 'RiNo' for short, is an artistic and creative hub. Previously, the area was part of the Five Points locale and was an industrial center. But no other neighborhood in Denver has changed as much as RiNo has, in the past few decades. The once industrial region has now converted old warehouses into hip music venues, trendy art galleries, and unique restaurants and bars. RiNo is the hottest neighborhood in Denver, in terms of crazy nightlife, and is also a great place to network owing to the large influx of young people.
RiNo truly puts art front and center with the most unique and awe-inspiring art galleries. Their love for art is not just limited to upscale modern galleries but goes down to the streets. You'll find hundreds of street paintings and colorful murals decorating the neighborhood, breathing life and personality into the once-dull industrial area. The neighborhood is also famous for its trendy food scene. It has experimental restaurants and food trucks that serve fusion cuisines along with a few locally loved breweries and bars that have stood the test of time. What's better than a night full of creative art, unique food fusions, and great drinks?
Median Home Value: $421,000
Monthly Rent: $2,023
Median Household Income: $69,882
Five Points
Five Points is one of the most diverse neighborhoods with a rich historical and cultural background. Nicknamed the 'Harlem of the West', Five Points has a rich jazz history, and the neighborhood celebrates the Five Points Jazz Fest each year. The streets are filled with groovy jazz melodies, and you're bound to hear the lingering tunes of the music floating outside the famous Rossonian Jazz Club here. The neighborhood is proud of its Black heritage and it's reflected in its vibe and culture as well.
Five Points, previously a suburban neighborhood, has seen a resurgence of renovated warehouses-turned-live performance venues, and trendy art galleries. The neighborhood has much more than just jazz to keep residents engaged. Being close to RiNo and downtown, Five Points, too, has turned out to be quite the hip and vibrant neighborhood. Packed with amazing craft beer breweries, high-end restaurants, countless modern bars, tattoo shops, art galleries, and independent stores against the urban backdrop; Five Points is a neighborhood with a lot of action. Furthermore, the neighborhood also has the Mestizo-Curtis Park and Coors Park which is home to the Colorado Rockies baseball team.
Median Home Value: $674,000
Monthly Rent: $1,975
Median Household Income: $86,284
Washington Park
One of Denver's oldest neighborhoods, Washington Park is named after the 155-acre park that has been the oldest resident of this neighborhood. The park is often compared to New York City's Central Park for its beauty and amenities. Whether it's basketball, soccer, or tennis, the park has facilities for them all! Also, you're sure to run into some event or festival during your stay here, as Washington Park holds numerous festivals and runs during the summer months. The neighborhood is perfect for young families, and professionals looking for a quiet locale not too far from all the action, just enough to drown out the noisy nightlife.
Washington Park is decked up with beautiful and rustic brick bungalows and restored Victorian and Tudor-style homes. The streets and spacious sidewalks are lined with enormous 100-year-old trees that canopy the neighborhood and transform it into a shady green paradise. With a well-ranked school system and high safety rankings, Washington Park is perfect for families with kids! The West Washington Park area has quite a collection of boutiques, shops, restaurants, pubs, and music venues, while East Washington Park is the home ground to quiet city dwellers and families.
Median Home Value: $1,500,000
Monthly Rent: $1,800
Median Household Income: $97,168
Golden Triangle
Golden Triangle is a cultural and creative hub bounded by Colfax Avenue to the north, Broadway to the east, and Speer Boulevard to the west – hence the name. It is also called the Civic Center which has an impressive offering of cultural and artistic venues. The neighborhood has 15+ museums, galleries, and cultural institutions, some of which are the best in Denver. It's mostly packed with young professionals and married couples. The Golden Triangle is quickly becoming one of the trendiest neighborhoods in Denver and is attracting several newcomers every day.
The Golden Triangle is not just about museums and art galleries but also has the perks of big city life, offering both mall food courts and high-end dining options. If shopping is your thing, then know that the 16th Street Mall has over 250 stores, and if that's not enough, it has easy access to other shopping districts in Denver too. You'll easily find a healthy mix of spacious high-rise condos, eclectic townhouses, commercial spaces, and sleek modern apartments here. From artsy folks to professionals, Golden Triangle blends contemporary design and old-school charm seamlessly.
Median Home Value: $569,780
Monthly Rent: $2,075
Median Household Income: $100,603
Sloans Lake
The neighborhood is named after Sloans Lake which is the centerpiece of this picturesque locale. Though surprisingly, even the residents aren't sure whether the neighborhood is called 'Sloans Lake', 'Sloan's Lake', or 'Sloan Lake'! Weird or intriguing? Perhaps, both. Being quieter and more residential, it's an excellent choice for families with kids and retirees alike, with a friendly community, good safety scores, high-caliber schools, and lots of natural beauty to appease your soul. Sloans Lake is an ideal place for people looking for peace and tranquility, a good balance between urban ease and suburban charm.
The neighborhood highlights include the biggest lake in Denver and the park that surrounds this sparkling lake which, by the way, is the second-largest park in the city. It has numerous hiking and biking trails, a tennis court, a playground, and lake facilities. The park also hosts several events over the year like the Denver Marathon and the Dragon Boat Festival. The neighborhood offers different styles of housing options, from Tudor-style homes to contemporary duplexes. While the nightlife is scarcer, the neighborhood does sport some delicious restaurants, breweries, and local stores. Also, Highland Square is just a car ride away, to get your dose of entertainment!
Median Home Value: $898,250
Monthly Rent: $1,325
Median Household Income: $89,894
See Also: Best Neighborhoods in Denver for Singles and Young Professionals
Things To Look Out For Before Deciding To Move To Denver
As Denver is located at a higher altitude, it can be quite an adjustment to make. As the altitude increases, the air gets thinner and some people face altitude sickness. So, if you or your family member has a health condition, be sure to consult your doctor before your move and come well-prepared for the altitude change.
Another con that the mountainous terrain poses for Denver is the limitation in public transportation infrastructure. Even though the city does have a public transit system, it only connects the city center to a few major neighborhoods. Suburbs on the outskirts of the city aren't even connected to the transit routes.
Like every city in the world, Denver, too, battles traffic every single day. So arm your car with your favorite playlists and podcasts because you're in for long commute hours!
It comes as no surprise that Denver witnesses some really long winters. After all, the city is located near the Rocky Mountains. Be sure to come prepared with snow coats, snow boots, and all the winter essentials.
And pro-tip: if you don't know any winter sports, definitely learn one while in Denver. With the long snowy winters and sunny skies, you don't want to be cooped up at home.
Finally, Denver is a haven for outdoor enthusiasts and sports lovers. So, if you fall in one of those categories, integrating into the Denver culture won't take you long. And if you're not, be prepared to try out a lot of new firsts while in Denver!
Summing Up
Denver is a city with a lot of adventure to serve its residents and houses quite a diverse collection of neighborhoods, each with a distinct character and personality of its own. And these neighborhoods, in turn, have become a sort of an identity for their residents. So, before making your move to Denver, be sure to have a look around your favorite neighborhood choices. Nitpick on the details and be sure that your neighborhood fits perfectly with your needs. And of course, happy moving!
Also See: Best Moving Companies in Denver | Top Interstate Movers in the USA
FAQs On Best Neighborhoods In Denver For Families
What Should I Know About Moving To Denver?
A few points to keep in mind about moving to Denver is that your living costs are going to shoot up. Denver ranks in the top 4% of expensive American cities to live in. Secondly, choose your neighborhood wisely. While Denver has numerous amazing neighborhoods to choose from, there are a few that are best avoided. And finally, Denver sees a high number of sunny days, even during the winters. So, make sure to have sunscreen on you at all times.
Is Denver Too Cold?
Winters in Denver tend to be mild. While the temperatures do dip low and the atmosphere gets chilly and cold, the overall temperatures during the winters remain pretty moderate. Even in December, the average temperature is 45°F. Though Denver sees heavy snowfall – nearly 60 inches of snow per year – it is the clear sunny skies that keep the temperature from going too low.
Is There Less Oxygen In Denver?
Denver is almost 1 mile above sea level. And at higher elevations, the air pressure drops so less oxygen is dissolved in the air for you to breathe. At the height at which Denver stands, there is 17% less oxygen in the air.
What Is The Best Suburb Of Denver To Live In?
Some of the best suburbs in Denver that are worth living in are Castle Pines, Highlands Ranch, Sloans Lake, Centennial, Parker, and Erie.