7 Best Neighborhoods In Dallas For Families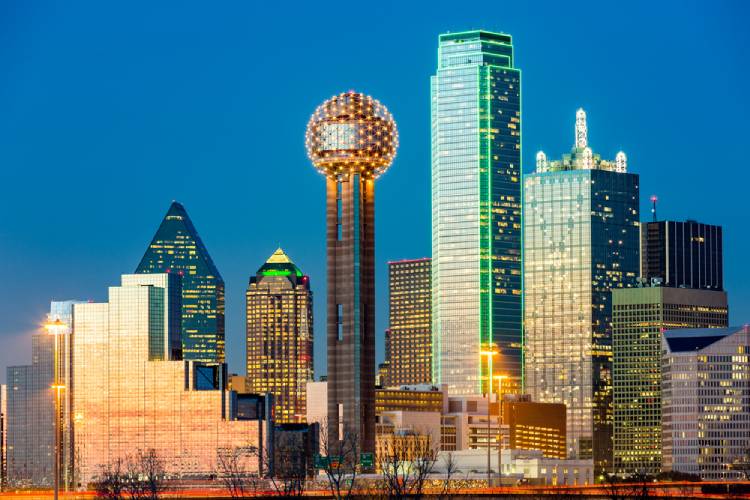 One of the fastest-growing cities in the US, Dallas is located along the gorgeous Trinity River in the northeastern part of Texas. It is ranked among the top 20 US cities to settle down in, leaving behind Phoenix, Boston, San Antonio, and Houston. You're going to love everything about this place which is known for its professional sports teams, flourishing job market, high-quality educational institutions, performing art centers, museums, nightlife, and great places to eat and drink. And above all of these factors is the city's cost of living. Dallas is more affordable than most other cities with a cost of living index of 101.6, just slightly higher than the country average of 100.
Dallas is a good city to settle down with a family, so if you too are considering a move here, let's take a look at the list of some of the best neighborhoods in Dallas for families.
Best Neighborhoods In Dallas For Families
Deep Ellum
Deep Ellum is located right next to the Downtown area of Dallas. The vibrant neighborhood is surrounded by Interstate 45, Exposition Avenue, a number of streets (Pacific, Elm, Commerce, Main, and Canton streets), and neighborhoods such as Exposition Park and Bryan Place. Founded in 1873, Deep Ellum has a diverse and amazing cultural environment as a result of which a huge number of youngsters, professionals, families, and couples flock to this area every year. This neighborhood allows you to balance work life and leisure like no other place. The highly walkable community also gives you quite a few options for housing like stylish condos, single-family homes, and luxurious apartment buildings.
There are numerous public and private schools for your children's education as well. Some of the best schools in the neighborhood include Bishop Dunne Catholic School, Booker T Washington High School, James Madison High School, Dallas Christian School, and Billy Earl Dade Middle School. The entire area is famous for being artistic and for its nightlife. People are extremely friendly and welcoming and you'll make friends in absolutely no time. You'll also get to enjoy various restaurants, coffee shops, bars, clubs, art galleries, etc. However, the standout aspect of Deep Ellum is its music scene with a number of live music venues for you to enjoy. In fact, the neighborhood is also known as the Live Music Capital of North Texas because of its music venues.
Median Home Value: $528,000
Monthly Rent: $2,005
Median Household Income: $53,405
Bluffview
Bluffview is yet another top neighborhood in north Dallas that has a population of around 4,600. It's located around 20 minutes away from the Downtown area, near the Dallas Love Field Airport, and is surrounded by Lover's Lane, Midway Road, Northwest Highway, Inwood Road, and neighborhoods like Preston Hollow, Park Cities, and Devonshire. This one is also an affluent neighborhood with a crime rate lower than the average in Texas and the US. Hence, families, young professionals, and retired people move to this area in huge numbers every year.
As far as your children's education is concerned, Bluffview is home to a number of excellent schools such as Edward H. Cary Middle School, Sudie L. Williams Elementary School, Thomas Jefferson High School, K.B. Polk Center for Academically Talented and Gifted, and Henry W. Longfellow Career Exploration Academy. In addition to this, you'll be impressed with the scenic beauty of the neighborhood in the form of creeks, great houses, and huge trees. There are a lot of places to visit and things to do with your family like boating and feeding ducks on the Bachman Lake and playing basketball and soccer in Bluff View Park. Don't forget to take your kids to the Bachman Creek Greenbelt too!
Median Home Value: $770,000
Monthly Rent: $1,637
Median Household Income: $99,000
Timberbrook
Timberbrook is a beautiful Dallas neighborhood that was established in 1955 and has seen outstanding growth and development since then. Just about 40 minutes away from Downtown Dallas, Timberbrook is considered one of the safest places not just in Texas, but in the entire country. It's safe on all grounds; whether it's the financial safety (job security, health insurance coverage, and low unemployment rate) or the crime rates (violent and property crimes). Additionally, the area has a lot of beautiful mid-sized and big houses, an extremely peaceful atmosphere, amazing parks, walking paths, and all the necessary amenities. All of this makes Timberbrook a highly desirable neighborhood among families, young couples, and retirees.
The kid-friendly neighborhood is served by the Dallas Independent School District. Some of the best schools include Everette Lee Degolyer Elementary School, Thomas C Marsh Middle School, WT White High School, and Irma Lerma Rangel Young Women's Leadership School. Also, you'll get to enjoy various lush green parks such as Timber Brook Park, Oak Point Park and Nature Preserve, Farmers Branch Historical Park, Vitruvian Park, and Caruth Park. You can enjoy a day out or a picnic with your family in any of these parks during the weekends or on holidays.
Median Home Value: $496,000
Monthly Rent: $1,359
Median Household Income: $105,606
Preston Hollow
Preston Hollow is another affluent neighborhood in Dallas and it's surrounded by North Dallas Tollway and Walnut Hill Lane. With a population of more than 5,000, this neighborhood is around 15 to 20 minutes away from the Dallas Love Field Airport and the Downtown area. It's also one of the best places in the city where people live to experience the suburban feeling. The neighborhood has ranch-style homes and many of the city's most stunning mansions that were constructed in the 1920s and 1930s. The high quality of life that the area offers, along with the amenities and facilities, make Preston Hollow worth your money.
Although you won't find many sidewalks, there are numerous huge oak trees on the beautiful streets of Preston Hollow. The crime rate is also significantly lower than the US average. You can rest assured that there are plenty of great schools in the neighborhood like St. Mark's School of Texas, Ursuline Academy of Dallas, Thomas Jefferson High School, Benjamin Franklin Middle School, and Walnut Hill Elementary.
Median Home Value: $1,387,500
Monthly Rent: $1,628
Median Household Income: $105,469
Highland Park
The awe-inspiring neighborhood of Highland Park has a population of close to 9,000 and is just 4 miles away from the Downtown area of the city. Surrounded by Dallas North Tollway and US Route 75 of the North Central Expressway, the area overlooks Downtown and is probably the most sought-after neighborhood in Dallas. That's also because of its extremely low crime rate, lush parks, high-end shopping centers, beautiful homes, excellent public and private schools, restaurants, cafes, bars, and the quality of life. Talking about housing, you'll get to choose from a number of options like single-family homes, Mediterranean-style, and Colonial-style homes. For those who can easily afford this place, it's one of the best areas to raise a family as you get everything that you want within a two-mile radius.
There are some of the best schools in the city such as Maple Lawn Elementary School, North Dallas High School, Highland Park Middle School, and Highland Park High School. The first-ever shopping mall in the US is called Highland Park Village and it is present in this neighborhood which is a must-visit with family. Every Christmas, the locals organize an event known as the lighting of the Big Pecan Tree, so you already know what you need to add to your Christmas itinerary!
Median Home Value: $2,230,000
Monthly Rent: $2,923
Median Household Income: $218,611
Lakewood
Just minutes away from Downtown Dallas, Lakewood is a peaceful neighborhood with a population of over 7,000. It's bordered by Abrams Road, Mockingbird Lane, Williamson Road, Winstead Road, Gaston Road, Country Club Road, and neighborhoods such as West Village and Highland Park. But the main attraction of the area is the stunning White Rock Lake on its east. Full of awe-inspiring scenic beauty, Lakewood has something or the other for people of all age groups. Its mix of urban and suburban lifestyles is generally what works best for families. As far as housing is concerned, you'll be able to choose from various options such as Craftsman-style homes, four-bedroom houses, bungalows, Tudor-style homes, modern condos, and single-family homes.
The neighborhood is served by a number of top-quality schools like the Lakewood Elementary School, Lakehill Preparatory School, and Woodrow Wilson High School. The entire area is mostly residential but still offers great entertainment options and things to enjoy with your family and friends. There are countless shopping centers, restaurants, bars, pubs, and some beautiful parks. The best public attractions include the Dallas Arboretum, Botanical Gardens, Roy Meyer's Children's Adventure Garden, Lakewood Theater, The Balcony Club, and Hudson House.
Median Home Value: $608,200
Monthly Rent: $1,500
Median Household Income: $92,676
Uptown Dallas
With a population of around 20,630, Uptown Dallas is an extremely pedestrian-friendly neighborhood located just north of the Downtown area. It's surrounded by the Katy Trail, Bookhour Street, Cedar Springs Road, North Akard Street, US 75 of the Central Expressway, North Haskell Avenue, and the Woodall Rodgers Freeway. Due to an easy commute to the rest of the city and the presence of some amazing outdoor spaces for kids, Uptown has become a highly desirable neighborhood among families. As far as housing is concerned, there are a few options such as luxury high-rise condos and townhouses. The area is home to and a supporter of the LGBTQ+ community with the Dallas Pride Parade happening every year.
The neighborhood is home to numerous excellent schools like the Ben Milam Elementary School, North Dallas High School, Sam Houston Elementary School, and Thomas J. Rusk Middle School. Apart from all of this, you'll get to enjoy a huge number of restaurants (more than 200), bars, clubs, shopping centers, open spaces, music venues, and nightlife. The Katy Trail in the neighborhood can definitely be your go-to place for recreational activities like jogging, biking, and walking your dog.
Median Home Value: $625,500
Monthly Rent: $2,160
Median Household Income: $94,872
Things To Look Out For Before Deciding To Move To Dallas
Dallas experiences a subtropical climate with severely hot summers and mild winters. There are a total of 234 days of sunshine in a year, which is higher than the national average. The city's rainfall is at par with the average in the US and there's no snowfall in Dallas. However, the city sometimes experiences tornadoes and hurricanes.
It's a paradise for those looking for job opportunities. The major sectors to find work in are healthcare, energy, engineering, airlines, petroleum, financial services, and agriculture. Some of the top employers include AT&T, Southwest Airlines, Texas Instruments, and Dean Foods. The unemployment rate is 3.5% in Dallas, which is another reason why many people want to make a shift to this city.
You might not need your personal vehicle since the city offers great public transportation. The Dallas Area Rapid Transit (DART) provides efficient bus and rail services to the citizens.
Texas is one of the nine US states where you don't need to pay income tax. This means your move to Dallas will give you a few more opportunities to save some bucks.
You're likely to face the issue of traffic congestion if you decide to move around by car within the city of Dallas. So do account for that time in your travel commute too.
Also See: Top Moving Companies in Dallas
Summing Up
Moving to Dallas will be a game-changer for you and your family members. It's among the best US cities to set up residence in. These are just seven of the many more amazing neighborhoods that are suited for families. Each one is different from the other but all of them will offer you top-class amenities – whether it's a high quality of life, brilliant schools and universities, career opportunities, open spaces, entertainment options, or places to eat and drink. You might want to save this article if your decision is not final yet. All the best!
FAQs On Best Neighborhoods In Dallas For Families
Where Should I Live In Dallas With Kids?
The best places to live in Dallas with kids are Bluffview, Lakewood, Timberbrook, Preston Hollow, Highland Park, Uptown Dallas, Deep Ellum, Richardson, Coppell, and North Dallas. All these neighborhoods have a lot of child-friendly amenities, making them an ideal choice to settle down in with family.
How Does The Cost Of Living In Dallas Compare To That In Texas?
Dallas has a cost of living index of 101.6 while the state of Texas has an overall score of 93.9 in the cost of living index. This means that Dallas is slightly more expensive than most other cities in the state.
What Is A Good Salary In Dallas?
In order to lead a comfortable life in Dallas, you need to make more than $44,000 in a year which is the median income in Dallas. The average salary in the city is around $57,293. Since the cost of living in Dallas is fairly close to the national average, earning a salary around this amount will ensure that you can live comfortably in this city.
Is Dallas Safe Enough To Raise A Family?
Dallas has a violent and property crime rate of 8.84 and 36.51 per 1,000 residents, respectively. You can compare it with the entire US which is 4 for violent crimes and 19 for property crimes. This means that the crime rate in Dallas is nearly double the national average. However, there are a couple of areas in the city that are comparatively safer, so you just need to choose wisely.
See Also: Best cheap movers in the USA