7 Best Neighborhoods In Colorado Springs For Singles And Young Professionals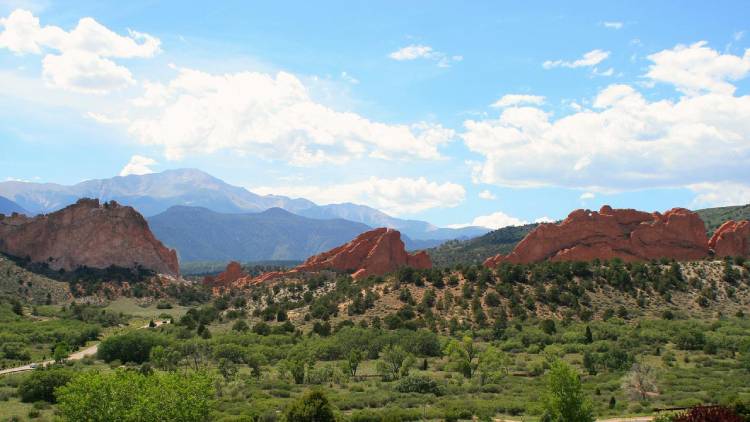 There are many reasons why you should move to the Olympic City i.e. Colorado Springs. For one, it is situated near the base of Pikes Peak. And while looking up Pikes Peak, that 14,000-foot elevation, serene landscape views greet you. When it comes to singles and young professionals, Colorado Springs has many good neighborhoods, and each neighborhood has a strong sense of community.
Whether in its art festivals or music events, it's the community that makes Colorado Springs welcoming and warm. More practical points such as a good housing market, high quality of life, and vibrant food culture are other reasons youngsters and singles choose Colorado Springs as their home. Looking to make a living in the Olympic City? Here are some of the best neighborhoods in Colorado Springs for singles and young professionals to live in.
Best Neighborhoods In Colorado Springs For Singles And Young Professionals
Fairfax
Located in the Briargate region of Colorado Springs, you will find Fairfax. This neighborhood is known for its tight-knit community feel, so you won't have any trouble getting along with your neighbors. Plenty of lush lawns adorn the corners of Fairfax along with well-lit sidewalks, making late evening walks desirable and comfortable.
What makes this neighborhood desirable is its central access to amenities and nearby neighborhoods. With Powers Blvd in proximity, traveling to other parts of Colorado Springs is quite a breeze. Residents of Fairfax are employed largely in professional, management, and executive occupations, but there are also several opportunities for those in sales and service positions. There are also several government positions available here across state, local, and federal positions.
Also, if you ever need to go grocery shopping, supermarkets and malls are within a walkable distance. You will find shopping franchises such as Walmart, Home Depot, and many more situated in this neighborhood. You can head over to Chapel Hills Mall for all your mega shopping needs or if you need a day out to watch the latest blockbuster. In that regard, Fairfax will ensure convenience.
Where outdoor activities are concerned, Fairfax has plenty. Three community parks are within the peripherals of Fairfax. If you're up for a game of basketball, you can visit Fairfax Park, which is a 5.2-acre piece of land that contains a basketball court, a playing area, and a cozy picnic area. Put on your rollerblades and head to Buckskin Charlie Park to do some roller in-line hockey. And if you want a vast area for some baseball, bring your baseball bat to Frank Castello Park.
Median Home Value: $489,000
Monthly Rent: $1,598
Median Household Income: $70,527
Rockrimmon
Situated in the northwest corner of Colorado Springs with proximity to the US Air Force Academy, is Rockrimmon. This picturesque neighborhood was established in 1970 and that's why you'll notice many homes finessed with the architecture of that time. In other words, Rockrimmon is like a tiny time machine that you will certainly delight in.
Apart from being a historic neighborhood, Rockrimmon is close to a ton of amenities. And this makes living for singles and young professionals much more enjoyable and convenient. For all your coffee needs, you can pop a visit to Kairos Coffee House, or Oliver's Deli. If you have any brunch plans, call your friends over at Over Easy University Village. Their Blue Crab Benedict is something to die for. To satisfy your sweet tooth, you can relish delicious desserts at Glacier Ice Cream & Gelato and Culvers.
Finance, architecture, education, healthcare, and transportation are some of the main industries here, giving you a range of opportunities. Rockrimmon is also close to one of Colorado Springs' natural moments, the Garden of the Gods. Just hit I-25 and you'll reach there in no time.
Median Home Value: $424,000
Monthly Rent: $1,240
Median Household Income: $75,069
Pleasant Valley
Located on the west side of Colorado Springs, Pleasant Valley is a quaint neighborhood that not many people know about. Surrounded by breathtaking views from Pike Peaks, this area is a short distance from Garden of the Gods and Old Colorado City. And that's why you'll see some amount of tourist traffic traversing through this area.
Homes in Pleasant Valley are mainly ranches. Most of them are 3-bedrooms that have at least one garage. So if you're a young professional looking for spacious homes, Pleasant Valley graciously has them.
Pleasant Valley has a good school system and they are all within walking distance. These schools are located in Pleasant Valley District 11 and have ample opportunities for teachers. Also, there's a lot of scope for real estate opportunities in this area, so if you like selling property, Pleasant Valley would be a good start.
If you need more space to admire the Pike Peaks range, head to Westmoor Park. The area has several basketball courts, tennis courts, and even a baseball field. To sum up everything about this neighborhood, we can say that your stay in Pleasant Valley will be pleasant indeed!
Median Home Value: $402,000
Monthly Rent: $1,500
Median Household Income: $61,841
Also See: 5 Best Neighborhoods in Colorado Springs for Families
Broadmoor
If you have a budget and yearn to live a luxury life, then you can look up houses in Broadmoor. This southeast neighborhood is blessed with landscape views of the mountains in the west and immense greenery on the sides of its broad streets. If you ever need to travel to Denver, the I-25 is just a short distance away and this makes life more convenient!
Broadmoor has a decent tourism industry, and the US Army's Fort Carson is a major employer in the region. Education is another big industry, and you can find several white-collar jobs in the neighborhood.
It would be a shame to not name two of Broadmoor's famous attractions: The Broadmoor Resort and NORAD (North American Aerospace Defense Command). These two sites are the star batters of this neighborhood. The Broadmoor Resort draws locals and tourists alike to its high-end hospitality. Dotted with a variety of bars and restaurants on its property, you can easily enjoy the Colorado breeze in Broadmoor by sipping on a chilled cocktail. NORAD is an alternate command center and a training base for new recruits. You might have spotted it in Roland Emmerich's film 'Independence Day'.
If you want to enjoy the outdoors in Broadmoor, hike at North Cheyenne Canon Park, Cheyenne Mountain State Park, or Bear Creek Regional Park, they are all easily accessible.
Median Home Value: $822,000
Monthly Rent: $1,515
Median Household Income: $83,907
Black Forest
Located in northeast Colorado Springs, this neighborhood is a dream for those who'd like to wake up to wide-open spaces, rolling hills, and lush landscapes. It's just a 30-minute drive from downtown Colorado Springs so if you ever need to visit other neighborhoods around the area, you won't have to drive too far. Black Forest got its name due to the expanse of Ponderosa Pine trees that shade the area.
Black Forest's main industries are technical services, professional services, healthcare, scientific services, and retail trade. Your neighbors in Black Forest will all be well-to-do folks basking in the privacy this neighborhood gives them. But, as a community, residents bond close together, so you're bound to find yourself completely at home after a while.
Black Forest is a hiker's paradise! Due to its secluded and hilly area, this neighborhood hosts a plethora of trails and hiking areas, all waiting to be explored and challenged. Two main parks serve the Black Forest area: Fox Run Regional Park and Black Forest Regional Park. Both parks have hiking trails that vary in difficulty, so it doesn't matter if you're a novice or a seasoned hiker. There's always something for someone to tread on in both these parks.
When it comes to amenities, Black Forest offers many that are all within walking distance. From shopping centers, restaurants, and theaters to hiking hotspots and picnic areas, this neighborhood can be regarded as the Jack of all trades of convenient living. But, housing and rent are expensive in this neighborhood due to the supply and demand game, so this area is suited for those who are willing to spend.
Median Home Value: $968,000
Monthly Rent: $2,288
Median Household Income: $119,747
See Also: Moving To Colorado Springs
Old Colorado City
Located in the western region of Colorado Springs, this neighborhood was formerly known as Colorado City and was once the capital of Colorado in the early 19th century. Today, it's regarded as a neighborhood that has deep industrial significance to Colorado history. A spot that's visited by tourists, it also has housing options ranging from apartments to houses. Tourism is the largest industry here, and there are several small and local businesses always looking to hire. Manufacturing and finance are two other prominent industries.
Old Colorado City offers a variety of annual events that are full-on fun. Don't forget to visit the Farmer's Market and First Friday ArtWalk. To know more about Colorado's beginnings, head to the Old Colorado City History Center Museum which has documented it all. All history enthusiasts can plan a day out with your other history enthusiast friends and have a fun day of learning.
This neighborhood's streets are filled with music, laughter, and joy. Much of that can be seen in its pubs that host live music sessions for the average guy to enjoy. Adding to that, chic boutiques, cozy gift shops, and diverse restaurants enhance the vibrant character of Old Colorado City. One thing is for sure, this neighborhood never sees a dull moment.
Median Home Value: $395,000
Monthly Rent: $1,405
Median Household Income: $67,719
Rustic Hills
Rustic Hills is one of the larger neighborhoods in Colorado Springs with Constitution Avenue and Galley Road bordering the north and south, and N. Academy Blvd. and N. Powers Blvd securing the east and west sides.
Retail and healthcare are the two major industries here, alongside a range of smaller businesses. If you're in either one of these fields and want a life of ease, head to this neighborhood. The community here likes to take life one step at a time and it's not as fast-paced as compared to other neighborhoods. Living in Rustic Hills will make you escape all that city bustle. So, if you're not the partying type and prefer an area that's more laid back, then Rustic Hills is the way to go.
If you want to spend a day in the sun, Rustic Hills has several parks – stroll over to True's Mill Park, Heathercrest Park, Wilson Park, or Henry Park. They are good outdoor areas to have a picnic, large enough to play a game of baseball, and serene enough to take your pet out for a walk. For all your shopping and gastronomy needs, you can head to the nearby Powers Corridor where a wide range of shops, restaurants, and boutiques are established.
Median Home Value: $394,000
Monthly Rent: $1,278
Median Household Income: $55,603
Things To Look Out For Before Deciding To Move To Colorado Springs
Colorado Springs is known to have extremely harsh summers due to its high-altitude location. So don't forget to layer up on that sunscreen before you explore the outdoors and stack your fridge with some mineral water to stay hydrated.
You'll have to deal with intense traffic during peak rush hours. So, don't be surprised if you reach home a bit late after work. Also, some of Colorado Springs' roads have potholes, so drive carefully.
Colorado Springs has a strong military presence, so be prepared to hear resounding airplanes and military equipment being transported.
You will need a car to travel around Colorado Springs since its public transportation is not up to mark.
You will find frequent sightings of bears while trekking. So, avoid trekking alone and at dawn or night.
Summing Up
Now you know some of the best neighborhoods in Colorado Springs for singles and young professionals. Colorado Springs is a great place to live in, all thanks to its lovely neighborhoods. Each neighborhood in Colorado Springs tells a story. Now it's up to you to find out which story attracts you the most. And if you've been pondering about making the move for a while, it's high time for you to go for it.
FAQs On Best Neighborhoods In Colorado Springs For Singles And Young Professionals
What Is Colorado Springs Known For?
If you ask any local living in Colorado Springs about what their city is known for, hands-down they would reply " The Garden of the Gods". This national natural landmark is a sight to behold, as it starts from the grasslands and makes its way up the mountains. It's a pretty cool place for anyone to enjoy the outdoors and breathe in some of that Colorado air.
What Is A Livable Salary In Colorado Springs?
To live comfortably in Colorado Springs, you would need an annual salary of $40,960. The job market is booming and the lucrative opportunities offered are immense. In that way, Colorado Springs takes care of its residents.
Is Colorado Springs Colorado Expensive?
Good news for all those who want to move to Colorado Springs: the cost of living is 6% lower than the national average! Also, it's 16% lower than the neighboring city Denver. Utility bills are 26% lower and housing is 2% lower than the US average in Colorado Springs. That's why it's safe to say that living in this city is going to be economical yet fruitful.