8 Best Neighborhoods In Charlotte NC For Families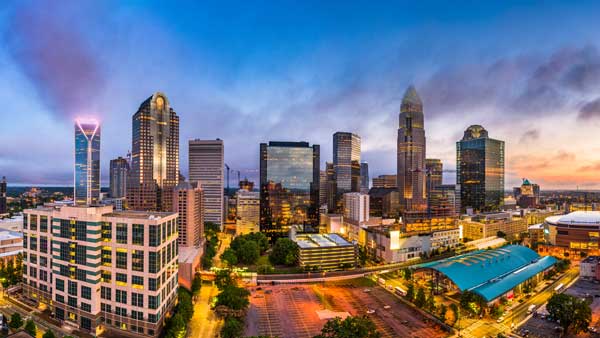 Charlotte, nicknamed 'Queen City' in honor of Charlotte of Mecklenburg-Strelitz, offers immense tranquility and has a rural charm. One of the best reasons to move to Charlotte is the community feel of this city. If you're worried about not knowing anyone here, don't worry! It won't be long before you'd have found your group of friends. Charlotte is also known as the 'Research Triangle' and has some of the best schools and universities. Furthermore, the city boasts a stable job market and low unemployment rate, making it a great place to move to.
Charlotte is quite affordable as the median home value in Charlotte is lower than the national average. It ranks in the top three of the best foodie cities in the country and is a haven for food lovers, coffee enthusiasts, and beer and wine lovers. You'll find a plethora of upbeat coffee shops, incredible breweries and vineyards, unique cocktail lounges, and mind-blowing restaurants here. Charlotte has everything you'd need and more!
Basically, what we're saying is that moving to Charlotte is a great idea, considering all of the amenities and facilities the city has to offer. We bring you the best neighborhoods in Charlotte, North Carolina. Prepare to get absolutely confused about your choices, because each of these neighborhoods has quite a lot to offer!
Best Neighborhoods In Charlotte NC For Families
Ballantyne
Ballantyne is located to the south of Charlotte and seems like a city within itself, with its own country club, PGA-ranked golf course, and plenty of activities and opportunities for work and play. The neighborhood is an upscale locale and the ultimate newcomer's hub. It has a posh suburban charm and is a great place for families. Spread across 2000 acres of vast green space, Ballantyne is a thriving community with a good schooling system, affordable and spacious houses, and a tight-knit community.
Ballantyne is home to multiple Fortune 500 companies such as Wells Fargo, Premier, and TIAA. Furthermore, the Ballantyne Corporate Park offers more than 6 million square feet of office space, and the neighborhood essentially has its own business center! This mini-city has quite a few restaurant chains and even dog-friendly restaurants for your paw pals. If you're an outdoorsy person, then you can take a leisurely stroll or rock climb in the Big Rock Nature Preserve. If you're still looking for more, then know that Uptown is only 20 miles from the locale and is quite an easy commute away.
Median Home Value: $509,000
Monthly Rent: $1,550
Median Household Income: $105,672
Uptown
Uptown Charlotte or the Charlotte City Center is the heartbeat of Queen City. The neighborhood is a collection of four locales – 'wards' as they are commonly known – and are split by the intersection of Trade Street and Tryon Street. Uptown truly has something for everyone! It's one of the oldest neighborhoods in Charlotte and has seen a drastic transformation, making it one of the fastest-growing neighborhoods in Charlotte. It offers everything from high-rise condos to revitalized Victorian homes. It's the business and entertainment capital of Queen City and with the amenities it offers, we'd say, rightfully so!
Uptown houses a plethora of businesses from small tech startups to Fortune 500 companies. Moving to Uptown, you'll find endless creative and entrepreneurial opportunities as well as a booming financial sector. Uptown also hosts some of the most popular museums in Charlotte, including the Mint Museum and Discovery Place. And if you're looking for trendy restaurants, swanky cafes, and quirky cocktail lounges then 7th Street Public Market is where you'd want to head. You'll find local stores and charming boutiques at the BOA Plaza Mall. The neighborhood is home to two major stadiums – the Spectrum Center and the Bank of America Stadium – for all the fans of the Carolina Panthers.
Median Home Value: $362,500
Monthly Rent: $1,559
Median Household Income: $100,709
Dilworth
Dilworth is one of the oldest neighborhoods in Queen City and is located at the southern end of Uptown Charlotte. The neighborhood dates back to the 1800s and thus, has an alluring historic charm. The housing prices in this historic neighborhood are slightly expensive but worth every penny! The neighborhood has everything from Craftsman bungalows, Queen Anne-style homes, and Victorian-era houses to American Foursquare-style homes and two-story colonial mixes. Unlike the rest of the bustling city, in Dilworth, you can unwind and take things as they come.
Dilworth has a very laid-back vibe. You'll find neighbors sipping on a cup of coffee sitting on their front porch or residents waving friendly hello's as you pass by! The annual Dilworth Jubilee is the best time to socialize with your neighbors with delicious snacks from a variety of food trucks and many craft beer options! Dilworth is a walkable neighborhood and you can find several local coffee shops, sweet-smelling bakeries, fun restaurants, and incredible parks here. Dilworth's close proximity to East Boulevard, Bank of America Stadium, Epicenter, and the NASCAR Hall of Fame adds to the appeal of Dilworth.
Median Home Value: $435,000
Monthly Rent: $1,770
Median Household Income: $78,862
Elizabeth
Elizabeth, the second oldest neighborhood in Charlotte, is named after the small women's college in the neighborhood, Elizabeth College. Elizabeth was developed in the early 1900s and has yet maintained the beautiful tree-lined streets and the vintage bungalows with wooden front porches, giving the neighborhood a timeless aura. Elizabeth combines old-school charm and modern amenities seamlessly and is a great neighborhood for families and married couples. It's extremely walkable and well-connected to other parts of the city via light rails and trolley lines, making it easy for commuters.
Elizabeth offers a stunning variety of housing options from older Craftsman houses to modern condos and townhouses and has numerous mid-rise buildings popping up for new residents and renters. The neighborhood harbors a plethora of boutiques, restaurants, and live bars – all within walking distance. It's also home to Charlotte city's first-ever park, the Independence Park. You can have a tennis match with your friends here, explore the biking trails, or simply bask in the sunlight and enjoy the cool evening breeze. A fun fact about Elizabeth: a portion of this historic neighborhood is located on the National Register of Historic Places as the Elizabeth Historic District!
Median Home Value: $649,525
Monthly Rent: $1,549
Median Household Income: $123,949
See Also: Best Moving Companies in Charlotte NC
Plaza-Midwood
Plaza-Midwood is located to the northeast of Uptown Charlotte and is nearly a century old. The neighborhood has a rich history and is a family-friendly locale. If you wish to be an active part of the community, you should join the Plaza-Midtown Neighborhood Association which is the most active neighborhood organization in all of Charlotte! The association organizes neighborhood watch programs, school fundraisers, clean-up drives, and various festivals in the neighborhood. The residents of this neighborhood have access to some of the largest employers in Charlotte like American Airlines, Wells Fargo, Bank of America, and more.
Plaza-Midwood is a neighborhood that is both historic yet trendy. The renowned Van Landingham Estate is in the heart of this neighborhood. The locale is also home to one of America's most prestigious country clubs, the Charlotte Country Club. This diverse neighborhood offers its residents various shopping and dining options, beautiful art galleries, and exciting culture. If you're a beer enthusiast, Cheers! Charlotte has a burgeoning beer culture, and quite a few craft beer breweries and taprooms are located within a walking distance from Plaza-Midwood. No wonder this neighborhood attracts a diverse crowd of residents from young professionals to families with kids.
Median Home Value: $706,000
Monthly Rent: $1,500
Median Household Income: $56,196
See Also: 5 Best Neighborhoods in Charlotte, NC for Singles and Young Professionals
Eastover
Eastover is a peaceful suburban neighborhood, perfect for those who like to be away from hectic city life. The commute from Eastover to the city center is a small drive away. The neighborhood is one of the finest historic suburbs in Queen City. Eastover showcases beautiful homes, green canopy-covered streets, and some of the friendliest neighbors you'll ever meet! Eastover's residents welcome newcomers with open arms, and you'll come to find why this neighborhood is one of the most sought-after localities in Charlotte.
A friendly community and a quaint suburban vibe are not all that Eastover has to offer its residents. Eastover features several local shops, eateries and dine-ins, some of the best schools, beautiful green spaces, and parklands. The Mint Museum of Art in Eastover is a visit-worthy gallery where you can map out Charlotte's history through various artifacts and historic paintings. And if you're still looking for some more action, Uptown Charlotte, Myers Park, and Cherry are just minutes away for more business and entertainment options. Though even with these plentiful options, Eastover residents love to simply kick back and relax in their serene suburbia
Median Home Value: $1,645,000
Monthly Rent: $995
Median Household Income: $177,898
South Park
South Park is located to the south of Uptown Charlotte and is one of the safest neighborhoods in the city. Situated at the intersection of Fairview Road and Sharon Road, South Park includes several smaller communities like Beverly Woods, Mountainbrook, Lansdowne, and Barclay Down. The neighborhood is known to be large, upscale, and luxurious, and boasts some of the best schools, shopping areas, business opportunities, and a lower crime rate, making South Park a great neighborhood. If you're looking for luxurious living, community-centric residents, and family-friendly facilities, look no further! South Park is the neighborhood for you.
The neighborhood houses a well-known mall of the same name, the South Park Mall, which is an upscale shopping center and draws numerous locals here, especially during the weekends. If you're one to shop till you drop, then this is your stop. Furthermore, the neighborhood offers exclusive homes and luxury apartments and is one of the largest business districts in Charlotte. South Park provides job opportunities to several people. It's elegant, established, and tucked away amidst green wooded areas and tree-lined streets. This semi-urban locale is quite busy and lively during the day but gets peaceful and relaxed by night.
Median Home Value: $510,750
Monthly Rent: $1,666
Median Household Income: $58,144
Myers Park
One of Queen City's oldest and most prestigious neighborhoods, Myers Park is nestled between Dilworth and South Park. This beautiful neighborhood features expansive tree-lined streets, stunning historic museums, and intriguing curved driveways. Myers Park showcases majestic colonial and Tudor-style homes. These stylish luxurious homes exude the classic Southern feel of spaciousness and friendly neighbors. The history of Myers Park follows John Springs Myers, the local farmer who owned a lot of land in older Myers Park. Later on, some portion of his land was carved off to form Cherry in 1891 and thus, the elegant suburb of Myers Park came to life.
Myers Park is home to many textile companies, banking and insurance companies, and utility offices making the neighborhood an important part of Charlotte's financial growth. It has received national accolades for being one of the finest subdivisions south of Baltimore. You'll find Freedom Park here, which is 98 acres of expansive parklands with paved trails, athletic fields, and beautiful greenery. The park is a local favorite for joggers, walkers, sightseers, and families alike!
Median Home Value: $1,175,000
Monthly Rent: $1,619
Median Household Income: $93,236
Things To Look Out For Before Deciding To Move To Charlotte NC
Despite having bus and train lines, Charlotte is a car-centric city. The bus routes and stops are limited and do not connect all parts of the city. Using a car is a more convenient option, especially for those living in suburban neighborhoods.
North Carolina is no stranger to natural disasters, and if you're moving to Charlotte, you need to be prepared for these occurrences as well. Charlotte sees a number of hurricanes and has a specified hurricane season between June to November. And with hurricanes comes a high risk of floods. Even when hurricanes may not occur, heavy rainfall can cause floods in Charlotte.
Charlotte enjoys some of the best climates and has all four seasons quite distinctly. You're sure to enjoy the spring, fall, and winter as the temperatures are mild and pleasant. But the summers are blazing hot and it will take time to get accustomed to it. Be sure to have sunscreen on you at all times.
While Charlotte offers urban convenience, you cannot say the same about the nightlife. This can be pro-con, depending on how you like to spend your weekends or free time. Unlike nightlife entertainment hubs like New York and Miami, Charlotte usually has lights out by midnight! Though certain areas may be open until later, this is mostly the norm in Queen City.
What Charlotte lacks in nightlife, it makes up for in outdoor recreation and scenic beauty. From multiple lakefronts and waterfront beaches to mountains and cliffs, the city has enough to keep its residents entertained!
Summing Up
Moving to a new city is an exciting prospect, and you have a lot to look forward to – from exploring the city and looking for quirky hang-out spots to making new friends and expanding your social network. A new chapter sounds exciting. And your new home locale should exude this energetic vibe and fulfill every checkpoint in your criteria for the perfect neighborhood. So, give our carefully curated list of some amazing neighborhoods a glance and have an exciting move!
FAQs On Best Neighborhoods In Charlotte NC For Families
Is Charlotte NC Cheap To Live In?
Charlotte is a very affordable city to live in. The housing expenses in Charlotte are 14% lower than the national average and the utility prices are also relatively cheap. But that's not all that's affordable in Charlotte. The city's transportation expenses, gas prices, and even grocery prices are all lower than the national average.
How Far Is Charlotte From The Beach?
Charlotte has access to both the ocean and lake beaches, though the coastline is a drive further. Charlotte is just 20 miles from the closest lake beach on Lake Norman. While the closest coastal beach is 176 miles away. Other than Lake Norman, there are many more lakes near Charlotte like Lake Wylie, Lake James, High Rock Lake, etc.
How Far Is Charlotte From The Mountains?
The Great Smoky Mountains National Park is 191 miles from Charlotte and would take a 4-hour drive to reach there, considering normal traffic. Other than this, you can also enjoy the Charlotte skyline from South Mountains State Park in southwestern Burke County, Rocky Face Mountain Recreation Area in Alexander County, and Morrow Mountain State Park in Stanley County, too.
Do Hurricanes Hit Charlotte NC?
Hurricanes are a common occurrence in North Carolina, though it's quite rare that they move towards the inland areas. Charlotte doesn't see very many hurricanes, but the city has had numerous first-hand experiences of strong gale-force winds whenever hurricanes hit other parts of North Carolina.
Also Read: The Lowest Cost of Living States in the US