6 Best Neighborhoods In Aurora For Singles And Young Professionals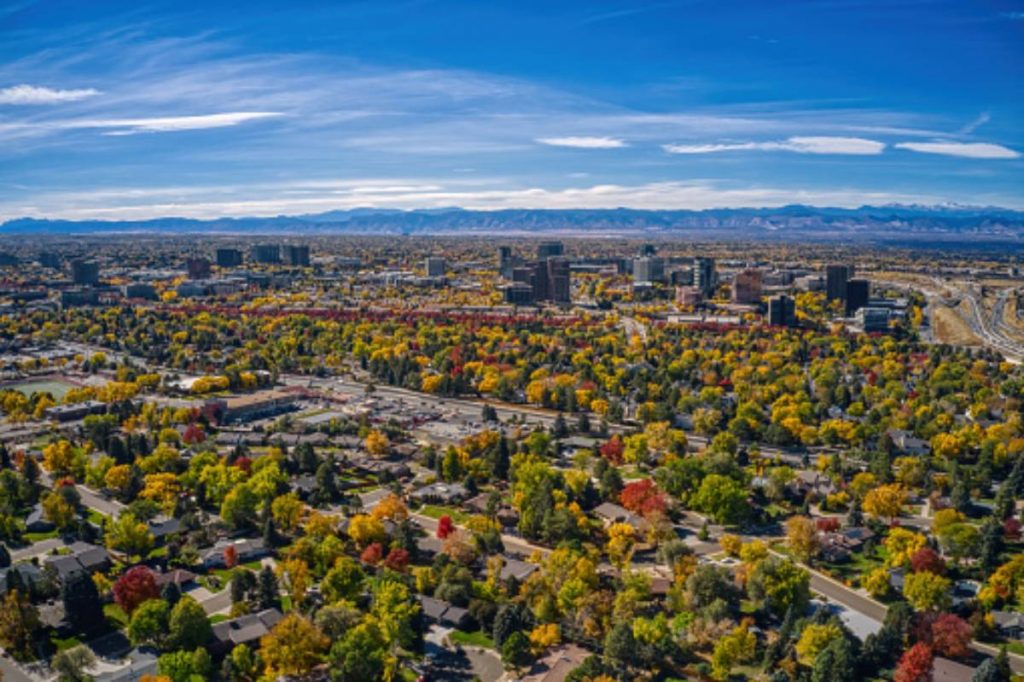 If the overwhelming question of 'What next?' is living rent-free in your head now that you've completed your college graduation, we might have a solution for you. The charming city of Aurora in the state of Colorado will help you get rid of this unwanted tenant. Being the third-most populous city in the state, Aurora is a hub for singles and young professionals looking to propel their careers and have a good time while at it.
The strong job growth in the healthcare and tech sector is a good enough reason for youngsters to relocate here. Its proximity to important cities like Denver makes it easier to have access to all kinds of amenities. The sunny weather, entertaining lifestyle, and moderate house prices are a few of the many perks of living in this vibrant city. So, if you're sold on the idea of starting your new life here, the list below of the best neighborhoods in Aurora for singles and young professionals will help you skip the scavenger hunt for the same.
6 Best Neighborhoods In Aurora For Singles And Young Professionals
Meadowood
Established in 1972, the neighborhood of Meadowood has been around for a good while and has all kinds of amenities, particularly for singles and young professionals. Known for its extravagant nightlife, Meadowood has a number of restaurants and bars that keep the young blood satisfied. Some of the most popular ones here include the Dry Dock Brewing Co., the Brew Hut, and the Steel Tips Sports Bar.
You aren't really single if you have a dog with you. This neighborhood is extremely dog-friendly so you and your furry four-legged friend can have a great time playing catch. You can also head to the other famous spots in the neighborhood such as the Meadowood Special Recreation Management Area (SRMA) which has miles and miles of hiking, horseback riding, and mountain biking trails, depending on the type of adventure you wish to choose. The skate park here is also a fun place to meet like-minded folks and to channel your inner Tony Hawk. The nearby Olympic Park also offers similar amenities.
The moderately affordable houses here are one of the reasons this neighborhood has more owner-occupied homes than renter-occupied ones.
Median Home Value: $498,000
Monthly Rent: $1,710
Median Household Income: $65,900
Seven Hills
A slightly expensive neighborhood in the city of Aurora, Seven Hills is going to raise your lifestyle to seven heavens with the kind of amenities and facilities it has in store for you. If you're on the hunt for a good job and are looking for good employment opportunities in Seven Hills, consider searching near Hampden Avenue and Tower Road where the majority of the businesses in the neighborhood are situated.
Living the fancy shopping spree-filled lifestyle is a dream for many and the Seven Hills Plaza in this neighborhood will turn it into reality. There are numerous high-end stores here for you to shop to your heart's content. You can show off the outfits you purchased in these stores by donning them during a night out in the neighborhood's top restaurants and bars. To name a few, the Golden Flame Hot Wings Restaurant, the Honey Bee Asian Bistro, the Village Inn, etc.
If you are big on fitness, the neighborhood has some pretty good gyms for you to break a sweat and build your dream body. The Movie Tavern Aurora is the most famous movie theater in this neighborhood where you could enjoy a date or visit solo!
Median Home Value: $546,550
Monthly Rent: $2,430
Median Household Income: $162,640
See Also: 10 Best Places to Live in Colorado
Pheasant Run
A relatively smaller neighborhood as compared to the other neighborhoods in the city of Aurora, Pheasant Run offers its residents a calm vibe with all the essential amenities required to sustain a decent lifestyle. The place particularly appeals to the younger generation as the affordable houses and moderate rent serve as a great boost for them to start a new life here.
It's common to be in a dilemma as to what job, career, or work field to choose once you've completed your graduation. Fortunately, Pheasant Run has a lot of job opportunities for fresh college graduates and helps them start their new life on the right foot. Well, once you manage to find a decent home, the next step is to get used to buying the essentials all by yourself – every day! The neighborhood has about seven grocery stores that will help you in your adulthood journey. On days when you don't feel like having a home-cooked meal, Pheasant Run has more than 20 places to get delicious quality food.
Median Home Value: $460,350
Monthly Rent: $1,720
Median Household Income: $64,480
Tallyn's Reach
Ranked as the best neighborhood to live in, in the city of Aurora, Tallyn's Reach is fast becoming a popular relocation destination for singles and young employees alike. It is also one of the safest neighborhoods in the entire city making it more convenient for residents to take a stroll at odd hours of the night.
The houses here are built out of wood and stone and thus, provide a country-style atmosphere to the residents. You'll find famous franchise restaurants and eateries like Chick-Fil-A and MOD Pizza in Tallyn's Reach. The neighborhood is extremely walkable and the well-lit streets here make for a pleasant Friday night walk under the stars. It doesn't have to be all that lonely if you have your pet dog to accompany you as Tallyn's Ranch is a dog-friendly neighborhood.
Median Home Value: $825,000
Monthly Rent: $1,880
Median Household Income: $147,170
Aurora Highlands
In the list of all these well-established neighborhoods is this up-and-coming neighborhood called Aurora Highlands. There are several reasons that make this a popular choice for singles and young professionals to embark on their new journeys in their respective fields. The major reasons are the budget-friendly rents and easy access to prominent areas like Denver and Sterling Hills among others.
Since this neighborhood is still in the works, you'll be seeing a lot of new buildings coming up every once in a while. This only means that you'll need to get your hands on some real estate here as soon as possible because it won't be long until the place starts swarming with people looking for a new abode and the prices start to skyrocket. According to Areavibes, Aurora Highlands is ranked the fourth-best neighborhood in Aurora in terms of livability and seventh-best in the entire state of Colorado. The cost of living in this small neighborhood is almost at par with the national average.
Median Home Value: $486,000
Monthly Rent: $1,670
Median Household Income: $65,540
Sterling Hills
Sterling Hills is quite possibly the best neighborhood for young professionals looking for a good stable job in the incredible city of Aurora. It boasts a low unemployment rate which is nearly 2% less than the national average unemployment rate. On top of that, the median household income in this neighborhood is also quite high which means that the jobs are well-paying and the quality of lifestyle is also something that would please the young generation.
There are multiple single-family homes, condos, and apartments for you to choose from in Sterling Hills. A dog park nearby will help you unwind while your dog makes the most of the evening outing of the day. The most popular attraction here is the Southlands Mall which has a lot of high-end stores and multiple eateries for you to get rid of your hunger pangs.
Nearby amenities here include the Plains Conservation Center and several parks. The AMC movie theater here will give you a chance to rock your Sherlock hat and critique the newest movie in town.
Median Home Value: $520,020
Monthly Rent: $1,710
Median Household Income: $82,250
Things To Look Out For Before Deciding to Move To Aurora
Aurora is the state's third-most populous city so you won't ever feel lonely here as you'll have someone around at all times.
The affordable houses in certain neighborhoods of Aurora make it ideal for singles and young professionals to start a new life.
Aurora's close proximity to Denver makes it convenient for residents to gain access to all kinds of amenities without spending hours commuting.
Though the city has a slightly higher unemployment rate than the national average, Aurora has seen a steady growth in the job market in the recent past.
The traffic congestion in the city is no joke and you might find yourself getting stuck behind an overcrowded bus when you have an important meeting to attend.
The cost of living in Aurora is higher than the national average so you'll need to dig deeper into your pockets should you choose to move here.
The average median household income in most of the neighborhoods in Aurora is well above the national average.
Summing Up
The state of Colorado is no stranger to popularity and if we talk about the city of Aurora, in particular, it has a following of its own. An ideal place for the young and carefree, Aurora will make you feel right at home. But before that, you need to make sure that the neighborhood you choose checks all the boxes on your relocation list. The above list of the best neighborhoods in Aurora for singles and young professionals will make sure you find the right one.
FAQs On Best Neighborhoods In Aurora For Singles And Young Professionals
What Are The Good Areas Of Aurora, Colorado?
The city of Aurora is filled with exceptional neighborhoods which is why it is also the third-most populous city in Colorado. Some of these areas include Sterling Hills, Aurora Highlands, Meadowood, and Pheasant Run.
Is Aurora, Colorado A Good Place To Live?
Considered one of the best cities to live in Colorado, Aurora offers its residents an eclectic mix of urban and suburban lifestyles. The city's growing job market means that it is soon going to be a preferred moving destination for many.
Is It Expensive To Live In Aurora, Colorado?
According to Payscale, the cost of living in Aurora is only 5% higher than the national average. The utility costs in the city are fairly low which makes it easier for one to spend a quality lifestyle here.
See Also: Cheapest Cities to Move to