7 Best Neighborhoods In Atlanta For Singles And Young Professionals


VanLines Inc
Secure Storage
Easy Booking Process
Fully Trained Employees
GET A QUOTE

Colonial Van Lines
Storage Services
Long-Distance Moves
Corporate Relocations
GET A QUOTE

Moving APT
Available Nationwide
Award-Winning Movers
Extensive Vetting Process
GET A QUOTE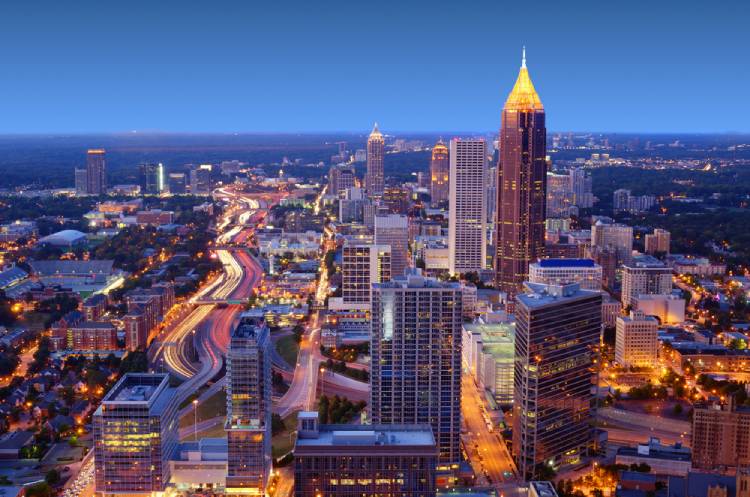 The city of Atlanta has become a favorite among young professionals and singles because of its historical charm, stunning architecture, and for possessing a spirit that is young at heart. Packed with interesting restaurants, urban parks, and coffee houses makes it among the most fun cities in the state. With the affordable cost of living and varied neighborhoods with plenty of entertainment options, you'll never be bored in The Big Peach.
You might be considering moving here but finding the right neighborhood when you have so many options can seem daunting. But don't worry. To help you out we have made a list of the best neighborhoods in Atlanta and have covered all the important aspects like the rents, affordability, and of course, the nightlife, so, read on.
Best Neighborhoods In Atlanta For Singles And Young Professionals
Inman Park
Inman Park is a popular neighborhood among singles/young professionals especially because of its mouthwatering food scene. The neighborhood is lush and leafy with plenty of hip spots and cafes for your daily brunch and aesthetic requirements. Inman Park is a true foodie's and artist's heaven because it has plenty of adorable bakeries with top-notch aesthetics and wine bars.
You'll get an urban feel in the neighborhood and there are great parks and a diverse population. You'll be surprised to know that it was the first planned suburb of Atlanta so if you end up living there, you'll literally be living in a significant part of Atlanta's history. The commute is easy and convenient around Inman Park so you can always get access to public transportation to explore. Residents have high incomes and a liberal mentality so mingling will not be too difficult. Just be cautious about the crime around the neighborhood because the violent crime rate around the area is slightly higher than the national average.
Median Home Value: $9,30,000
Monthly Rent: $2,197
Median Household Income: $123,453
Virginia Highland
When you think young, you think of all the vibrant things and entertainment, and the neighborhood of Virginia Highland is synonymous with all that and much more. Believed to be developed in the early 1900s, Virginia Highland has a reputation for great shopping scenes and stunningly made bungalows. The restaurant and bar scene is the greatest around the neighborhood and you'll find plenty of young locals and professionals having their daily sips of coffee and cocktails.
There is a concentration of plenty of quirky cafes and adorable shops in the neighborhood too. It is one of the safest neighborhoods in Atlanta so you can do party hopping as much as you want without worrying about your safety. The neighborhood also has a theatre screening of some of the best movies and big lush gardens where you can head for your daily dose of exercise.
Median Home Value: $680000
Monthly Rent: $2135
Median Household Income: $108,444
Also Read: Moving From NYC To Atlanta
Brookwood Hills
Atlanta and its neighborhood have a lot to offer in terms of life, entertainment, and history. The neighborhood of Brookwood Hills is particularly known for its history and shopping centers. The area has plenty of wide parks and an elite essence. The cost of living and real estate is slightly higher in the area so if you're looking for an upscale lifestyle, this could possibly be it.
Safety is also a crucial aspect when deciding on a place to call home and Brookwood Hills excels in that too with its safe neighborhoods and low crime rate. The neighborhood has a great walkability score and the public transportation is also pretty great. Metropolitan Atlanta Rapid Transit Authority (bus) is one of the prime public transit providers in the area with great frequency and connectivity and you'll face no difficulty in getting around anywhere.
Median Home Value: 1,20,0000
Monthly Rent: $1,655
Median Household Income: $96,245
Cabbagetown
If hip vintage is your vibe, trust us, Cabbagetown will be just the aura you're looking for. The neighborhood is an artsy area known for its hot dogs, burgers, and worldly appreciated Southern specialties. Cabbagetown also has this cozy vibe and a tight-knit community offering you a perfect blend of safety and an artsy vibe.
It is located in Fulton County in the city of Atlanta and it is a pretty rich neighborhood with the majority of residents owning their homes. You'll get an urban feel in the neighborhood and the nightlife is pretty fun too. You'll not be disappointed with Cabbagetown's artsy eateries, hip bars, and coffee shops so your explorer heart will have plenty to do. The area is surrounded by a young population of professionals, singles, and young families who enjoy the artsy and relaxed vibe.
Median Home Value: 5149000
Monthly Rent: $2,050
Median Household Income: $69,761
Peachtree Hills
If you're a pop geek, we're sure Peachtree Hills ring a bell because its Peachtree Street was featured in the famous Margaret Mitchell novel and movie adaptation of Gone With The Wind. The neighborhood is without a doubt another crowd-favorite neighborhood located in Fulton County Atlanta. Ironically, it also isn't too crowded and only has a small population of around 3,000 residents.
It will offer you an urban life and pretty affordable real estate. Even though the majority of residents prefer to rent their homes. You'll find a diverse population in the area and the bar scene is oh so evergreen. Peachtree Hills also has wonderful surroundings offering plenty of outdoor activities.
Median Home Value: $639,953
Monthly Rent: $1591
Median Household Income: $101,107
Also Read: 7 Best Moving Companies In Atlanta
Poncey-Highland
Located on the east side of Atlanta, Poncey-Highland is a neighborhood with a suburb vibe set around Freedom Park. The neighborhood is known for perfectly made walking trails and aesthetic art installations. It is a dog-friendly neighborhood with central parks and friendly residents. If you're a fan of fine dining and food, there are plenty of wonderful restaurants at a walkable distance.
The neighborhood also aligns well with the modern needs of the world where if you have an electric vehicle, there are 2 electric vehicle charging locations within the neighborhood. The commute will also not be a hassle because you will be able to hop on a bus run by Atlanta MARTA which will take you anywhere around the Big Peach. It is known as a hip spot to live because of its historic buildings such as Freedom Park and the Old Fourth Ward. Both these sites also function as social hubs. All in all, if you decide to live in Poncey-Highland, you'll often find it bustling with multiple activities.
Median Home Value: $4,71,000
Monthly Rent: $1699
Median Household Income: $115,947
Summerhill
Last, but not least on our list, Summerhill gives you all the great summery vibes. Located in the south of Downtown Atlanta amidst the Atlanta Zoo and Center Parc Stadium, it is a popular neighborhood to live in for singles and young professionals. Summerhill is one of the oldest Atlanta neighborhoods that plays an important part in the Atlanta Neighborhood Planning Unit system. The neighborhood is especially great for its nightlife and fitness centers offering you a wide range of fun activities.
Surrounded by big houses, and many fun entertainment places, the area is also renter-friendly with warm and liberal residents. Summerhill has plenty of fun bars and restaurants for you to hop and explore too. If you're a sports enthusiast, you might recognize Summerhill for Hank Aaron's record-breaking home run. For the pop-culture enthusiast, yes Summerhill was the place with The Beatles' sole Atlanta concert. Basically, you'll be living in a neighborhood with great historical moments and we're sure you'll become part of some coming ones as well.
Median Home Value: $190,490
Monthly Rent: $1720
Median Household Income: $43,854
Things To Look Out For Before Deciding to Move To Atlanta
Atlanta summer can be cruel and absolutely unbearable. The heat often becomes excruciating with temperatures reaching as high as 90 degrees.
If you have made up your mind to live in Atlanta, be prepared to experience really bad traffic. Of course, there are the worst traffic congestions in the cities like LA and NYC but trust us, you will be spending a significant amount of time stuck in traffic jams in Atlanta.
Finding the right neighborhood is very essential in Atlanta and it might take some time for you to be able to find what exactly fits your need.
Atlanta is popularly known as the Silicon Valley of the South and is home to tons of Fortune 500 companies. Even though it has a great job market, it is highly recommended that you shortlist companies that you can work with before moving.
Summing Up
Atlanta is a great place to live and we approve of your choice. As a young professional/single, you should be living somewhere where you get to experience life as much as possible and Atlanta offers you that. A strong job market, a year-round festive vibe, delicious food, nightlife, and friendly folks are only some reasons that make Atlanta a good choice.
As mentioned finding the right kind of neighborhood plays an important part in deciding how your journey moves forward and we are certain that you will find what you are looking for in our list. All the best with your moving journey!
FAQs On Best Neighborhoods In Atlanta For Singles and Young Professionals
Is Atlanta Good For Singles?
Atlanta has been ranked as one of the best cities for singles by multiple websites on multiple occasions. The dating scene and community are vibrant in Atlanta and you will easily find plenty of popular places to socialize and mingle. The job market is wonderful and so are the employment opportunities. You will be able to find many affordable homes to rent in good neighborhoods where there are plenty of young professionals and singles.
Where Can I Meet Young Professionals In Atlanta?
The interesting part about Atlanta is that there are various neighborhoods with a majority of young professionals. You will easily be able to find many young professionals. You can also hang around at popular hotspots such as Piedmont Park and Atlanta Beltline. You can also join meetups, health clubs, and gyms where many young professionals hang around.
Where Should I Live In My 30s Atlanta?
The 30s is a time of your life when you need to live where you can hustle hard and party harder. Luckily there are plenty of such neighborhoods in Atlanta. Midtown is one of the best parts where you can get the best of both worlds. Downtown, Inman Park, and Kirkwood are also great places to live and explore in your 30s where the majority is of young professionals.
See Also: Cheapest Cities to Move to