7 Best Neighborhoods In Albuquerque For Singles And Young Professionals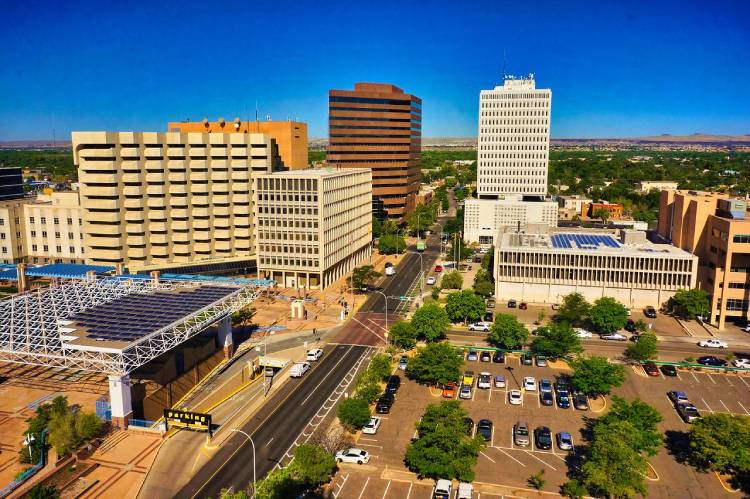 If you're a fan of Breaking Bad, you ain't aloof from the city of Albuquerque. But do you know it well enough to make a move here? Albuquerque is known to have plenty of employment opportunities, a dynamic hip culture, great outdoor adventure, and some delightful culinary. It's New Mexico's most populous city that sits in the desert. No matter what your interests are, this city has plenty of opportunities that you can explore. With the clear blue skyline, an abundance of green space, over 300 days of sunshine, majestic mountains, golf courses, a dynamic restaurant scene, and an oasis of high desert, there isn't anything that you won't find here.
If you've been wanting a change of pace or even an array of opportunities for which you're shifting to this city, here are the best neighborhoods in Albuquerque for singles and young professionals that you can consider.
Best Neighborhoods In Albuquerque For Singles And Young Professionals
Downtown Albuquerque
Downtown Albuquerque is the economic and business pillar of the city. It's where you'll find all the big businesses, the center of government, and the city's highrise buildings. This neighborhood is a metropolitan region and has the best transportation system with the Amtrak, New Mexico Rail Runner Express, both the Red and Blue Albuquerque Rapid Transit BRT routes, taxis, and Greyhound buses. It's one of the very few neighborhoods that does not require you to have a car of your own.
Besides, you also have access to all the employment opportunities and the best amenities that Downtown Albuquerque offers. This neighborhood will ensure you enjoy your time here with a great transit system, bustling nightlife, art galleries, ample restaurants, and trendy shops for you to get around and explore. There is nothing that this neighborhood doesn't offer, you'll find something for everyone. The Civic Plaza is very well known for all the festive events that happen here all year long. The diverse and indigenous art and culture of the city are celebrated with much joy and pleasure. Downtown Albuquerque is truly one of the best places to live in Albuquerque, especially for the young crowd.
Median Home Value: $315,200
Monthly Rent: $955
Median Household Income: $38,507
Huning Castle
Huning Castle is a neighborhood with mid-century modern ranch houses, modern condos, and a variety of other unique houses. Most of these houses have a beautiful view of the river but they fall more toward the expensive end of the scale due to their rising demand. You have job opportunities in the construction, manufacturing, finance, retail, wholesale, education, and healthcare sectors in Huning Castle. So, finding a well-paying job here isn't going to be that difficult. Plus, the neighborhood is located so centrally that even if you find jobs in neighboring areas, commuting won't be an issue.
Speaking of location, Huning Castle has been a neighborhood that has always attracted professionals due to its close proximity to Downtown Albuquerque. The commute is easier and you also get access to amenities from both these places. Besides, the restaurants, shops, galleries, bars, and pubs, are all very fun and create a lively environment here. The vibes are the most loved thing about Huning Castle along with the Albuquerque Country Club that offers you tennis, golf, and swimming activities whenever you feel like engaging in them.
Median Home Value: $619,200
Monthly Rent: $1,120
Median Household Income: $58,550
Bear Canyon
For a neighborhood that is quiet but also has the amenities and opportunities of a big city, Bear Canyon in Albuquerque is one of the best places to settle. It's located in the northeastern parts of the city and provides a lowkey and simple lifestyle. You'll surely enjoy the laidback life in this neighborhood and the community is also very close-knit. This community celebrates small and big festivals together and hosts a ton of festivals and events as well. So you'd get to enjoy most of these throughout the year.
Bear Canyon does not have an abundance of dining spaces nor does it have a dynamic lifestyle, but, you'll surely find some local chains and dining areas that serve homemade and fresh seafood items. Gecko's Bar And Tapas, Trombino's Bistro Italiano, and Sandia Saloon are some of the locally known places that have some good food, a cozy vibe, and events like Sunday Bloody Marys and Tuesday karaoke. These are some of the many things that Bear Canyon has going on throughout the week. You'll never fall short of things to do or enjoy here. This is one of the more important reasons why singles and even working professionals have been moving to this neighborhood.
Median Home Value: $619,200
Monthly Rent: $1,130
Median Household Income: $51,800
See Also: Best Out Of State Movers
Old Town Albuquerque
Old Town was founded in 1706 and remains to be the first neighborhood of Albuquerque. It's known among the tourists for its pop culture reference from the series Breaking Bad for using a ZIP Code for the Whites' house. This neighborhood is obviously one of the oldest and has retained its old-styled homes and its architecture. You'll come across plenty of museums, art galleries, shops that are locally owned, a plethora of restaurants, and more.
You also have a warm and welcoming community of people who celebrate the Native American and Southwestern heritage of the area. When looking for houses in Old Town, you'd be surprised looking at the price tags as they lean toward the higher end of the scale. This is one of the most expensive neighborhoods in the city when it comes to the real estate market. However, renting a house in Old Town might be much cheaper than buying a house. You'll find ample condos, family homes, apartments, and a few old houses for rent or even to buy here. The community in this neighborhood is constantly celebrating something or the other all year long, so you're always occupied with things to do and enjoy in Old Town.
Median Home Value: $837,060
Monthly Rent: $1,180
Median Household Income: $58,700
Nob Hill
Nob Hill is a popular neighborhood among working professionals and singles in Albuquerque. It's known to be funky with a hippy vibe, has the most amazing entertainment options, and has an even better retail industry. The eastern half of this neighborhood is a more commercially developed area and you have ample job opportunities here in the retail sector. It's the ideal place to be for budding professionals as most of the eccentric art galleries, museums, restaurants, bars, and shops are locally owned. This opens a good amount of employment opportunities in this neighborhood.
The University of New Mexico and UNM Health System is located close to Nob Hill and this has resulted in it being one of the best places to live for college students, healthcare professionals, university staff, and educational professionals. Besides, there are a lot of condos and modern apartments that have been popping up here, so you get old and new-style houses at affordable rates. All things considered, Nob Hill is one of the best neighborhoods in Albuquerque for young professionals and singles to settle down.
Median Home Value: $464,400
Monthly Rent: $1,088
Median Household Income: $37,265
Spruce Park
Spruce Park is a very charming old neighborhood in Albuquerque. It's one of those neighborhoods where everything is located close to each other and you can get around on your feet. From shops to grocery stores and supermarkets, you have everything you need in one place. The sense of neighborhood is strong in Spruce Park and everyone knows everyone. They also have a neighborhood association called Spruce Park Neighborhood Association (SPNA) and they organize many events on a small and large scale. Potluck and Halloween parades are two of these that take place on a yearly basis. Besides, you also have other small-scale events and festivals that the community organizes and celebrates together.
The landscape in Spruce Park is a combination of green spaces, a walkable streetscape, and old and new styles of houses. Most of these old houses are from the 1920s and were built after WWII. You'll have a lot of fun living in this neighborhood as there's so much happening at all times. It's also just a few minutes away from Downtown Albuquerque, Nob Hill, and a few other neighborhoods. So, getting around is not going to be an issue. Thanks to all the amenities it offers, Spruce Park will definitely be a warm and comfortable place to live in.
Median Home Value: $402,400
Monthly Rent: $1,540
Median Household Income: $60,560
Eastside
Eastside is a neighborhood in the Bernalillo County of Albuquerque and is among the best ones for youngsters and working professionals. It's one of the more popular ones among singles and adventure enthusiasts as well. Eastside is located at the foothills of the Sandia Mountains which offers you a plethora of outdoor activities such as mountain biking, hiking, picnic spots, trekking, and much more. These outdoor spaces are open all year long and you get to enjoy them throughout.
As a neighborhood, Eastside has a dense suburban feel with some of the best amenities that work for all. You'll find ample restaurants, bars, coffee shops, galleries, parks, pubs, and shops here. The schools here are some of the best and it makes for a location that is ideal for professionals looking to settle down. You have something going on at all times and everyone gets to enjoy their time here.
Median Home Value: $570,050
Monthly Rent: $1,120
Median Household Income: $68,180
Things To Look Out For Before Deciding To Move To Albuquerque
The cost of living in Albuquerque is lower than the national average by almost 4%. This means that you'd be spending less on housing, groceries, healthcare, and even utilities.
Albuquerque is also known for its high crime rates. Both the property and violent crimes here are higher than the national average by a significant amount and that's a rising concern among the authorities. However, some neighborhoods are definitely safer than others, so just make sure to choose wisely.
You'll experience over 300 days of sunshine in Albuquerque and the weather is typically dry, mild, and sunny. The erratic weather definitely requires you to have an air conditioner installed in your household.
The transportation in the city is great as you have interstate buses covering long and short distances. So, getting around and outside of Albuquerque is going to be a smooth ride for you.
Slow-paced life is what Albuquerque is known for and for someone wanting that kind of lifestyle, it's a great city to move to. It does have all the modern amenities and a great nightlife to have some fun. So you get both a slow-paced life with the fun bits of a modern city.
The city possesses almost no risks of earthquakes, tornadoes, hurricanes, or storms, but wildfires are a growing concern. It's one of the things that the authorities have been taking precautions toward.
Even with the low traffic congestion, the traffic fatalities have not been under control as much. The bridges and roadways need a lot of improvement in this city.
Summing Up
Whether you're looking for better job prospects, a better quality of life, or a quiet life with safe streets and beautiful neighborhoods, Albuquerque is the city that offers it all to you. It's one of the cities that has something for everyone and has the perfect combination of amenities, outdoors, and activities to keep yourself engaged. It's the ideal place to move to if you want to have a balanced life. Hopefully, all the neighborhoods mentioned above will be enough for you to look into the city and find a place that best suits your needs.
FAQs On Best Neighborhoods In Albuquerque For Singles And Young Professionals
Is Albuquerque A Good Place For Young Professionals?
Albuquerque is one of the largest cities in New Mexico and provides you with an abundance of attractions as a young professional. You have job opportunities, a low cost of living, affordable houses, rich culture, and some of the best outdoors to enjoy. So, it's one of the best places for young professionals in terms of having an active lifestyle.
What Is The Nicest Area Of Albuquerque?
As a working professional, you want to live in a neighborhood that has job opportunities, low cost of living, quality life, and outdoors to enjoy your spare time. In Albuquerque, you have Downtown Albuquerque, Old Town, Huning Castle, Nob Hill, and Bear Canyon as some of the best ones. These neighborhoods are some that give you ample opportunities to live a comfortable life in Albuquerque.
Why Shouldn't You Move To Albuquerque?
Moving to Albuquerque isn't going to be ideal for you if high crime rates are a concerning issue. This city has a higher crime rate than most other cities in the country and it's also prone to wildfires. If these are some things that concern you about a place, moving here might not be ideal for you.
See Also: Affordable Moving Companies