10 Best Cities for First Time Home Buyers


VanLines Inc
Secure Storage
Easy Booking Process
Fully Trained Employees
GET QUOTE

Colonial Van Lines
Storage Services
Long-Distance Moves
Corporate Relocations
GET QUOTE

Moving APT
Vetting Process
Award-Winning
Available Nationwide
GET QUOTE
Our Take
Price
Rating
Minimum Shipment Size
Storage
Booking Deposit
Cancellation Policy
Quoting Options
Discounts

Best Overall Value


GET QUOTE

2+ bedrooms




Free 30 Days




10%

Free up to 72 Hrs

Phone / FaceTime / Text

Senior / Same day Booking

Best Industry Reputation


GET QUOTE

1+ bedrooms




30 Days




20%

Free up to 72 hrs

Phone / Facetime

Seniors Discount

Best Customer Service


GET QUOTE

1+ bedrooms







Free up to 72 hrs

Phone / Virtual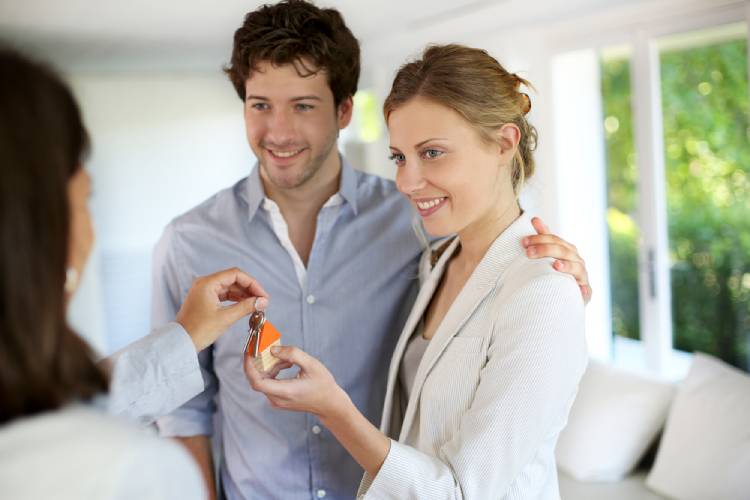 At some point in life, you might feel like owning a home. Raising a family isn't the only reason. The want of a sense of ownership and free space also pushes many to buy homes. When you start understanding the meaning of equity and how owning a home helps you build that equity, you'll start looking for a property right away. But it's not as easy as handing a check from one hand and receiving home keys from another.
First-time home buyers often look for lower mortgage rates and lesser down payments. It is obvious, keeping in mind that first-time homebuyers are young men and women with lesser savings. Though savings alone don't determine home-buying decisions, a hundred different things like the neighborhood, availability of amenities, job opportunities, etc. do. Ultimately, you look for a good quality of life in the city you plan to live in. We understand your wish to buy your first home in the right city, so here is our list of top 10 best cities for first-time homebuyers.
1. El Paso, Texas
This city in the western part of the US is called 'Sun City' because of its 302 days of sun every year. But hey, that isn't the only reason El Paso is sunny. Its low down payment for buying homes makes it a good choice for first-time homebuyers. According to El Paso Times, the average down payment for properties in the city is $7,400. That's quite affordable compared to the average down payment in most US cities.
Okay, so home buying is done and dusted, but what after that? El Paso scores in our books too! The cost of living is low with affordable prices for groceries and utilities. When you don't feel like saving money and rather eat out, Tex-Mex cuisine awaits your attention. Since El Paso sits closer to Mexico, you get to explore different dishes and cultures. If you plan on raising a family in El Paso, go for it as it has many elementary schools. Moreover, kids are going to love the El Paso Museum of History and its impressive 3-D digital wall.
Homebuyers look for stability and job opportunities too when deciding on which city to invest in buying a home in. El Paso has many opportunities in the Information Technology field. Residents of El Paso earn an average income of $20,050 a year. With all your needs covered, El Paso can be a good bet while considering where to buy your first home.
Population: 680,000
Median Home Value: $162,696
Cost Of Living: 81.4
Unemployment Rate: 8.3%
See also: Moving to Texas
2. Louisville, Kentucky
Buying a first home can feel intimidating. And we aren't just talking about the expense bit of it. The city you move to should feel welcoming and accepting of you. The communities of Louisville are liberal and open to everyone. Queer residents and visitors feel at home in Louisville because of its LGBTQ inclusiveness. So it's a great city to buy your first home in as it is more than a common stereotypical neighborhood.
Speaking of its affordability, Louisville is quite affordable to middle-income families. The city offers down payment assistance for first-time homebuyers. So assistance is available on a 3% down payment thanks to this program. That means you can save the money you otherwise would have spent on huge down payments. Just remember you need a minimum credit score of 660 to be eligible.
What is the use of assistance if you end up spending a fortune on utilities? That's not the scenario in Louisville. The grocery prices and utility prices in Louisville are 11% and 6% lower than the national average respectively. Now, as a first-time homebuyer, you needn't spend your 25 to 30s worrying about that bank balance. You don't have to spend every weekend eating Kentucky Fried Chicken, there's so much more to do in Louisville. You can see the art at the 21c Museum Hotel or explore the Louisville Nature Center. Being a center of manufacturing, Louisville houses two major Ford plants, solving the majority of employment concerns of its residents.
Population: 618,000
Median Home Value: $204,801
Cost Of Living: 88.4
Unemployment Rate: 6.1%
Also See: Top Neighborhoods in Louisville for Families
3. Raleigh, North Carolina
Located in the Research Triangle, job opportunities are plentiful in Raleigh. Multiply that with the incredible educational opportunities and you have a reason to see Raleigh as a long-term home. First-time homebuyers look for cities that can provide opportunities at every stage of their lives, and Raleigh is such a city. This will make your first home investment worth it. Raleigh's affordability also allures many lower to middle-income families. The quality of life and the beauty of the city is sure to totally woo you.
The vibrant city is dotted with historic buildings and lined with oak trees. The median income in Raleigh is $ 61,500 and the wide economic opportunities allow you to earn it. As a first-time homebuyer, you want your home to be in a city that matches your vibe. The museums and food tours are going to make you fall in love with the city. WalletHub has ranked Raleigh as the best city to invest in real estate because of its housing affordability and strength of the local economy. Moreover, more millennials are moving towards Raleigh-Durham. This explains the rapid growth of housing construction.
Population: 464,000
Median Home Value: $340,303
Cost Of Living: 102.3
Unemployment Rate: 5.0%
4. Knoxville, Tennessee
The mere thought of owning a first home in the beautiful backdrop of the Great Smoky Mountains is appealing. You'll never miss the lack of work-life balance in Knoxville. This is because of its active life in the 55 parks. Because of the presence of universities, you can enjoy a hip life. Knoxville is bustling with hundreds of dining and entertainment options. You must be wondering why we chose to add Knoxville and not Nashville to our list. But trust us, affordable housing is a major factor for first-time homebuyers.
Knoxville is much more affordable when it comes to real estate than Nashville. There is less competition in Knoxville for single-family homes, something that first-time homebuyers look for. Knoxville Area Association of Realtors says that around 21,000 homes were sold in the city in 2020. Since there is availability, the rates are affordable. So it's the right time to strike! When it comes to opportunities, you'll be surprised to know that Knoxville is a recession-proof city. Do your research and consider making Knoxville a forever home.
Population: 186,000
Median Home Value: $250,248
Cost Of Living: 85.5
Unemployment Rate: 3.8%
See also: Moving to Tennessee | List of Top Moving Companies in Tennessee
5. Virginia Beach, Virginia
We can't help but add this coastal city to our list. Virginia Beach is one such city that makes coastal living affordable. What a thrill it would be to own your first home near the sea! Plus, you're not compromising on anything, given the great economic opportunities. By that, we don't mean jobs in the tourism sector alone, but also in the thriving agribusiness industry.
Though the cost of living is slightly on the higher side, housing in Virginia Beach is quite affordable. Check if you're eligible for the Virginia Housing's Down Payment Assistance. All your friends and family will keep dropping by your first home if you buy it in Virginia Beach – a city where the entire year feels like a summer holiday. If you get lucky, you might find a property much near the shoreline.
When the 28 miles Atlantic shoreline is just a walk from your home, you'll be glad you invested in real estate in Virginia Beach. There are 108 public schools in Virginia Beach and lots of amenities around most neighborhoods. Apartments in Virginia Beach are affordable according to Realtor.com. So Virginia Beach is arguably the best choice if buying a first home alone, with a partner, or as a family.
Population: 450,000
Median Home Value: $327,771
Cost Of Living: 105.6
Unemployment Rate: 6.5%
Also See: Popular Neighborhoods in Virginia Beach for Families
6. Cincinnati, Ohio
Food would surely be one of the factors if you consider moving to Cincinnati. The mix of Midwestern and Southern food in Cincinnati is going to make you feel like settling in the city forever. There's a load of perks you get when you decide to invest in property in Cincinnati, like the access to Cincinnati Zoo & Botanical Garden.
You can be in your 30s and not thinking of starting a family yet, but Cincinnati is great for the long term. There are many good schools in Cincinnati and lots of things to keep children busy, like the children's museums in the art deco Union Terminal. When you plan long-term like this while buying the first home, it acts as a one-time investment. You don't have to plan to relocate to another city as your children grow up.
Cincinnati will look more appealing to you when you know of its Housing Opportunity Index, which is 84. This means 84% of the homes sold in Cincinnati are affordable to middle-income families. The economic opportunities in Cincinnati are ever-growing; the city also houses the Procter & Gamble headquarters. Affordable housing, quality of life, and employment opportunities are the major reasons why you should consider buying your first home in Cincinnati.
Population: 301,000
Median Home Value: $202,318
Cost Of Living: 84.6
Unemployment Rate: 5.3%
7. Lexington, Kentucky
Another Kentucky city to make it to this list. You must be wondering why we added the world's Horse Capital to this list. Not all first homebuyers are fans of horse races, but sure are fans of affordable housing. Apart from the Keeneland Race Course, there is a lot more that adds to the economic opportunities of Lexington. There are jobs in the manufacturing and technology sector. Lexington administration offers ample entrepreneurial support, resulting in the growth of businesses in the city.
The housing expenses in Lexington are 7% lower than the national average. The Government of Lexington offers non-repayable mortgage subsidies and 0–2% loans to lower to middle-income first home buyers. The cost of living is relatively lower even though Lexington is a large city. When you save on housing and cost of living, your youthful years can be without a bet smoother. This makes Lexington a wonderful choice for first-time homebuyers.
Another aspect where you end up saving in this city is the transport because the bus fares and gas prices are 5% lower than the US average. Now you can spend all that saved money on the attractions Lexington has to offer, like the art galleries and craft breweries.
Population: 321,000
Median Home Value: $236,745
Cost Of Living: 89.1
Unemployment Rate: 4.4%
8. Pittsburgh, Pennsylvania
If you're a fan of aesthetics and beautifully designed homes but disappointed by the high prices of such properties, Pittsburgh is your savior. This city gives you both Victorian-style architecture and new construction at affordable prices. Go anywhere in the city and you'll find all real estate affordable for middle-income families. Adding to your relief is the FHL Pittsburgh Bank. The bank has a First Front Door program designed for first home buyers. You can avail upto $5,000 of grant assistance under this scheme.
Now that your budget concerns are solved, let's talk about the quality of life. Pittsburgh has a beautifully restored downtown and a peaceful community residing in it. Three major league sports teams will keep you entertained. If you are not eating the healthy Pittsburgh Salad, you can cheat on your diet with the Big Mac that locals love.
The economy of Pittsburgh is seeing a steady growth in the advanced manufacturing, energy, and financial sectors. Thinking long term, healthcare services are advanced in Pittsburgh, adding to the reasons for buying a home here.
Population: 302,000
Median Home Value: $214,585
Cost Of Living: 87.5
Unemployment Rate: 8.3%
9. Chandler, Arizona
There is a lot that Chandler has for you, and at affordable rates too! You'll find yourself spending quite some time in the Desert Breeze Park. Events like the Ostrich Festival see Chandler bustling with energy. Buying your first-time home as a family in Chandler is a good decision, given its education system and extracurricular activities for children. Chandler Museum, Arizona Railway Museum, and Tumbleweed Park are some of the attractions kids love.
The property rates in the cities of Arizona or Florida will make you shy away from them. But Chandler is an exception as both its real estate and cost of living is affordable to first home buyers. If you're looking for a house in Arizona, go ahead with Chandler. The First Time Home Buyers program by the city government provides assistance to low-income groups.
You can rest assured about economic opportunities in Chandler. The Intel network in the city has announced an expansion, which will see a growth in 3,000 high-tech, high-paying jobs. With that sorted, what do you do on weekends? Chandler is a center for arts, parks, and restaurants. All these factors make Chandler an ideal city to buy your first home in.
Population: 253,000
Median Home Value: $424,986
Cost Of Living: 113.0
Unemployment Rate: 5.3%
See also: Moving to Arizona
10. Boise, Idaho
One of the best US downtowns and the best city to raise a family, Boise draws many first home buyers to itself. You might think that a city as popular and as populous will surely be expensive, but that isn't so. Boise is one of the most affordable cities in the Pacific Northwest. It is one of those rare cities which sees both growth in the tech scene and proximity to nature. Put these aspects together with its low cost of living, and wham! You have an ideal city to consider buying your first home in.
There are several jobs in the science and technology sectors. The job market has increased by 2.8% over the past year. Many young professionals are opting to move to Boise because of its affordable housing and economic opportunities. Apart from this, the abundance of trees, delicious food, and cultural attractions are worth settling for. There are several down payment and closing cost assistance programs available in Boise. But remember that due to so many advantages, the demand for homes in Boise is always high. So keep an eye out for properties on sale and make a quick decision before a house you liked is gone off the market.
Population: 226,000
Median Home Value: $472,634
Cost Of Living: 103.6
Unemployment Rate: 4.3%
We know you consider many aspects before buying your first home. And you should, because this is going to be the biggest investment you might ever make in life. That's why we haven't considered affordability alone while compiling this list. Once you have a fair idea of which city to go to, start hunting for properties in it!
See Also: Questions a First Time Home Buyer Should Ask | Buyer's Market vs Seller's Market | What is HOA? | Credits for First Time Home Buyers
---
FAQs
What Is The Right Age To Buy Your First Home?
Ideally, 30-35 is an age by which most people have accumulated enough savings to afford a first home. There should be enough for at least a 30-40% down payment. By 35, most people have the ability to pay regular EMIs. The median age for most first-time buyers in the US is 33. If you've zeroed in on a property and can afford it, you can even buy your first home between 25-30 years of age.
What Schemes To Consider While Buying Your First Home?
There are a ton of schemes designed by federal and state governments for first-time homebuyers. Often homebuyers are unaware of the benefits awaiting them through such schemes. Keep an eye on programs and check your eligibility to avail them. If you don't find yourself eligible for any government assistance, there are many private sector banks that design schemes for first home buyers.
Here are some schemes that might help:
FHA loan (Federal Housing Administration)
USDA loan (United States Department of Agriculture)
VA loan (Veterans Affairs)
Good Neighbor Next Door
Fannie Mae or Freddie Mac
Related: Top-Rated Moving Companies in USA | How to Best School for Your Child when Moving | Closing on an New Home |Shortlisting Home buyers