Arizona DMV Change of Address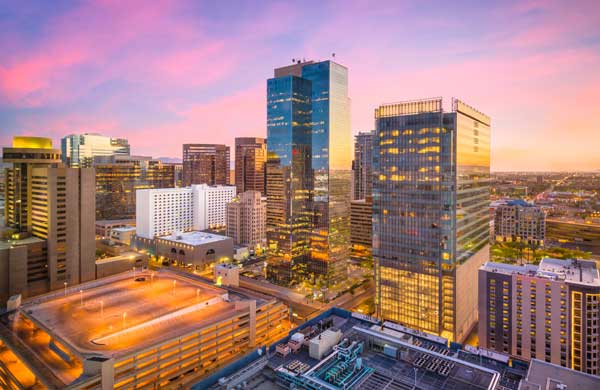 Looking forward to the prospect of moving to The Grand Canyon State, are you? In that case, we're sure you are already excited about the various mountains, valleys and desert backdrops you are going to experience in Arizona. Let's not forget about how affordable real estate is here. Arizona is perfect for anyone with a higher tolerance for hot weather and a love for adventurous outdoor activities. Oh and the mouthwatering Mexican cuisine is just…!
So many reasons to enjoy the state. Imagine hitting the road with nothing but scenic mountains gracing the backdrop, and sandy stretches surrounding you. Surreal, isn't it? For motorheads, driving in Arizona can be quite delightful. But then again, there are a few formalities to take care of if you're moving here from another state or within the state itself. So here's all you need to know about getting an Arizona DMV Change of Address done.
Who Should You Get In Touch With For A DMV Change Of Address In Arizona?
Firstly, you must know that the process to get a DMV change of address in Arizona is different to most states. You will have to reach out to the Arizona Motor Vehicle Division (AZ MVD) to get things started.
Wondering how many days you have to get this done? There's no better way to put this, but you will have to handle it right away. What we mean is, soon after you have moved to the state, you should get in touch with the Arizona Department of Motor Vehicles, which is a sub branch of the Arizona Department of Transportation.
Depending on where you're moving from, you could have multiple options to take care of your DMV change of address in Arizona. However, time is of the essence, and missing the deadline could make it an uphill climb for you to get the task done. Do save these details, as they can come in handy when planning to quickly get into the thick of things.
Requisites To Qualify As An Official Arizona Resident
Yes, we understand that it's very vague when you are supposed to get an AZ DMV address change done "soon after you have moved". So let us explain this further. You have to ask yourself four questions which are:
Am I going to reside in Arizona for a minimum of 7 months?
Am I going to register myself to be able to vote in Arizona?
Am I going to be employed in Arizona?
Am I going to run a business in Arizona?
If the answer to any of these four questions is, "Yes", you better make a visit to the Arizona Motor Vehicle Division to initiate the process of updating your address.
AZ DOT (MVD) Details:
Address: 4005 N. 51st Avenue, MD 555M, Phoenix, AZ 85031.
Contact Number: (602) – 255 – 0072
Email ID: info@azdot.gov
Operational Hours: Monday to Friday, 8 am to 5 pm.
See also: Moving to Phoenix [Relocation Guide]
Getting An Arizona Driving License When Moving From Another State
Things To Know:
Starting October 1st, 2020, there will be a new federal policy put into action, which states that anybody moving to Arizona from another state will be obligated to get themselves a Travel ID for the state of Arizona. Either that or the alternative can be a Real ID, which has a star mark on the top right corner, like an acceptable passport card which can be used to travel domestically.
How To Get An Arizona Driver License When Moving From Another State?
You're already aware of how you don't have a lot of time to apply for a new driver license when moving to Arizona. What you must also know is that you don't have the option of applying for it online either. Not to rub salt into your wounds, but you can't even call the nearest Arizona Motor Vehicle Division office to make an appointment. The only thing you can do is physically head down to their office and then get the process initiated.
Better to do it soon after you have moved if that's a possibility. Plan things ahead, so nothing else gets in the way of you getting an updated Driver License for Arizona. Fortunately though, what you can do is download the Application for an Arizona Driver License, print it out, fill it up and then visit the office of the AZ MVD with your filled form. You can get this form by visiting the official website of the Arizona Department of Transportation.
Do keep in mind that there's no compulsion that you have to fill the form at home and reach the AZ MVD office with a complete form. Although that does save some time and avoid queues, it's best to leave out any section you are unsure about. You can then ask the customer service representative at the office and have them guide you through the rest of the form. Just a matter of being smart and avoiding the possibility of elongating the process.
Documents Required To Get An Arizona Driver License
1. Social Security Number Proof
(Social Security Administration Card, W-2 Form, SSA – 1099 Form, Non-SSA – 1099 Form)
2. Proof Of Identification
(US Passport, Birth Certificate, Certificate of Naturalization, US Adoption Papers, Certificate of Citizenship, Active Duty/Retired US military ID card, Permanent Resident Card or US Certificate of Birth Abroad. If you don't fall into any of these categories, you can get the complete information from the AZ DOT website.)
3. The Application Form for an Arizona Driver License
(Remember the one we asked you to download? Yes, please don't forget to carry that with you. Just quicker that way, instead of getting a form at the office and then starting to fill it up.)
4. Existing valid out-of-state Driver License
Additional Documentation In Case Of A Name Change
Court Ordered Name Change
Marriage Certificate
Divorce Decree
Adoption Decree
It's extremely important to know that all your efforts will be in vain if you have any previous outstandings against your driver license. Both unpaid parking tickets and any previous instances of your driving license getting revoked or suspended are major red flags for the Arizona Motor Vehicle Division. In that case, the AZ MVD has all the authority in the world to avoid giving you a driving license. Basically, a clean track record is essential for this!
Another thing to note is that you will be required to give a vision test in order to acquire an updated driver license for Arizona. If you don't have an existing license, you will also have to give a driving test alongside a writing test. The cost of getting a new driver license for the state would be $25. However, the prices could vary depending on the kind of license you possess. For instance, this fee would change if you're a commercial driver license holder.
Registering Your Vehicle To Arizona
This part is pretty much a constant with almost every state in the US. And in this case too, the relevant branch of government for you would be the AZ Motor Vehicle Division. So you should drop by their office with the vehicle you plan on getting registered to the state. What you can do to reduce time at their office is that you can visit the AZ DOT website and download the official Application For Title and Registration, print it and then fill it up.
Worried that you will need time to arrange all your documents and get your things in place? Don't worry, the state has a facility which should be reassuring for you. Basically, you will get the provision of a temporary vehicle registration documentation which lasts for 90 days. Now that's enough time for you to get everything in place, isn't it? Plus, the vehicle registration cost is only $8. But the fee for getting an Arizona Title is separate. Although, it costs $4 only.
Essential Documents To Register Your Vehicle To Arizona
1. Application for Title and Registration (Completed form with your signature)
2. Existing out-of-state Title of the vehicle
3. Level 1 Vehicle Inspection (Only in case of your out-of-state vehicle title being lost)
4. Valid Insurance of your vehicle
5. License Plate from the previous state
6. For a leased vehicle: Power of Attorney from the company you got it leased
Note: There will be an additional miniscule fee of about $1.50 incurred to perform a check on the air quality.
Getting An Arizona DMV Change Of Address Done When Moving Within The State
Arizonians, here's a little something for you guys to gloat about. Don't feel like heading down to the office of the Motor Vehicle Division in-person? Luckily, you don't have to. You could just as well update your new address on your driver license online. All you have to do is visit the website of the Arizona Motor Vehicle Division and fill the form for a change of address.
Then there's also another option which is just as convenient, if not more. Let's say for some reason, you don't have a computer or a proper internet connection yet, you could also get your address updated over a phone call. It's simple – just contact the AZ MVD and provide details such as your social security number and your existing valid AZ driving license number.
The only details you will need would be your SSN number, Driver License Number, Name as it appears on your personal identification documentation and your date of birth. Add to this your Vehicle Identification Number and you have everything in place to update your vehicle's registration as well. Luckily, there's an option of doing that online too, apart from physically visiting the AZ MVD office. However, you only get a maximum of 10 days to get this done.
Also, you won't be charged anything for this, regardless of which process you choose. A fee is only applicable for a scenario where you're looking to update your driver license with the address of your new place of residence within Arizona. That cost would only be $12. Best part? You don't even need a new driver license if you're moving within the state. But just in case you want one with the updated address, you could request for the same.
Arizona Motor Vehicle Division Contact Numbers
(800) 251-5866
(602) 255-0072 (Phoenix)
(520) 629-9808 (Tucson)
Things To Keep In Mind When Moving Out Of Arizona
You will have to get in touch with the Arizona Motor Vehicle Division if you're planning to take your registered vehicle with you to another state. Basically, once you get an updated vehicle title from your new state, you will be required to share the same with the AZ MVD. You could just mail it across to them. Similarly, you can also send the AZ License Plates back to the state MVD, even though there's no obligation to do so. The mailing address would be the same as the one we had shared at the beginning of the article.
Conclusion
You have to be fast and efficient if you're moving to Arizona from another state in the US. While you don't really get a lot of breathing room when it comes to getting an Arizona DMV change of address done due to the obligation to get it completed so soon, the process is fortunately pretty straightforward. One silver lining to this rapid process is that you can get it over with quick enough to start enjoying the exciting roads of The Grand Canyon State.
See also: Moving to Arizona [Relocation Guide] | Largest Cities in Arizona| Top Neighborhoods in Tucson for Families