What Type Of Fence Is Right For Your Home?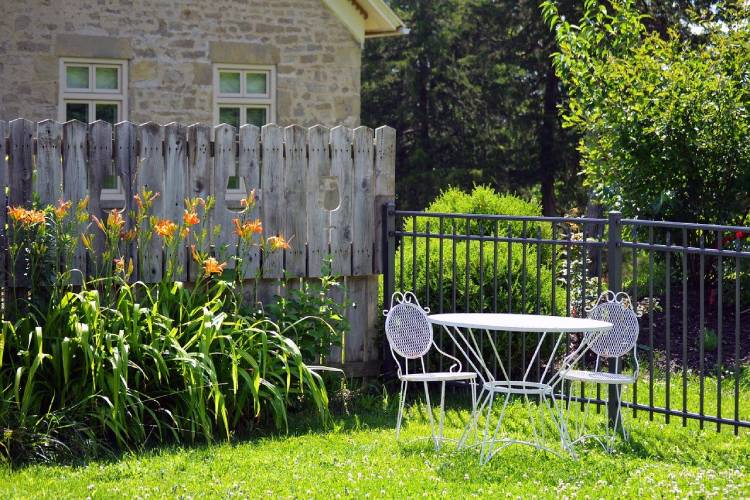 Fences; a piece of safety equipment that adds to the aesthetic appeal of your house while making sure that your house is restricted and safe is increasingly becoming an essential part of many American households. Sometimes, boundaries are necessary to maintain harmony and peace and a fence helps you achieve just that.
If you are on the fence about which kind of fence to choose, do not worry because that's why we are here. We will take you through all the different kinds of available fences and give you information on which fence suits what kind of space so that you know enough to be able to make a choice that is right, informative, and affordable.
Benefits Of Installing A Fence
If it doesn't benefit you, there is no point in spending your time and money on it. However, the advantages of installing a fence go way beyond the aesthetic benefits it offers your house. Here are a few:
If we talk about installing a fence, the biggest and most obvious benefit is the safety aspect. Regardless of whether it is your dog or your little kids who are robbing you of your peace, a fence can help keep them in front of your eyes confined by safe boundaries.
A fence is not only a safety product but, with the right placement and choice, it can also be an outdoor piece that will add to the overall aesthetics of your house, especially if it is for the backyard.
If you live in a crowded area with loud and nosy neighbors, a fence can certainly help you by providing a much-needed sound barrier. A privacy fence will not completely eliminate sound pollution, but it can certainly impact and reduce the amount of sound that reaches your home.
A fence also works as a protective layer for your house saving it from unnecessary visits from any wild animals or even criminals aiming to break into your house.
A fancy fence also increases the overall value of your house so you might be able to resell your house at a much higher price. If you plan to sell your house in the near future, a fence can prove to be a brilliant investment.
Fencing can help protect your precious plants and landscaping if you live in an area with high rainfall and/or the possibility of landslides.
What Type Of Fence Is Right For Your Home?
Every house has a different need and it is true in the case of a fence too. The kind of fence that will suit your house the best depends upon various factors such as your budget, the reason why you need a fence, the house aesthetic, and even the size of your house. We will take you through some of the most popular kinds of fences and the areas that they will complement, so you that can pick the right fence for your house.
Wood Fences
An article about fences cannot exist without the mention of wood fences. The OG of fences, the wood fence is still a popular choice of fences among homeowners. Wood fences are a versatile option that comes in multiple varieties–whether you are on a budget or want a fancier option, you will most likely get it in wood. If you are someone who can handle the maintenance of a wood fence, you can certainly pick a beauty.
Wood fences not only offer you great privacy but can also be seen as an aesthetically pleasing element to your backyard. They will cost you around $2,000 to $4,500 but the prices will vary according to the size and type of wood you get. It is also an ideal option in case you are looking to build a fence for your dogs or to enhance the security and privacy of your house. Just keep in mind that wood fences are not a long-term option and certainly aren't ideal for the rainy climate.
Wrought-Iron Fences
If you are looking for a fence that is durable and strong and one that allows you to relax for the next 5-10 years without any maintenance or safety issues, wrought-iron fences might be the right pick for you. If your budget is not too tight and you want to invest in a fence that feels and looks like an accessory to your house while also adding to its safety, look no further.
Wrought-iron fences are comparatively more expensive and can cost you anywhere between $3,000 to even $10,000 depending upon the type of fence you get and how fancy you want it to be. Matching the fencing with your gate will also hamper the overall price and hike it up. If your house is contemporary in nature with a lavish design, a wrought-iron fence is your best bet.
Concrete Wall Fences
If you live around a coastal area with the possibility of heavy wind and rain, concrete wall fences will be one of the most suitable options for your house. Known for their strength and durability, concrete wall fences will certainly do the job and can be made according to your aesthetic senses too.
Also known as Masonry fences, concrete wall fences last forever and literally require no maintenance after building them. The precast concrete combination fence is created from a special type of concrete known as precast concrete which is made of natural stone and concrete and costs around $10 to $60 per sq ft. It can also act as a sound-blocking fence and offer you much-needed peace and security.
Also See: How to Remove Stains from Concrete
Steel Fences
Steel is one of the most popular materials when it comes to safety and so are steel fences because of their durability. Steel is expensive hence steel fences fall under the same price category as that of wrought-iron fences. It certainly is expensive and for about 100 ft. the price can vary from $3,000 to $3,500 but then again, it lasts forever and acts as a sleek accessory to your house too. When it comes to steel fences, galvanized steel is one of the most popular choices because of its nature and look.
Chain Link Fences
If the fence is for your dog and you are looking for a convenient and inexpensive option, chain link fences can be your best choice as it is a hugely popular option among dog parents. It is not the most aesthetically pleasing out of our picks but it certainly can do the job if you want something that simply works without spending a lot. It is low maintenance and an easy option and if the looks bother you, you can certainly use your creativity and conceal it cleverly using some beautiful fresh/imitation flowers. A chain-link fence can be installed for under $2,000.
Aluminum Fences
Sustainable, environment-friendly, and long-lasting, aluminum fences signify all things good if you are a concerned individual who not only cares about the looks of your house but also for the environment. It is lightweight so if sturdiness isn't your priority and you just want a pretty fence that does the job, aluminum fences can be installed for as low as $700 to $4,000 making it one of the most affordable fences on our list.
Vinyl Fences
You want the classy look of wood but cannot deal with the added responsibility of maintenance. If that's the case, then vinyl fences can be your ideal pick. Vinyl fences come in many options and are hard to distinguish from wood. Once you install a vinyl fence, it is also very easy to maintain and can be considered a durable option.
Vinyl fences are one of the most popular kinds of fences and can be the one for your house as long as you don't live in a state prone to extreme rain. Vinyl fences aren't too expensive either and can range from $2,500 to $5,000, once again, depending on your choice of quality and the length of the area.
PVC Fences
Not only are PVC fences cheaper than most options but they also appear like vinyl fences once installed. Even though they are great for privacy, budget, and variety, PVC fences are not the most durable option out of the mentioned lot. These fences are low maintenance but are not suitable for extreme weather. We would personally not recommend PVC fences as vinyl fences are a better and more durable option in the same budget.
Stone Fences
Stone fences are made of, well, stones, so they fall under the durable category. If you vibe with the stone look and can afford the manpower to do the installation of the fence, stone fences are an ideal option. They are classy while offering you strong security and sufficient privacy.
It is suitable for most weather conditions and in spite of being made of stone, will not be too heavy on your pocket. You can also go for the recyclable eco-stone option. The cost of a stone fence can range between $1,450 to $2,200. Keep in mind that installation charges will be separate and that sum can reach up to $2,000! If you like the old-world charm and aesthetics that a stone fence provides, you can certainly go for stone fences which come in many color options too.
Things To Know Before Installing A Fence
A fence is certainly a good investment for your house that will keep you safe and secure but there are certain things you should keep in mind before deciding to make this investment so that the boon of a fence does not end up becoming a bane for you. Here are some of them:
Some areas have restrictions when it comes to fencing your house so the first thing that you do should be to check whether your locality allows you to put a fence around your house or not. Do not put a fence on without inspecting the rules first, else you might get in trouble with the law. You may check our article on Homeowners Associations: Things To Know About HOAs to know more about the laws.
You might need additional help with installing the fence if you have a huge house. For small areas, fencing can be easily done by a single person but do not hesitate to get in touch with a professional if it feels too complicated and/or heavy to do it yourself.
Try to avoid putting a fence outside of your property. If at all it is necessary, get in touch with your neighbors and make sure that you have their consent to put a fence that reaches their property. Also, make sure to have everything in written form to avoid any conflicts in the future.
You might also need a permit from your city hall the information regarding which you can ask your land surveyor.
Make a budget for the entire process before you decide to pick a fence so that you don't end up overspending.
Have clarity about the purpose for which you are building the fence and do not take research for granted. Always do enough groundwork before making the final decision.
We would suggest you take account of the style of your house before selecting a fence and make sure it doesn't look too out of place with the overall vibe of your house.
Always choose a fence that is durable while keeping in mind the climate of your place. Do not go for fences just for their aesthetic appeal while ignoring the climate as they will become useless pretty soon if you choose the wrong kind.
Conclusion
While buying a house, fences are the last thing that people pay attention to. However, to enhance safety, security and to protect your little ones (and pets) from wandering away and getting lost, fences are a great investment. They not only add a little jazz to your place but also help in laying your mind to rest at night. However, you can't just install any fence around your house with no research or prior investigation. We hope that we've given you a brief glance into the world of fences and that you now have a better picture of what kind of fence would go best with your house.
FAQs On What Type Of Fence Is Right For Your Home
What Type Of Fence Is Most Durable?
In terms of durability, a concrete wall fence or a Masonry fence will be the most durable option. This will be the most long-lasting choice for you where you will not need to worry about any maintenance or paint jobs. It can be considered as a one-time investment that will also look aesthetically pleasing while keeping your house safe.
What Type Of Fence Is Low Maintenance?
Many types of fences are low maintenance but the vinyl fence is becoming increasingly popular among homeowners because of its durability and low maintenance nature. Instead of a wood fence, picking a vinyl fence will certainly make life easier because it is a hassle-free alternative that will not rot, warp, peel, or splinter. Vinyl fences are stronger than wood and also come with impressive long-term warranties to further assure you.
What Type Of Fencing Is Best For Dogs?
Dogs can light up your life but are also capable of putting themselves at risk and becoming a chaos-monger for your neighbors. If your furry baby is notorious for causing trouble in the neighborhood, building a fence will certainly be a good idea because that way, you can be assured of your dog's safety. You can pick a wooden fence, a vinyl fence, or even a chain-link fence if you are building it for your dog. All three fences serve the purpose so just decide which one fits your budget best and select accordingly. Personally, we would recommend a vinyl fence because it's a durable, safe, and maintenance-free option.
Also See: Moving with Dogs | DIY Backyard Ideas