Ways to Cut Costs on Your House Remodel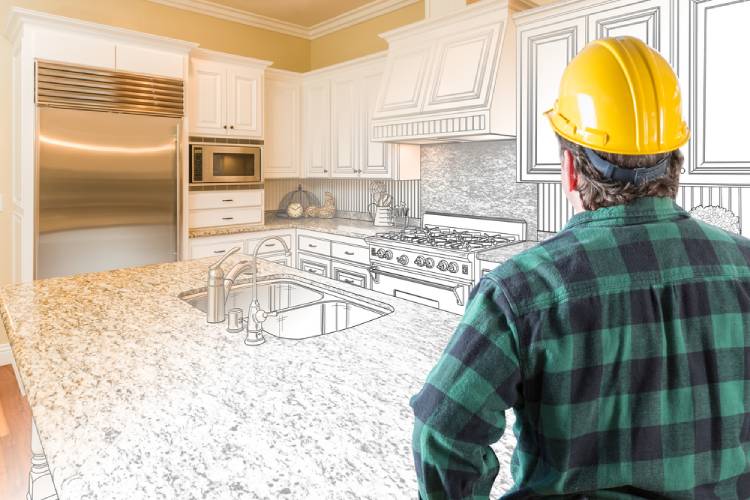 Even if you have a huge budget, the expense of renovating your house may quickly escalate out of control! The cost of a project is determined by what you pay for materials, labor, and tax. However, the little expenditures you make throughout the project may end up costing you more in the long run.
With the cost of living on the rise, it's important to find ways to cut costs with things like your house remodel. Fortunately, there are many simple and inexpensive ways to do just that.
Create and Stick to the Pre-fixed Budget
Before beginning the remodeling process of your home, always make a budget and stick to it! This is the best way to cut costs on your house remodel. Whatever you spend money on, make sure to keep track of how much of your overall revenue or savings is going toward the purchase. Whether it's a simple lunch out or something more substantial, such as a new stove, keep track of how much of your total income or savings are used for the transaction. This way, you can cut costs on your home renovations without over-promising and under-budgeting.
Most people are unable to save money or even spend less because they cannot manage their daily expenses properly. So if you are also one among them, plan everything and pre-fix the budget.
Do as Much as You Can Yourself
It may be tempting to hire someone to do all of the work for you, but doing it yourself will help cut your costs. Doing things like painting and tiling can make a huge difference in your budget. Of course, some projects require professional expertise (e.g., electrical and plumbing), but you should research how to do as much as possible on your own. It is a riskier alternative as you need the expertise to do some work that only contractors can do, but if you have time and knowledge, you can also engage yourself in DIY jobs.
Buy Second-Hand Goods and Salvage Materials
One of the best ways to keep costs down is buying second-hand materials. For example, if you need new tiles for your bathroom, look for them at yard sales or thrift stores. Even if you don't find what you need, larger items like cabinets can help you build your house.
Before buying any household items, make sure you get the best deal. If you are looking for brand new goods, wait until after popular holidays to get the best deals on appliances, electronics, etc. A few examples are the American holiday for appliances, Black Friday for electronics and power tools, and End of Summer for outdoor furniture and lawn care items. Avoid paying full price by waiting a few weeks after the holiday.
Appoint a Contractor
It is an excellent option to do it on your own to save money, but certain things need expertise, like plumbing or electrical work. It isn't practical to attempt such works, and there is a risk of injuring yourself or burning down your house. So it's better to appoint a contractor for home remodeling. You can get a professional contractor by searching on the internet. Before appointing one, make sure to read the review of their previous clients and ask for their contact details so that you can talk to them personally about their experience with him.
Also See: Finding Handyman or Plumber
Hire Employees Carefully
One of the best ways to cut costs on your house remodel is to consider which employees to hire carefully. Though a trustworthy and reliable employee may be the most skilled worker, there are times when hiring someone less experienced can save you money in the long run. For example, if you have a specific idea of what you want to do in your home renovation project, an experienced contractor might charge more because he needs to stick closely to your plan. Meanwhile, you can save money by hiring an inexperienced worker to create their own design for your renovation project.
Pay in Cash
If you are planning to sell the house after renovation, you can apply for home loans, but if you are doing it in general, you should pay in cash. You can pay the contractor directly by cash or cheque to save a few bucks. Paying in cash will not only cut the cost, but you will be able to negotiate with workers and save a lot of money. It will also help you in organizing your expenses.
Wait till you have Sufficient Amount of Money
There is no harm in waiting until you have sufficient money to do the renovation project. You should wait till you have an adequate amount of money because if your budget is tight, then it can cause trouble in the future with your financial conditions.
Sell What you are not using
While renovating your house, always go for deep cleaning and segregate the unused stuff first. Please do not keep the things you are not using; instead, sell them to earn extra money. According to convenience, to find buyers of your old stuff, advertise on the internet, offline newspapers, or magazines.
Stick to the Classic
Always stick to the classic design for the renovation of your house. Though it is a risky proposition, you will get more profit in the long run after selling it. If you want to sell your house, you should stick with classic designs as people always prefer the traditional stuff in home décor and their fashion sense. To avoid getting into the latest trends and stick with classic designs.
Avoid shifting the sink and other
It is highly recommendable to avoid shifting the sink. If something is wrong with your sink and you want to do some renovation work, try to avoid moving the sink and other stuff. You should do some fixes that are required urgently; otherwise, if you are shifting the sink, then it will cause further expenses.
You should also avoid moving the pipes, as placing them again at their exact position is challenging. These little expenses can save you a lot of extra bucks and help you cut costs on your house remodel.
Also Read: How to Unclog Sink
Increase Efficiency
If you can organize and equip your kitchen for optimum use, you may not need to demolish the walls to increase space. Replace inconvenient floor-level storage units with cabinet-height pullout drawers 8 inches wide that contain shelves for canned goods and other objects. If possible, place these within easy reach of the stove. Place frequently used items on open shelves that you can see and access easily. Utilize sliding trays inserted into cabinets for utensils, dishes, etc., so they are off the countertops but still close at hand.
Choose Manufacturer Products
You can cut down your house renovation cost by choosing manufactured products. Manufacturers are always in competition, so they offer large discounts to attract customers. You can get these goods at a comparatively lower price than the market price. Taking advantage of these discounts can help you cut down your house renovation cost.
Discounts are also available on fixtures and equipment, so choose them wisely. You need not pay full price even if the store owner offers it because discount coupons are always available at the manufacturers' sites. By taking advantage of all kinds of available discounts, you can save a lot of money on your house renovation.
Remodel rather than Replacing
If you want to save money, then go for remodeling your home. Rather than replacing or demolishing the home and erecting a new one, you always recommend that you remodel your old house. You can save a lot of money if you go for household renovation rather than complete demolition of your house and its erection again. If you want to maintain some rooms as your storeroom, then go for it. Some minor changes like some new paint and fixtures can save a lot of money on your house renovation cost.
Increase Efficacy
Rather than creating a big hole in the walls for a window, you can install light bulbs in the house. Installing motion sensors is also a good idea. You can save a lot of money on your house renovation cost by installing efficient lighting rather than creating large holes in walls to install lights.
If there is ample light in your house, it will not be necessary to install too many lights. And if you want to install a window, you can opt for manufactured windows. You can also save money by installing a skylight or a french door.
You can also save a lot of money if you go for the removal of carpet and installing tiles. Tiles are durable, easily cleaned, and cost-effective compared to carpet.
See Also: Carpet Cleaning Tips
Be Patient in Decision making
If you want to cut costs on your house renovation, patience is the key. It would help if you did not make any hasty decisions as it would cost you a lot. If you are getting quotes from various companies, be patient and select those that suit you. Do not hurry up in making decisions, as it can end up costing a lot of money on your house renovation that might not seem worth it at the end of the day.
Conclusion
Renovating your home can be a daunting task, but by following the tips in this article, you can save yourself a lot of money. Whether you're looking to remodel your kitchen or install new windows, these tips will help you get the most bang for your buck. Be patient when making decisions and take advantage of discounts offered by manufacturers. And above all, remember that renovating your home doesn't have to be expensive – with a little bit of creativity, you can achieve the look you want without breaking the bank.
FAQs
How can I reduce the cost of remodeling my house?
Before starting the renovation process, always make a budget and stick to it. Plan accordingly, if possible, do the renovation by yourself, choose manufacture products, install efficient fixtures and lighting. Follow the above-mentioned points to save a good amount of money.
What should I spend and save when renovating?
There are multiple options available to spend and save while renovating your house. Such as, invest in good kitchen cabinetry, saving on ironmongery, lighting, and spending on fixtures, save on furniture.
Is it better to remodel or build a new house?
If your home needs repairs, make those changes first. If your house can be salvaged with several repairs and is not in major disrepair, it is most cost-effective to remodel. If the repairs are too costly and extensive, you may want to consider building a new house instead.
What comes first in a home renovation?
Experts agree that it's usually the wisest move to renovate your kitchen or bathroom first. While kitchens are more expensive to redesign than bathrooms, they provide a higher ROI, meaning that they ultimately pay for themselves over time.
See also: 24 Best Bathroom Colors
What's the difference between a renovation and a remodel?
The distinction between them is that restoration involves bringing something back to its original condition, whereas a remodel implies creating something new.
Also Read: Guide to Remodeling Permit | Attic Remodeling Idea