10 Small Backyard Ideas on a Budget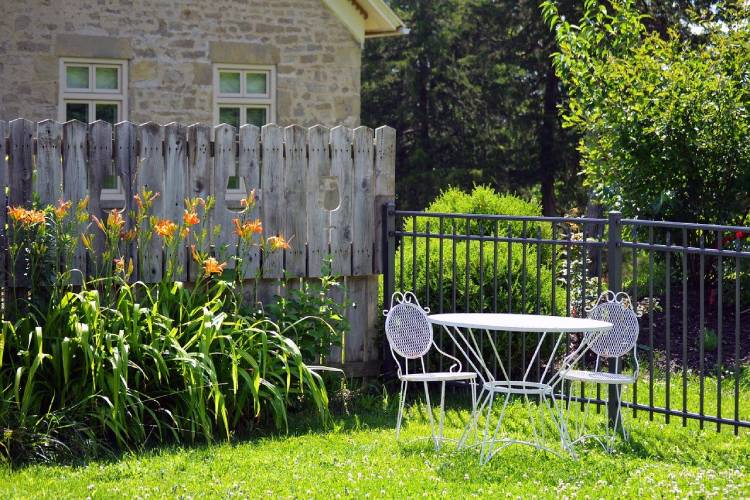 Every homeowner desires a visually appealing landscape in their backyard that is ideal for relaxing and enjoying the beautiful sky and cool breeze while sitting on a chair surrounded by beautiful plants.
For your exterior improvement needs, here are ten inexpensive landscaping ideas for small backyards that will help to improve the appearance of your current backyard. Despite its small size, your backyard can benefit from several innovative and cost-effective ideas. Some of them are listed below.
Use Mulch substitutes
Mulching saves a lot of time and money by reducing the water and weeding required in your garden, but mulch can be costly. As a result, using an inexpensive mulch alternative is one of the best budget backyard ideas.
Low-Cost Mulch Alternatives: Grass Clippings: Rake up the clippings – and the savings – and spread them on your flower beds the next time you mow.
Leaves: Shredded leaves are a great low-cost mulch alternative that provides nutrients to your plants.
Pine Needles: Pine needles are a low-maintenance, lightweight, easy-to-spread mulch alternative.
Recycle Old Tires
Tires are heavy and difficult to dispose of, as many waste haulers refuse to accept them. Why not use them in your backyard? Here are a few tire-based landscaping ideas for your backyard:
Landscape Design Using Recycled Tires
Cover with outdoor pillow casings or roping long-lasting, rustic patio ottomans.
Tires can be stacked and staggered to make decorative planters.
Fill one-half of a hanging planter with soil and attach it to a wall or fence.
Create an artificial garden pond with a tire as the foundation.
With a recycled tire climber, you can provide your children with a fun place to play.
See also: What Type Of Fence Is Right For Your Home?
Go Vertical With Your Gardening
Do you want to garden but don't have a lot of space or money? Consider creating a vertical garden. Simply put, vertical gardening uses vertical space to grow plants. Vertical gardens are the best place to start if you're looking for small backyard landscaping ideas on a budget. They not only make the most of limited space, but they can also be inexpensive, especially if made from recycled materials such as old plastic bottles.
DIY Vertical Gardening Concepts
For a rustic front porch vertical garden, use a wooden ladder, terracotta pots, and wire.
Wash old paint cans, fill them with soil, and hang them to make a vertical herb garden.
Make a vertical succulent garden from an old picture frame.
Waterproof an old shoe organizer to create a portable vertical garden. Make use of a few pot hangers and wood screws, and you can transform your wooden fence into a vertical garden.
See also: DIY Backyard Ideas
Add Vibrancy
This can be as easy as painting planters to give your garden a more modern look or as complex as repainting wood, metal, or plastic chairs. Use leftover paint from previous projects instead of purchasing new colors to save even more money on this low-budget backyard landscaping project. You can give it a vibrant look and add a quick splash of color by placing flowers or foliage on a deck, patio, at an entryway, or tucked into a planting bed.
Beneficial plants
You can save money on vegetables by growing your own in your backyard in the summer. With the use of a few terracotta planters and the proper placement, you can quickly turn your backyard area into a beautiful and functional space, from DIY herb gardens to bug-repelling plants.
Select Natural Perennial Ground Covers
Are you sick of weeding the lawn? Instead of weed killers, use densely spreading perennial ground covers. Consider the following low-cost perennial ground covers for your next backyard landscaping project:
Options for Low-Cost Natural Perennial Ground Cover
Creeping Periwinkle – $1.07 each
Walk-on-Me Thyme costs $3.99 per plant.
Moss Phlox costs $4.59 per plant.
Violets and Pansies – Seed prices range from $0.95 to $2.95 per plant; Early Snow Glories – $2.40 per plant
Construct an Outdoor Fire Pit
Smores over a fire pit is the best way to bring the family together. But you do not have to hire a contractor to install one; with just one quick visit to the home improvement store, you can set up your backyard campfire station in a matter of minutes. If you have rocks leftover from another project, making a fire pit with them is a great way to get rid of them.
Few low-cost ideas for making your DIY fire pit:
Budget-Friendly Fire Pit Ideas
Concrete retaining wall blocks – approximately $1.25 per block, total cost $50
Cinder block caps – roughly $1.50 per block, total cost $40
Concrete fire bowl – about $3 for one bag of concrete, for a total of $56.
A free dirt floor fire ring if you use natural stones from your woods
Make Use of Low-Cost Lighting
When it gets dark outside, and you feel it's too dark, you can install string lights to give your backyard a nice warm glow. Alternatively, you could try inserting some battery-powered LED fairy string lights into mason jars and hanging them from your patio cover. This can be a low-cost way to add a romantic touch to your patio.
They not only light up your backyard, but they also make you want to hang out on the patio at night when you want to relax. You don't have to cover your entire backyard in string lights because it would be too bright and raise your electric bill.
Cheap outdoor string lights are an essential component of low-cost backyard landscaping. Their soft, ambient light can transform any patio into a relaxing summer hangout. White twinkle lights are about $6 per strand, and clear globe lights are about $9 per strand for a more modern look. Though slightly more expensive, globe light strands are typically more durable than twinkle lights, and the bulbs are easily replaceable. After you've purchased low-cost bulbs, try out these low-cost landscape lighting ideas:
Ideas for Low-Cost Backyard Lighting
Wrap strands around outdoor pillars to create light columns.
Run lights from the house to the tree with an eye bolt and an insulated cable tied to a branch.
Using wood posts, whiskey barrel planters, and a little concrete, make Texas lamp posts.
Using rope lights, edge your flowerbeds so you can see your hard-earned blooms even at night.
Drape lights around your trees for a charming, glowing backyard grove.
Spruce up your wall
Starting with a lively lift on your wall, you can begin to decorate your backyard. If your wall looks a little boring and you feel like you need to do something about it, this idea could be just what you're looking for.
First, mount some planters on the wall to house your favorite greenery. This is an excellent method for growing plants, especially if there is limited space. Next, remember to keep the plants tidy by trimming them regularly. To replicate the look of a tree, try adding faux wood in the center. It may appear not easy, but it is pretty simple.
See also: How to Choose Exterior Paint Colors for House
Purchase (or construct) Low-Cost Seating
After you've completed your backyard budget landscaping projects, you'll want a place to relax and enjoy the results of your efforts. But there's no need to rush out to the furniture store when you can easily find used pieces online or make your inexpensive outdoor seating right at home.
A floating deck may be the best addition to your backyard that you should consider incorporating. It is an ideal location for outdoor gatherings. Making this floating deck is not that difficult. All you need is to set concrete blocks on gravel and ensure they are level. Then, install and square the beams by taking diagonal measurements and tapping one beam forward or back.
Ideas for Low-Cost Outdoor Seating
Look for used patio seating on Craigslist or Letgo. Check the "Free Stuff" sections frequently and be prepared to act quickly – good items sell fast.
Don't limit your search to outdoor furniture; regular indoor chairs or barstools can be transformed into patio-worthy seating with a bit of waterproof sealant.
You can't seem to find anything you like? Make your bench out of cinder blocks and lumber.
You can transform it into the ideal reading spot by affixing a waterproof cushion to the top of a tree stump.
Make a sturdy seat with storage for kids out of an old tire.
Fix weatherproof cushions to milk crates for portable, easy-to-store seating.
When all else fails, sling a few old logs around your new fire pit for convenient campfire seating.
Conclusion
Sometimes, it can be challenging to understand how to make the most of a small yard, especially when money is limited. We hope you found some inspiration and useful information in our list of garden design tips to help you revamp your garden without breaking the bank and create an extra relaxing space you can enjoy.
Frequently Asked Questions
How should I set a budget for a small garden design?
First, you must plan, sketch your ideas, measure the garden, and look for materials and reclaimed furniture. Set a budget, get creative on the cheap, and make the most of your space.
What is the best way to make a small yard look nice?
It is far easier to transform a small outdoor space than transform a larger garden. To make the most of your backyard, you need many inspiring design ideas like the ones in this guide.
What colors make a garden appear larger?
A light, cool-colored coat of paint can make a small landscape design appear larger. While bright, hot colors and darker shades can have the opposite effect. The same is true for plants.
How can a small garden be made taller?
One of the low-cost garden ideas for adding height to the landscape is to plant a tree, large shrubs, or vines for green walls. They can add height to your small space and shade and privacy. However, you would need to wait for some time until plants grow. We recommend choosing plants that proliferate and require little care.