Pool Remodeling: Things to Consider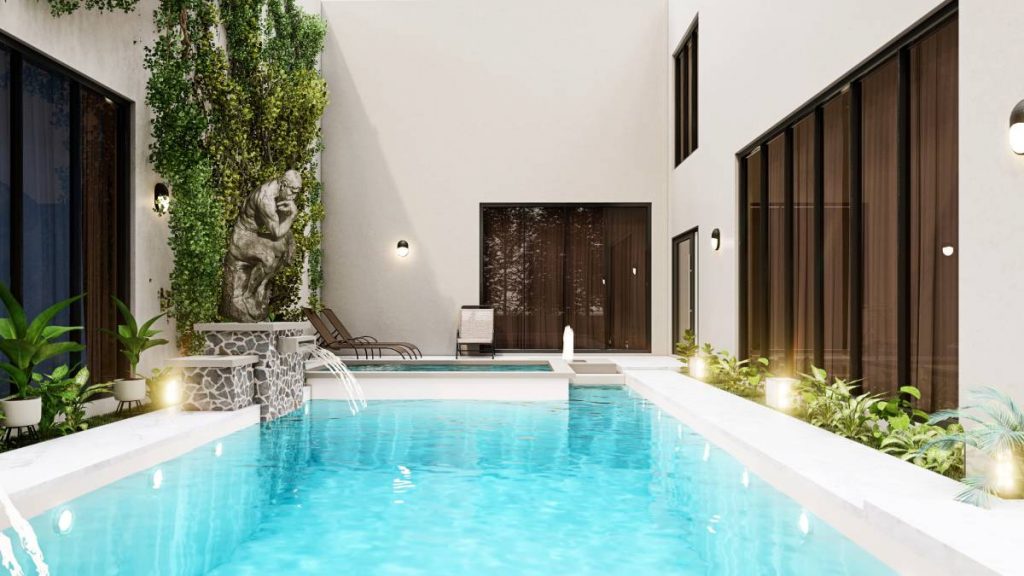 An outdated swimming pool can be revitalized with a pool remodel. Whether you're replacing your tiles, enlarging your pool, or simply upgrading your pump and filters, a makeover may give your space a new lease on life.
Although it's tempting to dive right in, wanting to complete as quickly as possible so you can get back to enjoying your pool, it is, however, a major undertaking. No one can deny that making your pool swimmable as soon as possible is the goal, but planning is crucial.
How can you tell when it's time to renovate?
There are numerous reasons why you should remodel your pool. But, in general, every pool needs to be renovated sooner or later, regardless of whether the cause is minor or major.
Here are some elaborate reasons to know when it's time to makeover.
Leak. This is a major issue that requires your attention. If you've ever wondered why there's such a drastic drop in water level, that's already an alarming sign.
Outdated system. As a pool's essential mechanical equipment ages, it is more likely to be replaced. To function properly, you must refurbish your pump, filter, and plumbing.
Out of fashion. Perhaps you installed your pool years ago, and its design is now out of date. It's past time for you to meet your needs and raise those modern standards.
Materials that have deteriorated. Because of its frequent use over the years, its tiles, decking, and lighting are worn down or no longer functional.
A dry atmosphere. Perhaps you have allotted a larger budget this time than the last time you installed it, where you lacked some features and other services. Try to include some entertaining and stimulating elements to make it more enjoyable.
Allowances. Because of your small pool, you may have difficulty hosting special occasions where you cannot accommodate the number of guests. Or your children may be becoming more eager to use this area, and you're concerned for their safety.
See also: Pros and Cons of Buying a House with Swimming Pool
Things to Consider Before Beginning Pool Remodeling
Before you begin your pool remodeling project, there are a few things you should be aware of. Ensuring you understand your project and its entails is critical for completing it quickly and efficiently.
Can You Remodel Your Pool Yourself?
The vast majority of us most likely overestimate the scope of our DIY abilities. It can be difficult to admit that you require outside assistance at times!
The most important thing to know before you start dismantling your outdoor pool is whether or not you can do it yourself. This isn't a 'yeah, I can manage' type of do-it-yourself project. You need to know if you can do it efficiently and easily on your own. It's easy to believe that you can wing it through a remodel using a combination of internet resources and YouTube lessons. That one, in an instance, promises a pool renovation in three days, which is unquestionably ambitious. However, attempting to remodel a pool on your own without extensive training is probably a bad idea. If you are going to do it yourself, you should be aware of the requirements.
Also Read: When Do You Need a Permit for Your Remodeling Project?
What Skills Are Required to Do It Yourself?
If you intend to go it alone, you must determine what skills you will require to complete the project. Dissect the work that needs to be done and consider what training or skills you will require to finish it all. If you can handle all of this, you should proceed independently. If you cannot do so, you should consider enlisting the assistance of a professional.
Is it necessary to hire contractors?
Most people lack the necessary experience to take on such a large project. You should consider whether doing it yourself will save you enough money to make it worthwhile. If you hire someone from outside to assist with your pool remodel, who will it be? You can hire general contractors while remaining actively involved in the project. It's also possible to hire experienced pool remodelers. This route may appear to be more expensive on the surface, but it will almost certainly save you money in billed time through efficiency.
Related: How to find a House Remodeling Contractor
What is the Purpose of Your Pool Renovation?
One critical consideration is why you're proceeding with a pool remodel. For a better pool, this may appear self-explanatory. However, things aren't as simple as that.
Are you attempting to expand your pool? Are you merely trying to make it look nice? Do you want to improve the system in your pool? Do you want to reduce your maintenance costs? How do you fix a pool that hasn't been well-maintained? This is a lot of questions, but you should have an answer before you hit your pool with a sledgehammer.
If you need to remodel your pool due to wear and tear from breakages, you should think about changing your maintenance routine. Most pools incur significant wear and tear, but if you require a pool remodel soon after installation, your wear and tear may be greater than average! A professional pool maintenance service may be beneficial in keeping your newly renovated pool in good condition. If you only want a cosmetic change, the reasons for a remodel should be self-explanatory. However, you should still become acquainted with proper pool cleaning to keep your new pool in good condition.
How Much Will a Pool Remodel Cost?
Before you dive into a pool remodel, you should know how much it will cost. As a remodel progresses, this can snowball, so having a budget is critical to getting things done.
You can get a ballpark figure by researching the average prices charged by contractors for these services. If you're hiring a pool remodeling service on your own, you can request a quote. If you're doing it yourself, you'll need to estimate the materials you'll need by measuring your pool. You must also consider how long it will take you to complete the remodel. Your time is not free; you must consider the cost of doing it yourself versus hiring outside help.
Once you've established a firm cost for either doing it yourself or hiring someone, you should add a little more to that estimate to account for any mishaps. While your pool remodels may go smoothly, issues may derail it.
When Should You Begin Remodeling Your Pool?
When to begin pool remodeling is critical to the project's overall success. It is pretty easy to get caught up in the trap of renovating at the last minute.
Summer is approaching, so you decide to make an effort to get your pool in top shape for the busy season. Sounds fine, but this is about the worst time to start a pool remodel.
When you want to begin, you should plan ahead of time. When hiring outside contractors, you must consider their availability and cost. Pool renovation workers are frequently busiest at the start of the summer, and their prices reflect this.
Even if you're doing it yourself, the physical labor in the sun might be better done in the milder spring, so your new pool is ready for summer. Starting your pool renovation in the spring allows you to get it done and completed before the time you'd normally open your pool for the season.
The State of Your Pool
Before you begin making cosmetic changes to your pool, you should ensure that it is in good condition. It does not have to be in the best possible condition. After all, you're remodeling for a reason.
However, everything under the hood must be in good working order or be on your list of things to fix as part of the remodel. You must ensure that your pool is free of leaks and other major issues unrelated to the area you're remodeling. Having undiscovered problems when you're starting to remodel your pool will only lengthen the time and cost of the project. If repairs are required, they can be included in the cost of your pool remodel.
Your Pool's Maintenance
When remodeling a pool, consider how you will care for your pool after the remodel! Sure, it's not as serious as recovering from surgery, but your pool will require some aftercare. If you have new equipment installed, you should maintain it. This is necessary to keep it in good condition. If you've remodeled your pool cosmetically, you should be familiar with the best practices for keeping it clean.
A pool can be fantastic, but it won't last long if you don't maintain them. You want your newly renovated pool to remain in excellent condition for the foreseeable future. Professional pool cleaning services can assist you in keeping up with this type of maintenance. When you've completed major renovations, it's time to ramp up your care to keep it in that condition.
Also Read: Swimming Pool Removal Guide
What are the advantages of the renovation?
Security. This, We believe, would be everyone's primary consideration. Of course, you'd feel more secure swimming if you knew in your heart that everything around you is in good working order because it's new and updated.
It saves you money. You should know that installing a swimming pool is a costly investment. However, renovation can be much less expensive because you replace or repair what you already have. And by doing so, you're lowering the cost of future maintenance.
Extending the life of your pool. Possibly the most significant benefit that your pool can receive is an increase in its lifespan. It's the same as saying, "when you allow a healthy living in your body system, you add years to your life."
It is energy efficient. When you ensure that your pool's system, such as the pump, heater, filtration system, and so on, works properly, you can control and limit energy consumption.
Conclusion
If you've thought about all of that, you're ready to start remodeling your pool. It won't be an easy-going task, requiring extensive planning.
However, if done correctly, your reward will be a pool that feels brand new. A pool remodel is the best way to bring your standard pool up to date; however, make sure you do it correctly.
Frequently Asked Question
Is it possible to redesign an existing pool?
Yes! You can change the shape and depth of your pool by remodeling it.
How long should it take to remodel a pool?
Simple pool renovations can be completed in a week or less. Larger jobs could take months!
What should you do first when remodeling?
The first thing is to make sure you have enough space around the pool to remodel it. When you're ready to begin, drain the pool and start preparing for the remodel!
Is it costly to reshape a pool?
In most cases, yes. Among other things, reshaping a pool entails replacing the entire pool lining.
See also: How Much Does a Swimming Pool Cost?