10 Monthly Home Maintenance Tasks You Should Be Doing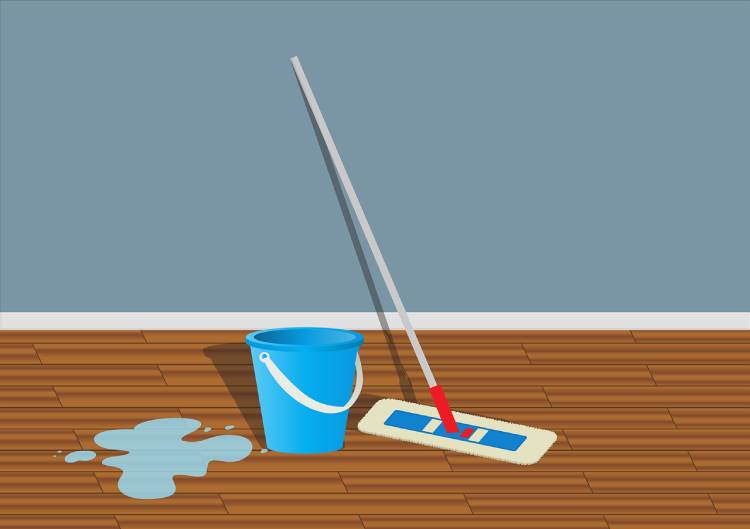 The weather is finally turning to warm, and you've decided that it's time to bust out the paintbrushes, patio furniture, and lawnmower. Sadly, the grass isn't getting cut all by itself! But to keep your home running smoothly through springtime, you should be aware of this list of monthly tasks that are probably already on your "to-do" list but may be falling behind as busyness increases as the weather gets better.
Here are ten monthly maintenance tasks that should be done.
Clean the gutters and check for damage
Repair or replace weather stripping around doors, windows, and vents. Check the air filters for your heating/AC unit. Make sure that all outdoor hoses are free of cracks and leaks. Clean the leaves out of the rain gutters. Inspect your roof for any damage or missing shingles. Check under sinks, behind toilets, inside closets, etc., for any water leaks. Check the sump pump and make sure it's free of debris to check the drainpipes for any clogs.
To complete these tasks, you'll need several tools: a ladder, sponges, rags, buckets, screwdrivers, and maybe even a drill with some different bits plus safety goggles and gloves. You can purchase most of these tools at your local hardware store or order them online.
Don't forget to check the weather before you go out and clean those gutters! If it's rainy or windy, then put that task off for another day. Also, keep in mind that many of these tasks need a period (such as overnight) to finish the job, so plan accordingly. The more often you complete these tasks, the less work you'll have to do in a single day and the longer your home will last.
Inspect the roof for missing or damaged shingles
The last thing you want to happen is for your home's structure to be damaged by weather or wear and tear, so keep an eye (and ear) on it! If you hear any strange noises coming from your roof, attic, or walls, then make a note of what time the sound happened and call a professional right away. Sometimes this sound can be harmless, but it could also be your home's way of telling you that there is damage or a potential problem.
Take a deep breath and enjoy the fresh air coming in through your open windows. And if you see any problems, don't hesitate to take care of them right away! It may seem like a small problem now, but that means it will grow into a larger one before long.
Snap Snap Snap away overgrown bushes and trees!
As you enjoy your yard's improved appearance, remember to keep it looking great by fertilizing your grass and planting new flowers. Don't forget shrubs and trees! Springtime is a wonderful time for fall cleanups as well, so take a few minutes to pick up all those leaves, sticks, and other debris strewn across your lawn. The faster you get rid of them, the better, so they don't pile up and become a fire hazard.
It's a great feeling to have everything looking nice, but after the yard is cleaned up, don't let it go back to its messy ways. Invest in some cedar planters and place them around your front and back doors to keep that fresh look going through the spring and summer months. Make sure they're filled with soil, and you can also place your favorite flowers in them to add a personal touch.
Also See: Benefits of Having Indoor Plants
Make sure all exterior hoses are free of cracks or leaks
It's time for you to check all the faucets around the house, not just the bathroom sinks. Turn off one of your outside spigots and attach a hose to it so that water doesn't come out. Turn on the hose and check for leaks by placing your thumb over it to see if the water pressure shoots up. If so, then you have a leak that needs immediate attention. You can also place a little food coloring in your sink, then check the hose to see if any color comes through. If it does, then there's a leak!
There are some great repair kits out there for this type of problem, so do some research online and determine which one would be most effective for your situation. Remember not to try and fix it yourself if you don't know what you're doing.
See Also: How to Choose Exterior Paint Colors for House
Sweep and mop up floors and clean all surfaces
Now that you have a clean home keep it that way by sweeping up all dirt and debris from your floors. Vacuum the carpets, if possible, to ensure any food or particles tracked inside aren't going to be ground into the flooring. In addition, wipe down any surfaces in your kitchen and bathrooms because what's hiding in those corners and crevices could cause a major problem.
When you're doing your spring cleaning, don't forget about the oven! Please turn it on to 350 degrees and let it sit there for at least an hour so that anything stuck inside can get burned up. This is also a great time to take out the burners and grates and soak them in warm, soapy water to eliminate any food stuck on there.
You can also apply this same method to getting rid of the stove's crusted-up mess—just let it sit for about half an hour before wiping everything clean.
Also Read: Tips for Painting Concrete Floor
Vacuum the carpets and furniture
Spring is a popular time for moving to a new home, but before you go anywhere, make sure your old place is looking its best. Like with exterior cleaning, the more thorough you are in your indoor cleaning, the longer that fresh feeling will last. Make sure all appliances work and that nothing needs repair. And when it comes to furniture, don't neglect the following areas:
dust every surface, including windowsills and shutters
vacuum underneath cushions
gently remove cobwebs from ceilings and door frames with a broom
In addition to all this, be sure to clean out your closets. You never know what you might find back there, so take a few minutes to go through everything and get rid of anything you don't use anymore. And once you've cleared out the clutter, vacuum up all those loose pieces before putting things back in their rightful place. You can also refer to our article on Carpet Cleaning Tips.
Change out air filters in your furnace and air conditioner
You just finished your spring cleaning, and now you're ready to move on with the new season. But before you do, check out those air filters in your furnace and air conditioner. If they look dirty or feel clogged, then it's time to replace them with a fresh one. Once that's done, make sure all vents throughout the house are open. If you've never replaced your filters before, then your unit might be making strange noises; if that's the case, search online for tutorials to find out exactly how to do this safely and effectively.
Wash all towels and sheets
If you haven't washed your towels yet this year, it's a great time to do so since spring cleaning has just been completed. Make sure they're clean by checking the tags or have someone else smell them if you don't trust your sense of smell anymore. In addition to regular bath towels, throw your bedding into the mix because it's just as important to keep that clean. Wash all these items using warm water and make sure they don't contain any fabric softener; aside from clogging up your machine, this substance leads to less absorbency over time.
Check for loose electric cords
Now that winter is behind us, and you're back to doing household tasks like cooking, it's time to check the cords around your kitchen. If they feel loose or you notice that two prongs aren't connected, then get a screwdriver and tighten them up, so there's no risk of someone getting hurt while digging in the pantry. This may seem like a small task, but loosened cords can cause fires and even electrocution if left unplugged.
Change smoke detector batteries
Once you've cleaned things up and finished moving your stuff around, it's always a good idea to check in on the smoke detectors around your home. If you have hardwired alarms, then the batteries should be replaced once a year; otherwise, you can change them out every few months. This is especially relevant during the winter when things like chimneys and fireplaces are used more often.
Also See: Monthly Home Maintenance Checklist | Winter Home Maintenance Tips | Ways to Cover a Brick Fireplace
Conclusion
Monthly home maintenance tasks are important for keeping your house clean and organized and for safety reasons. Checking air filters, changing smoke detector batteries, vacuuming carpets and furniture, and washing sheets and towels are essential tasks that should be done regularly to ensure a safe and comfortable home environment.
FAQ's
Why do electric cords become loose over time?
Electric cords naturally become loose over time due to usage and weather changes. Loose cords can lead to fires and other accidents, so it's essential to check them periodically and tighten up any loose areas where two prongs don't connect.
How often should you change your smoke detector batteries?
Battery changes vary from the smoke detector to the smoke detector, so be sure to check the instructions or refer to your user manual for specific information. Most homeowners should change batteries every few months.
How often should you replace air filters in a furnace?
Air filters in a furnace should only need to be replaced once a year. If you have allergies or other respiratory problems, then it's recommended that they are changed more often.
What kinds of items should I store in my pantry?
Storing food and dry goods is highly recommended for those with limited space and those who enjoy cooking frequently. Most pantries should be decorated with dry goods like pasta, rice, cereal, snacks, etc., and organized with clear bins to ensure easy access while you're cooking.
What are some benefits to changing sheets and towels during spring cleaning?
Changing your sheets and towels is the perfect time for spring cleaning because it's also when allergies begin to pick up. Changing out these items will have your bed smelling fresh, which will reduce sneezing throughout the year. Additionally, this is a great opportunity to go through your linen closet and rid yourself of any old towels you're no longer using in favor of new ones.
See Also: Home Cleaning Services to Use When Moving | Monthly Home Maintenance Checklist