How to Decorate with Washi Tape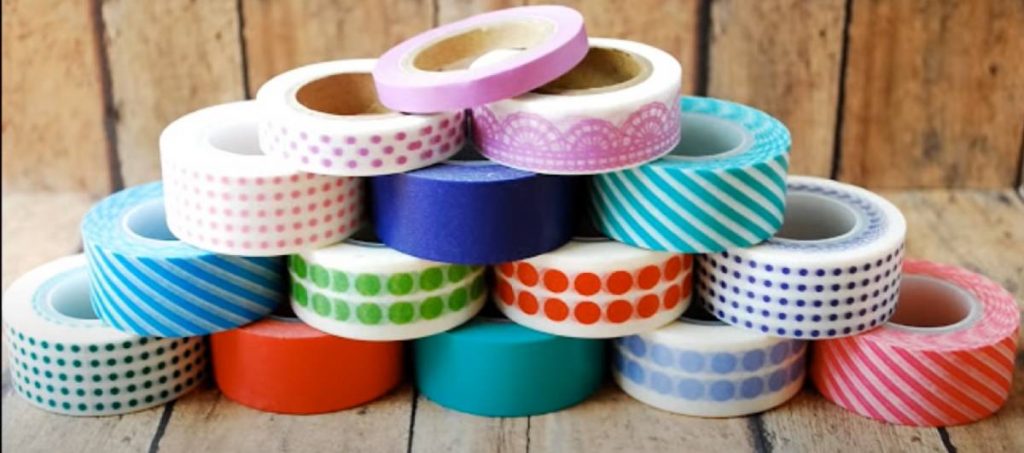 You have probably heard of washi tape or seen a few of the thousands of washi tape projects on Pinterest if you are a crafter. Those unfamiliar with washi tape may be wondering what all the fuss is about and how they can incorporate it into simple crafts to beautify their living spaces. Fortunately, we're here to answer all of your questions.
Washi tape is a pretty, decorative masking tape made of paper. It is thin, long-lasting, made of natural fibers like hemp and bamboo, cheap, and available in hundreds of colors and patterns. The tape adheres easily to various surfaces, including wood, plastic, and metal, and it is simple to remove without causing damage.
Let's look at different types of Washi Tapes
There are many different types of washi tapes on the market. When using them, you can be as creative as you want. On the other hand, certain washi tape patterns can transform a simple project into a show-stopper. Here are a few different kinds you can use for your next paper crafting or DIY project.
Stripes
When looking for washi tapes online or in-store, you will find a wide variety of stripes. There are stripes with a white background, such as pink and white, green and white, black and white, etc. Then there are a few black-based stripes: black and blue, black and green, black and yellow, etc. Every combination has its look and vibe. Yellow and white, for example, create a vibrant and happy atmosphere. Using these washi tapes in your living room can help to create a positive atmosphere. Stripes are different from plain tapes, but they have a distinct presence. You can use them in your living room, journals, and various other places.
Checkered
Checkered washi tapes are one-of-a-kind in their own right. This is because you can use these tapes to give your boring old book a new look. Purchase washi tape in your favorite checkered pattern and use it as a border for your book or notebook. If you have a plain hardcover, you can make stripes of these tapes to give them a unique look. There are small and large checkered tapes available; choose one that complements your overall design.
Cityscapes
These craft tapes are a little different from the rest. The vast array of online cityscape tapes makes it difficult for most people to choose one. Many people prefer cityscape tapes when looking for washi tape scrapbook designs. This is because these tapes look great with your book and make you want to use them like a scrapbook. A glance at the cover will entice you to read the book. Cityscape is an excellent choice for all wanderlusts and people who enjoy traveling. Cityscape tapes have a spectacular and splendid appearance. They have the ideal color saturation, quality, and overall design. If you and your friends share a passion for travel, you can make scrapbooks using different cityscape tapes.
Floral
Nature has a big influence on any artist's work. As one of the natural elements, Flowers significantly impact artworks. Flowers represent tranquillity, sincerity, and subtlety. Floral washi tapes are used in various cards, including thank you cards, congratulatory cards, and condolence cards. You can also look for DIYs to learn how to use floral tapes creatively. Another eye-catching and straightforward way to use flower washi tapes is to dress up a plain gift bag. You can use the tape to make borders or a design in the center. Often, you must send cards and gifts to people who are not particularly close to you. These tapes are the most effective for them. You don't appear formal or informal, and you can easily convey your gesture.
Special design
You can combine 2-3 sets to make a unique design and hang it on your cupboard, bedroom wall, hallway, or any other suitable location. Make a black washi tape base and then adhere a gilded ombré washi tape to it. To improve its appearance, you can add stickers and other embellishments.
Advantages of using washi tapes
Aside from the fact that washi tapes can be used for various purposes, there are several other advantages to using them.
Easily accessible – These tapes can be found almost anywhere and everywhere. You can buy them online in a few clicks and have them delivered to your door.
Cost-effective – These tapes may be slightly more expensive than standard tapes. However, they are far more functional and long-lasting than standard tape.
Simple to use – These tapes can design or redesign an entire room. They are very simple to use. You do not have to be a pro in using them. You can be creative without getting your hands dirty.
Durable – You won't have to worry about these tapes getting ruined once you buy them. You can easily store them in your drawer, and they will remain unchanged for months.
Using washi tape to decorate
Washi tape is available in various widths, ranging from 7 millimeters to 50 millimeters. There are also 18-inch and 9-inch adhesive sheets available. Any size tape or sheet can be used to decorate, but MT Casa rolls and sheets are specifically designed for home décor. Some MT Casa products even have the appearance of brick, marble, or wood.
Here's how to use washi tape to add some easily removable flair to your home:
Walls
If you live in a rental or want some temporary color, you can add geometric designs, stripes, or borders to your walls. You can even add these washi sheets to a wall to make it look like it's covered in wallpaper. Are you feeling inspired? Use washi tape to create wall art, such as a jungle scene in the nursery, or to outline a cityscape on the wall.
You can also avoid nail holes by making a washi tape photo gallery. Rather than putting your photos in frames and hanging them on the wall, use washi tape to adhere your image to the wall, then create a "frame" around the picture. When you are ready to rearrange your photos, gently pull them off the wall, as well as the washi tape that's wrapped around them, and reapply.
See also: How to Paint Textured Walls
Windows and doors
Make your blinds stand out by adding washi tape to the slats or decorating the wand. You can also add some color by running a strip of washi tape across the headrail. Add a little visual bling with washi tape on the fabric if you have curtains. Apply the tape and lightly iron it in place for added adhesion. When you want to change the look of your curtains, remove the current washi tape and replace it with a new design.
Washi tape can also make your doors stand out. Add geometric designs, your child's name, or even sheets to cover the entire face to their room. Tape along the edge of the door for a more subtle look; the color will only be visible when the door is open. Alternatively, skip the door and emphasize your wall plates. Depending on the width of your wall plate and the look you want to achieve, one washi sheet can cover multiple wall plates, or you can use numerous strips from a roll.
See also: Choosing the Best Paint for a Steel Door
Furniture and accent pieces
Washi tape can be used to transform almost any piece of furniture. You can add a strip to the edge of a shelving unit, resurface a table, or liven up a dresser with colorful patterns inside or along the sides of drawers. You can transform a plain lampshade or a storage box into a decorative piece with tape embellishments.
The only limit is your imagination. Even better, you don't have to commit to a color scheme for the long term. Are you bored with the red tape on a vase? Replace the red washi tape with a green washi tape roll. It will certainly give your furniture and accents an entirely new look in no time and with minimal effort.
Also Read: Where to Buy Cheap Furniture
Kitchens and bathrooms
Washi tape can make a bold statement in kitchens and bathrooms or add a splash of color to accent pieces. You can apply washi tape to the entire surface of cabinets and drawers for a more colorful look or add bright patterns to them instead. Washi tape can also frame a mirror or trim a counter.
Color can also be added to these rooms with washi tape-decorated accent pieces. Wrap the tape around a kitchen utensil jar or a glass container filled with cotton balls in the bathroom. These washi tapes can also be used to decorate your recipe box, jazz up a tissue box, and add style to your barstools. Remember that washi tape is only semi-water resistant, so don't use it in or on areas that will get wet frequently.
Kids' bedrooms and playrooms
Washi tape works well in a child's bedroom or playroom because it is colorful and can be removed as your child's interests change. It can also be used on doors and window treatments in a child's room. Make a race track for your kid's toy cars or a hopscotch game on the floor with it. You could also use tape to decorate totes, bins, and shelves.
Another creative way to use washi tape in your children's room is to make a growth chart. When it's time to move, there's no need to worry about getting all of the marks off the wall; simply carefully remove the washi tape.
Conclusion
Washi tapes can act as your secret rescuer. They are capable of rescuing you from any craft or design disaster. If you are painting anything and have stained the desk, you can use these tapes to create a design and, ta-da! You have a new desk! These tapes are extremely useful and have a variety of applications. Only by using them regularly will you learn about their applications and benefits.
Frequently Asked Questions
Why is washi tape so popular?
Washi tape has taken over the market because there are so many different washi tape patterns and lovely colors that everyone can find washi tape to suit their taste. Everyone can find their favorite design and apply it to various mediums and applications, from classic Japanese washi tape designs to cute characters, botanical washi, vintage washi, floral arrangements, food, and more.
Is it possible to write on washi tape?
Because washi tape is made of paper, you can write on it. You can also write on it with any pencil, pen, acrylic paint, crayons, and other materials.
What is the best way to use washi tape in your planner?
There are many ways to use washi in a planner or bujo. Some people use it as an accessory, holding other scraps of paper, while others use it to create different sections and lines to write on.
Will it cause damage to the walls and surfaces?
Washi tape was created to be easily removed. It can be applied to almost any surface, including walls, and removed without residue. Peel it away from the surface slowly. Do not pull on it. The paint may come off if you yank the masking tape out, just like any other masking tape, especially if the color is old or chipped.
How do you apply washi tape to your scrapbooking and cardmaking projects?
Using washi tape, you can easily add a touch of detail to scrapbook layouts. Because washi tape is flat, it will not add bulk to your project. Unroll the desired amount of roll and place it where you want it.
How do you use washi tape to decorate?
Please choose your favorite design, unroll it, and place it wherever you want! Because washi tape has a low tack, it is also easy to remove from walls and furniture if you change things up.
See also: Teen Room Decor Ideas