How Much Does a Swimming Pool Cost?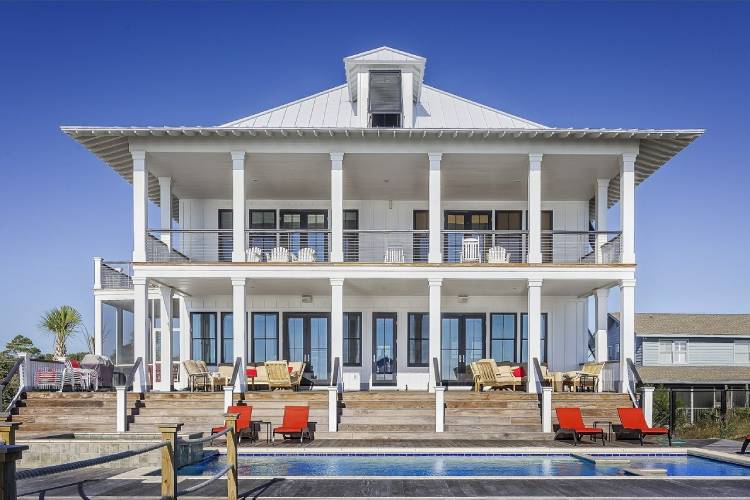 A swimming pool inside your house can surely be a good way to get some exercise, fun and hopefully becomes a healthy way to swim away from all your problems. While it looks tempting to get a pool built inside your house when you have the space for it, there are certain things you should keep in mind before you start digging for the pool and the cost of the endeavor is a huge factor. Regardless of if you have the funds or are still contemplating it, knowing the approximate cost of getting a pool built can certainly give you enough charity to begin the process.
A pool adds to the overall beauty and aesthetics of your house and can certainly be considered a great investment. Not only will you have your own private pool without the prying eyes of strangers but it will also give you your space to unwind and relax within the comfort of your own home. We will take you through some of the most popular kinds of swimming pools for your house along with how much money it takes to get them built, so, not only do you have a budget approximation but also thorough information about it in order to make a wise decision.
Types and Costs Of Swimming Pool
The world is filled with variety and there is no harm in looking at options before deciding what suits your home the best. This is true in the case of having a swimming pool too. While it is a wonderful addition to your space, different types of pools can cater to different needs and budgets.
Here are some of the most popular types of swimming pools for your house along with their budget approximations:
Inground Pools
An inground pool is the most common type of swimming pool in American households. To simply describe, inground pools are permanent structures built directly into the landscape. These pools come in great varieties – concrete, fiberglass, and vinyl-liner pools being the most common types of inground pools. Inground pools have various benefits that include opportunities to customize the size, shape, and style in order to create your dream pool. Americans prefer this type of pool in spite of them being costly because many inground pools can be designed to fit yards of any shape or size and can be tailor-made for any space requirement, such as diving or fitness swimming.
There are various accessories and features available for you to incorporate in your inground pool, such as diving boards, slides, water games, water fountains, and specialty lighting. Just be careful of the fact that the removal of an inground pool can be a big hassle and will cost you a lot of money and that the space after the pool removal will have very limited use which would cost you additional money and permits to harness. The total cost of an inground pool will vary depending upon the materials, size, and type of pool ranging from $28,000 to $55,000, or about $50 to $125 per sq. ft. with an average cost of $35,000.
Above-Ground Pools
An above-ground pool is the most cost-effective option for you if you want a pool but do not want any additional digging to be done to your backyard. Above-ground pools are usually installed on the surface of your yard, occasionally with a deck or patio surrounding them. These pools can be made of materials like aluminum, resin, or steel sidings with vinyl liners.
One big advantage of having an above-ground pool is the fact that you can save a lot on installation and even maintenance because of their flexible nature. You can assemble and dismantle this type of pool yourself or get help from retailers that offer delivery and installation services at comparatively low prices. An option in above-ground pools are temporary structures, so you can take them along with you in case you move. As stated earlier, above-ground pools are comparatively a lot cheaper, typically costing between $1,698 to $5,969. The overall cost may vary depending on the type and quality of the pool you decide to install.
Lap Pools
If the fitness freak in you did some mental laps just reading the name of this pool, this is the pool you should have inside your house. If you want a pool that is mainly centered around fitness, a lap pool can be a fitting investment for you. As the name rightly reflects, this swimming pool is specifically for swimming laps. Lap pools are usually long, narrow, and have a rectangular shape. Even if you do not have a gigantic backyard, you can still have a lap pool because they only need minimal space. Most lap pools offer at least 40 feet of straight, unobstructed swimming space to limit the need for frequent turns.
For a single swimmer, the width of a lap pool can be as little as 8 feet. As mentioned earlier, because lap pools are a type of inground pool, their construction process is similar to an inground swimming pool. Just keep in mind that the construction for a lap pool will be a lengthy process for which you might also need legal permits. The cost of installing a lap pool can vary based on factors like the size, materials, features, and your budget, but on average, a lap pool might cost you around $43,800. The cost also varies based on the company you hire to build your pool so do some research before finalizing a service provider.
Infinity Pools
A luxury hotel with a view to die for and an infinity pool to highlight the view – sounds like an ideal vacation right? Many homeowners with posh properties and views prefer to convert this vacation into a reality by installing an infinity pool in their house! Because of their very precise market demand, infinity pools are often custom-made to highlight views of mountains, water bodies, or any other striking landscape features.
Infinity pools feature one or more walls with a vanishing-edge design, which sits just below the pool's water level in order to allow water to flow over the wall, creating the illusion that the water has no bounds, hence the name. This type of pool is often used on sites with a steep drop-off to showcase views. Infinity pools will cost you, well, an infinity but if you are considering this, we are hoping that money is not an issue for you. On average, infinity pools cost approximately $80,000, but the prices can vary depending on their size and shape. As the pool size increases, pool prices increase as well.
Hot Tubs
Imagine having a stressful day and craving a spa service to relax your muscles. You can achieve this at home with an installed hot tub. Hot tubs are small, heated pools intended for relaxation or hydrotherapy. The portable, above-ground version is typically called a hot tub but if you want it as an inground pool, it is known as a home spa pool.
Due to their smaller size, hot tubs and spas are comparatively less expensive to install and maintain but they also serve a very specific purpose and cannot be used like you can other pools. Most hot tub models cost around $500 and $6,500, with a standard-sized unit costing $3,500 on average without including installation charges. Again, the prices of installation can vary based on the company you hire but it can approximately cost you anywhere between $1,000 to $5,500.
See also: Pros and Cons of Buying a House with Swimming Pool
Other Types Of Swimming Pools For Your Home
We hope that you are able to find something that suits your budget and requirements in the pools we mentioned. However, if none of those work out here are some more options for you in case you want to explore more before making a final decision:
Small pools or spools
Cocktail pools
Swim spas
Leisure pools
Commercial pools
Things To Consider Before Building A Pool
Know that you will need to have a separate budget for your pool maintenance as it will be an expensive affair.
It is very important to get a permit before you decide to build a pool inside your house. Many states have very specific guidelines surrounding it and in many cases, getting the permit will also cost you some money, so be prepared for that.
You will need to buy pool equipment for small jobs and these equipment are mostly expensive.
A swimming pool can easily become a safety hazard if you are not careful or cautious around it, especially with regard to pets and kids.
A swimming pool can easily become a host for unwanted animals from the wild and even insects and birds if you are not careful enough.
You will probably need to build a fence to protect your yard from unwanted visits from animals which will be an additional expense.
A swimming pool can sometimes decrease your overall house value and make reselling difficult because many homeowners see a pool as a liability.
If after a point you decide to remove the pool, the space will become useless for the most part and will also cost you a lot of money and time to use.
See also: Pool Remodeling: Things to Consider 
A swimming pool can be a great accessory for your backyard which can also act as your personal party venue but it comes with its own set of hassles and issues. If you think the pros outweigh the cons and are committed and equipped enough to be able to maintain a pool, you certainly can go ahead and start building one. We have tried to include all the information that you will primarily need to begin making up your mind and decide the kind of pool that will grace your backyard and brighten your days. We hope that this article has given you the clarity you need to decide which type of pool fits within your budget and requirements.
See also: DIY Backyard Ideas
FAQs on How Much Does A Swimming Pool Cost
What Type Of Pool Is The Best?
The best type of pool is the one that fits your requirements and budget. Generally, a leisure pool made of fiberglass is the best available swimming pool structure because it fits in with the majority of customer requirements. If you are on a budget, we would suggest you look at fiberglass pools over above-ground or vinyl liner pools as these are space-consuming and expensive.
How Long Does It Take To Put In A Swimming Pool?
Installing a swimming pool in your backyard is a big project that requires planning, time, and funds. Many factors can affect the overall time that is required to put in a swimming pool but on average, a backyard swimming pool can be built successfully between 8 to 12 weeks. The time taken more or less depends on the scope of the project and the efficiency of the labor.
What Is The Lowest Maintenance Pool?
High maintenance is one of the biggest issues among many homeowners with a swimming pool in their houses. If you are looking to install a pool that has the lowest maintenance cost, you should definitely go for a fiberglass pool. In spite of having the highest upfront cost, a fiberglass pool has the lowest maintenance cost. These pools are a one-time investment because maintenance is going to be a lot smoother as compared to other types of in-house swimming pools. Fiberglass pools are quick and easy to install but come in a standard size and cannot be customized.