Carpet Cleaning Tips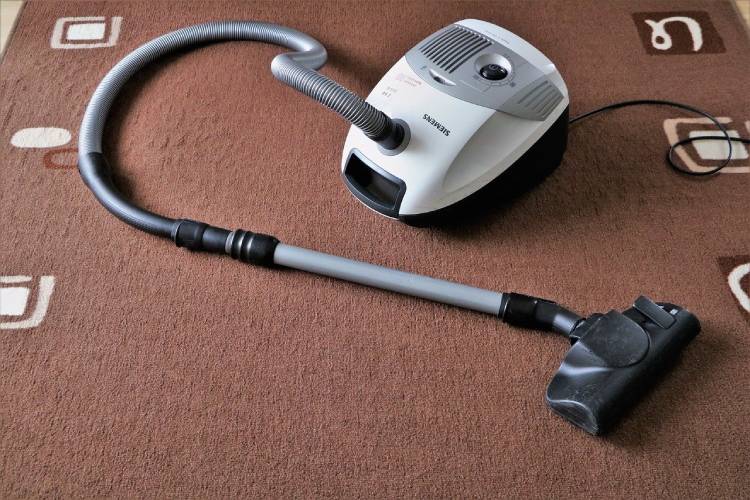 A beautiful carpet – that's all it takes – to throw life into a dull room. But, like it always happens with all good things, there comes a time in a carpet's life when it has to go through hard times. Stains, dust, dust mites, moisture, mold, and whatnot – every carpet gets dirty by absorbing one or the other. If you opt for a professional carpet cleanup, the average cost for a 1000 square foot home is $250 ($0.25 per square foot), which is quite expensive. You can save $250 (or more if you own a large home) by simply using the carpet cleaning tips that we present here.
Regular Care
Just like everything, carpets need regular care. They need to be cleaned once a week, preferably by a vacuum cleaner. Here is how you can perfectly vacuum clean your favorite carpet:
Selecting a proper vacuum height is the first thing. The height shouldn't be too low, or it will suck the carpet hairs, and it shouldn't be too high, or it will not be able to suck dust.
When vacuuming, don't be in a hurry. Remove all the furniture above it, and then take your time to clean it.
The dull areas of carpet are areas with the highest dust and debris. It would be best to vacuum over them twice or more than that.
You need to vacuum more frequently in a week, twice or thrice, if you've children or pets in the house.
If you want to collect pet hair from the carpet, use a squeegee with rubber edges.
For picking up crumbs and solids, keep in hand a lint roller and use it when needed.
Use a broom or carpet sweeper if you can't arrange for a vacuum cleaner. You can also scrub and wash or beat the life out of that rug to get rid of dust.
Baking soda – the king of DIY, a must in almost every project – you can spray it over your carpet, and it will absorb all the odor and oily stains, and then vacuum it.
Also Read: Tips to get rid of Bed Smell at Home
Stain-cleaning
No matter how hard you try, you can't always protect your lovely rug from getting stains. As soon as that beautiful carpet gets stains, it starts looking ugly. But we're here to your rescue, and here is what you want to do to remove stains from the carpet.
The most crucial point is that you should clean it as soon as you get a stain. The longer a stain stays, the greater time it gets to react and get inside carpet fibers.
If you have a liquid stain, use a white cloth or paper napkins and put them on the stain until they soak up all the moisture.
If you dropped your food, please never be so dumb as to rub it. Instead, use a spoon or dull knife to lift it up and then apply solvent-detergent of a 3:1 mixture of water and vinegar.
Just put a towel after applying the mixture and heat it with an iron so that the towel absorbs all the moisture and stain.
Remember that blotting is what you need to do to remove the stain; you shouldn't rub if you want to remove stains from your carpet.
Have you spilled your nail polish or ink? Use nail polish remover or rubbing alcohol to blot the stain. Believe me; you won't bleach your carpet.
Using carpet-shampooer
If you rent a carpet shampooer or you own one but don't know how to use it, we can tell you how to use a carpet shampooer.
Read the instructions before starting. Observe the machine carefully and all its buttons and settings.
There are two types of shampooers, you need to push the first one like a vacuum cleaner, and you need to pull the other type. Check which one is yours; they don't work if you do it other ways.
Start pouring water into your machine, preferably hot, and only fill up to the allowed limit. You can remove the tank in some machines, and others come with a fixed one; check for this too, or you might break apart by exerting unnecessary pressure.
Time for adding soap; use the soap designed for your machine; every machine doesn't use the same soap. Usually, there is a separate compartment for adding soap, but if there isn't one, then that means you've to add the soap directly into the water.
A shampoo can clean your carpets even without soap, so you can use your mind and put as much as you feel is right.
When you finally start the machine, don't move in a zigzag way; define a path beforehand and follow it. The perfect way is to start from the corner of a room and then walk along the wall until the end and then make a U-turn.
Please don't rush the machine; walk slowly, and let it do its work, deliberately. The middle speed would be a stepper second, more or less. Remember, the slower you move, the better the machine cleans.
If you suddenly hear rusty sounds from the machine, stop immediately. Some indicators tell you about the filled tank if you just see it. They show that the dirty water tank is full and needs to be emptied.
Empty the dirty water and fill in clean water. You may have to repeat these steps often before thoroughly cleaning your carpet.
See also: How to Protect Floors and Carpet When Moving
FAQs
How do I clean carpet stains?
If it's a solid stain, first carefully remove the object using a dull knife or spoon. Then, put a 3:1 mixture of water and vinegar of solvent-based detergent over the stain and blot the moisture away. For liquids, simply use the blotting techniques of the solids.
How do I remove ink or nail-polish stains?
Blot the nail polish or ink stains using rubbing alcohol or nail polish remover, and don't worry; it won't bleach your carpet.
How should I remove pet hair from my carpet?
You can use a rubber-edged squeegee to remove your favorite pet's hair from your favorite carpet.
How do I clean my carpet without a vacuum cleaner?
If you don't own a vacuum cleaner, simply use a broom or carpet cleaner to clean your rug. Also, you can beat or shake your carpet.
How do I correctly use my carpet shampooer?
Read instructions before working. Fill water in the "clean water" tank only till the limit. Check whether your machine is designed to clean forwards or backward and walk so. Empty the dirty water tank after it gets filled and again fill the clean water tank. Repeat these steps until your carpet gets a bath.
To Sum up
As we learned, carpet cleaning isn't as hard as it looks. All you need is a little passion and the right strategy to clean your rug and save money from professional cleaning jobs. However, if all this job seems tedious to you, you don't have enough time, or your carpet is way too dirty, you should go for a professional deep clean because no one can get it done like a pro. But again, for the DIY gang, we got you covered!
Also See: How to Clean a New House | Top Deep Cleaning Services in the USA | Home Maintenance Tips