Best Gaming Room Ideas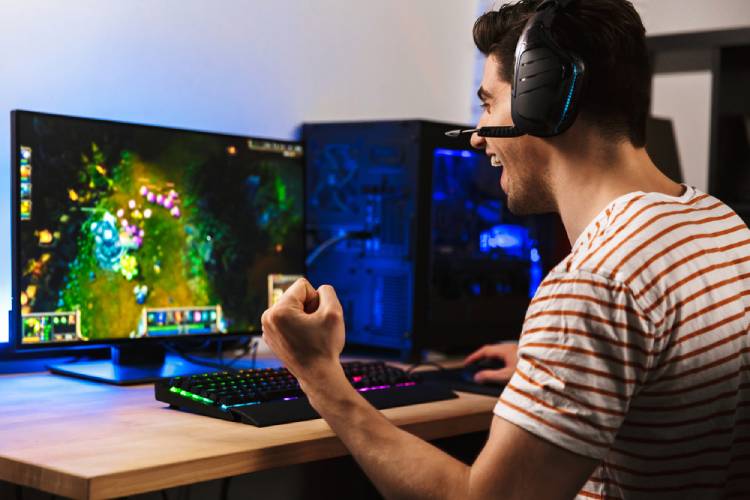 Whether you play games as a passion or as a way to let off some steam, it always is an immersive and joyous experience. It's a therapy of sorts. So, to get the most out of it, you must pay attention to the surroundings and build an atmosphere that truly improves your experience. For some, gaming is a distraction from everyday life and for some, gaming is life! The best part about gaming is that you can still be connected to anyone in the world while being physically disconnected from everyone.
A gaming room is where you can be yourself and experience all kinds of emotions from happiness to rage freely, so don't be afraid to go all out while setting up such a room.
A Few Things To Consider While Setting Up Your Gaming Room
Room Size
Before deciding upon a theme and the gaming equipment for your gaming room, it's important to assess the size of the room you wish to set up this fantasy world in. If you don't have a separate room for it, make sure there's at least sufficient space for your console and a gaming chair.
Speakers
What good is a gaming experience if you don't have a good surround sound to elevate the thrill? This is one of the things you'll never regret investing a little more in. Be it the sound of crashing cars in Asphalt or the intense sounds of finishing punches in Mortal Kombat, good-quality speakers will always enhance your gaming experience.
Gaming Chair
While it's easy to get lost in the enticing gaming experience for hours on end, we often forget the toll it takes on our bodies. Sitting in the same position for long hours can affect your neck and your back. So, you must have a comfortable seat before you pick up that controller. You can choose between a bean bag, a reclining chair, or even a sofa if you have enough room. But, the most commonly used is the gaming chair with lumbar support. It helps in maintaining your posture and provides ultimate comfort.
Soundproofing
It's one thing to play with your headphones on and a completely different experience with the speakers blaring high-quality game sounds. While having a powerful sound system to enhance your immersive experience is desirable, it may become too loud and disturb your family or roommate. You wouldn't want your screams of rage after conceding a last-minute goal to be heard by anyone else! Soundproofing can improve the quality of the audio while also preventing it from escaping the room. Hire a specialist to complete this task quickly and efficiently.
Gaming Equipment
With the advancements in technology, the graphics and animations of games have also come a long way. A regular PC might just not cut it if you plan to play high-end games on it. Consider buying a system that meets the basic requirements of the type of games you wish to play. Depending on your budget, you can always purchase add-ons to make your gaming experience better.
Power Management
Electronics, particularly gaming equipment, require a lot of power to run smoothly. Make sure your cable cords, extension boards, and switch outlets can take the high power coming through to avoid future short-circuits. After long hours of gaming, the systems will heat up, so ensure that there's enough air in the area for them to cool down. Modern gaming systems use a liquid cooling mechanism that aids in the cooling of the hardware.
Lighting And Ambiance
The lighting and the ambiance of a gaming room say a lot about the personality of the gamer. Decide a theme and use the kind of lighting that suits it best. Even with the systems and consoles switched off, the lighting and ambiance can do wonders for the overall look of the room.
Good Internet Connection
If you're a gamer who enjoys playing online competitive games, a strong internet connection should be your first priority. Always pick the best plan accessible to you based on the speed and your normal consumption for a flawless gaming experience.
Fun fact: Competitive gaming is becoming increasingly popular and plans are underway to induct E-sports as a category in the Olympics!
Also See: How much Internet Speed Do I Need? | Best Internet Service Providers for Your New Home
15 Best Gaming Room Ideas
Now that we've cleared up the technicalities, let us have a look at some of the gaming room design ideas you may use.
1. The Minimalist Approach
Sometimes, you can say a lot while saying very little. If you value elegance and order in your surroundings, a minimalist approach to your game room might be ideal. To get a sleek and clutter-free look in your space, store all your accessories in a cabinet or designated compartments and just have your gaming consoles on display.
2. Batman-Themed Gaming Room
Follow the Dark Knight's code and go with the classic black theme. You can hang posters of all the Batman movies and fan art on the walls to complete your Batcave! Place all your action figurines on the showcase and prove to everyone that there's no bigger fan of the Protector of Gotham than you!
3. Gaming Haven In The Bedroom
When you mix the finest level of comfort in the bedroom with the experience of a gaming room, you get the best of both worlds. You can use your bed as the perfect gaming chair, recliner, or sofa, and for its actual intended use, sleeping.
4. Turn Your Basement Into A Paradise
Setting up a gaming area in your basement can be the finest option. Apart from your gaming equipment, you may consider adding a Foosball table or perhaps a billiards table if the room is large enough. It will undoubtedly become a great place to hang out with all of your friends and have fun.
5. Opt For A Dark Theme
A dark theme is a popular choice for a gaming room. Dark colors like black and crimson might help you channel your inner gamer. You may either install a bright light behind your primary screen to make it the focal point of the room in an existing dark-colored space or you can add RGB lights throughout the room to retain the general balance and ambiance. Make sure your room isn't too dark to avoid straining your eyes from the screen's high-intensity light.
6. Add A Classic Touch
Only a true fan of the classic games will understand the importance and pride that comes with owning an actual arcade gaming machine. Games like Pinball, Pac-Man, and Space Invaders are sure to bring back sweet memories of the past while keeping you engaged for hours on end. These machines require some space, so make sure you have enough room to install them. Set up a dartboard and some bean bags so that the next time your buddies come over to hang out, you'll have a competitive yet enjoyable environment.
7. Good Flooring Designs
A smooth, good flooring can often help create an illusion of a large space. An LED light-based flooring, a black & white chess theme, or a clear white reflecting surface are some of the many options available that make your gaming retreat even more attractive.
See also: Tips on Painting Concrete Floor
8. White-Themed Room
A white-themed gaming room may help you relax while also improving the value of your house if you enjoy playing games in a serene, bright area. Choose furnishings that go well with your quiet and calm motif. Make sure the displays aren't in direct sunlight since this will impair the brightness and clarity of the images displayed on them.
9. Gaming Corner To A Living Room
A typical living room is arranged to make the television the focal point of the space's entertainment. You can add a triple screen set up on a desk that matches your living room furnishing and a comfortable chair that moves easily for gaming. A living room gaming corner is a popular choice.
10. Game Library
If you're a gamer in the truest sense, there's a high probability that you have a load of games, consoles, collectibles, merchandise, and whatnot! You can create shelves to showcase these prized possessions of yours. You can also organize them based on the genre, alphabetically, or any method you deem fit.
11. Cable And Wire Art
The more gaming equipment you install, the more wire and tangling you'll have to deal with. One solution is to make a nice aesthetic appearance out of the cables themselves! Make a rough sketch of the shapes and patterns you wish the wires to be arranged in on the wall. Mount them properly on the wall so that they don't fall off and ruin the design.
12. Sports-Themed Room
You can cover the walls of your gaming area with cool posters of your favorite sports teams. To watch live matches with friends, set up an overhead projector, a couch, and a pair of beanbags. Display your autographed jersey collection, as well as any mementos you've gathered throughout the years. If you have enough room, you could add an air hockey table to the mix to double the excitement.
13. Wall-Mounted Consoles
Mounting your consoles on the wall is a great way to save storage and hide the wires that could spoil the theme of your gaming room. It also removes the need for a TV stand, ensuring more space to decorate your shelf or table underneath with collectibles and various other accessories. Add neon LED lights behind your TV/monitor to take your gaming experience to the next level.
14. Star Wars Theme
The Force is very strong with this one! A gaming room might be the best place for you to build your own Star Wars universe. To complete the theme, use a green undertone for desk light with red and blue lightsabers as supplementary light sources. If your budget allows, add a mini Stormtrooper action figure to make sure you have a guardian watching over you while you run riots in the gaming world!
15. Turn The Attic Into A Game Zone
A rather unconventional location to set up a gaming room but if used correctly, it can be one of the most appealing rooms of your house. Attics are often different in shape from regular rooms and offer plenty of natural light as they're located immediately beneath the roof. Set up your monitor on the oddly tilted ceiling and get a novel perspective the next time you play games on it.
See also: Attic Remodeling Guide
Conclusion
In the end, your gaming room should resonate with you since you are going to spend a lot of hours in it. Over time, it becomes an important area for you and your friends to bond, make memories, and enjoy. So, go out there and build your spaceship and prepare yourself for the many adventures that await you with these gaming room ideas!
FAQs For Best Gaming Room Ideas
What Should Be In A Gaming Room?
What you place inside a gaming room is entirely up to you. A gaming chair with good back support, your gaming consoles, a TV, good lighting, and a good sound system are a few common items found in a gaming room.
How Much Does It Cost To Build A Gaming Room At Home?
The cost of setting up a gaming room at home is determined by a variety of criteria including the size of your space, gaming equipment, lighting, speakers, and so on. So, depending on the type of gaming room you want to establish, the cost might be as high as $5,000 or more, or your complete area could be set up for less than $1,000.
What Should Teens Put In Their Game Room?
You can add a comfortable couch or sofa so that your friends can enjoy a spectator view. A Foosball table is a great way to keep your game room engaging and super fun. Set up a table in a corner of the room and stack your shelves with classic board games for family game nights.
Also Read: How to Cut Costs on Your House Remodel | Cool Colors vs Warm Colors